Warhawk Weekly 4–14: Serving healthcare heroes; College of Business accreditation; Virtual fitness
Serving healthcare heroes
College of Business accreditation reaffirmed
Wellness Center offers virtual fitness classes
Student Health Services offers telehealth
Serving mental health needs
Support AUM Cheerleading
AUM temporarily waives ACT/SAT
Q&A with Dr. Stockton
People of AUM: Dustin Hatfield
Warhawk Transit schedule
Curtiss Course Critiques
Filibuster applications extended
AUM helps healthcare heroes
Auburn University at Montgomery and Baptist Health have formed a partnership to provide a safe space for Baptist Health team members who are working on the front lines in the fight against COVID-19.
This housing solution will help offer a peace of mind for those healthcare providers who have concerns about spreading germs to their family members. AUM has made 48 rooms in Lilac Hall at no cost to Baptist Health or its team members.
AACSB reaffirms College of Business accreditation
The Association to Advance Collegiate Schools of Business (AACSB) has reaffirmed the accreditation of AUM's College of Business and School of Accountancy through the spring of 2024.
AUM received confirmation of the AACSB Board of Directors' vote on Monday.
"The entire accreditation process means that the College of Business is meeting the criteria to be among the best business schools in the world," AUM College of Business Dean Ross Dickens said. "Students will know they are getting a respected education."
AACSB accreditation reflects of a commitment to quality and continuous improvement. As an AACSB members, AUM's College of Business files reports to the organization each year and provides "assurance of learning work" each semester. The reaffirmation process involves a self-study, and a campus visit from a peer review team. The team reports its findings to the AACSB. The findings are then reviewed by an independent committee that issues recommendations for accreditation and reaffirmation.
Register for a virtual fitness class
Even though we can't currently use the Wellness Center, its trainers can bring their knowledge to you through new virtual fitness classes offered via Zoom. Work up a sweat by registering for one of the remaining classes, which will be offered through Friday. Email Anna Champion to reserve your spot. Zoom links will be shared via email after registration.
The remaining class schedule includes:
Tuesday, April 14
Belly Dance Fitness with Velvet at 2 p.m.
Wednesday, April 15
Bodyweight Strength with Angel at 1:30 p.m.
Thursday, April 16
Zumba Toning with Stephanie at Noon
Friday, April 17
Stretch It Out with Mel at 11 a.m.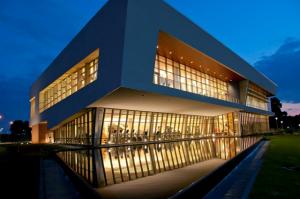 Student Health Services offers telehealth capabilities
Student Health Services is now offering telehealth capabilities to help meet the needs of students, faculty and staff amid the COVID-19 pandemic.
Members of the campus community can request a virtual appointment with Dr. Meloyde Harvey, AUM Student Health Services family nurse practitioner. At the designated appointment time, patients will receive a text message inviting them to an Updox telehealth video chat room.
Serving mental health needs
With COVID-19 disrupting daily routines and generating stress and anxiety for many individuals, it's important for students, faculty and staff to remain mindful of mental health. While it's important to follow social media guidelines, the Counseling and Health Promotion Services team remains available to meet your needs. Set an appointment by emailing [email protected].
Show your support for AUM Cheerleading
Under normal circumstances, the AUM Cheerleading team would be showcasing its talents in front of a crowd at the 2020 National Collegiate Cheer and Dance Showcase. Because of the suspension of athletic events nationwide, the Warhawks are showcasing their skills online.
You can show your Warhawk Spirit by helping the team in an online voting contest to win new cheerleading mats valued at $1,000 each. Cast a vote for the home team in the Intermediate Coed Division.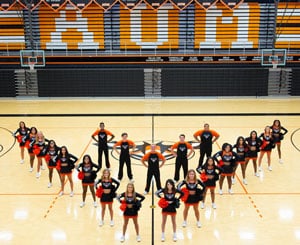 AUM temporarily waives ACT/SAT requirements
Due to the postponement and cancellation of various standardized test dates amid the COVID-19 pandemic, AUM has temporarily waived ACT and SAT testing requirements for incoming students seeking admission for the 2020 summer and fall semesters.
The waiver is in response to the ACT national testing date being postponed from April 4 to June 13 and the National College Board's May 2 SAT test date being cancelled.
Q&A with Dr. Stockton
Recently, AUM announced its plan to postpone its usual May commencement ceremony in the interest of public safety. AUM Chancellor Carl A. Stockton described it as one of the most difficult decisions he has had to make. AUM will instead celebrate its spring and summer 2020 graduates on Saturday, August 15.
People of AUM: Dustin Hatfield
What makes an Auburn University at Montgomery education valuable? It's all about connections. Connections with people. Connections between the theoretical and the practical. Dustin Hatfield, a 2018 economics graduate explains.
Warhawk Transit schedule
Warhawk Transit will now offer service on Wednesdays, from 11 a.m. to 5 p.m. The stops on each half-hour route will include Chantilly Walmart, the Atlanta Highway Publix, Taylor Crossing Apartments and Saddleback Apartments.
Spring 2020 Curtiss Course Critiques open
Make sure to complete your course evaluations. Curtiss Course Critiques open now!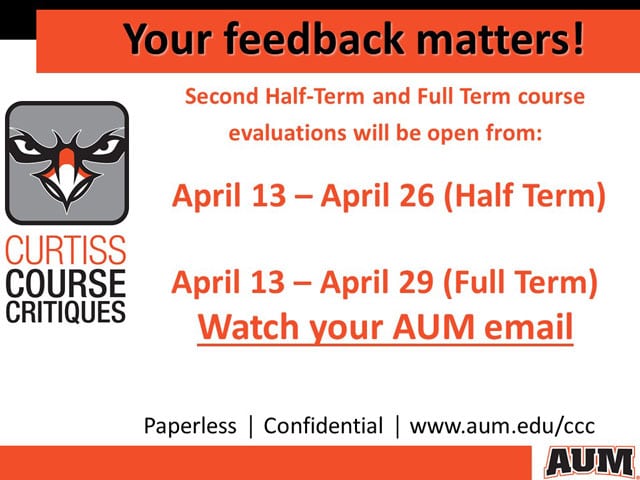 Filibuster extends application deadline
The Editor-in-Chief and Graphic Designer positions for the 2021 Filibuster applications are still open until May 1.
To apply, potential candidates will need to submit both a one-page "Letter of Intent" that describes their vision for the magazine and a one-page "Resume" that describes their qualifications for serving in the position. The positions begin in the Summer 2020 term and continue through Spring 2021. Each student will receive a small scholarship as part of their position in Fall 2020.
Experience with Adobe In-Design is required for the Graphic Design position. Experience with this program is also preferred, but not required, for the Editor position. All candidates must be enrolled as either a full or part-time student during the year to serve in the position, and he or she must maintain a 2.0 grade point average. Applicants should also have completed ENGL1010 and ENGL1020.
Candidates can send their "Letter of Intent" and "Resume" as attached Microsoft Word documents to Filibuster's Academic Advisor, Dr. Robert Klevay, at [email protected]. Any questions about the position should also be directed to Dr. Klevay.