Warhawk Weekly 3–5: SGA presidential elections; Graduate student scholarships
Warhawk Weekly 3–5: SGA presidential elections; Graduate student scholarships
­NEWS
SGA presidential election set for Thursday
HealthSouth whistleblower speaking tonight
New self-service password reset tool coming to MyAUM
Merit scholarships open for graduate students
Seeking candidates to become Curtiss
Application deadline extended for Pre-Nursing students
Students: 15 minutes could win you a $50 Amazon gift card
EVENTS
Check out our Diversity & Inclusion events!
2019 Bizweek
LGBTQ+ support group to hold meetings
Green Fest
Life After College
Adams Foundation Clinical Laboratory Sciences Symposium
Save the Date: Spring Career Fair
Political Film Series schedule set
SGA presidential election set for Thursday
Voting for the SGA presidency will take place Thursday, March 6. Students can cast their votes through the MyAUM portal between 8 a.m. and 11:59 p.m.
The two SGA presidential candidates are Ciara Freeman (pictured on left), a junior biology and chemistry major, and Austin Vigue (pictured on right), a junior psychology major who is completing a minor in theatre.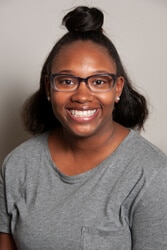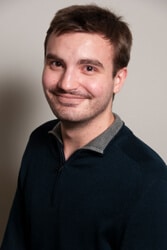 HealthSouth scandal whistleblower speaking tonight
AUM's College of Business will host Weston Smith, the whistleblower in former healthcare giant HealthSouth's $2.9 billion fraud case. Smith will speak today at 5 p.m. in Taylor Center for an open campus lecture on business ethics.
Join us today at 5 p.m. in Taylor Center 230.
New self-service password reset coming to MyAUM
Auburn University at Montgomery's Office of Information Technology Services will implement a new self-service password reset tool for the MyAUM portal on Friday, March 8.
Students, faculty and staff visiting the MyAUM portal will be prompted to set up their individual self-service password settings. At a minimum, users must set up five new security questions in order to access the portal. Users will have the option of setting up additional reset methods.
Implementation of this new tool will enhance security and enable users to reset a forgotten password at any time.
Users who experience difficulties may contact the ITS Help Desk for assistance at 334-244-3500 or [email protected]..
Merit scholarships open for graduate students
AUM's Alumni Association is accepting applications for its 2019-2020 Graduate Study Merit Scholarships through Friday, March 15.
In order to qualify, students must be fully admitted to an AUM graduate program, have completed at least nine hours of graduate study and have a current grade point average of 3.4 or higher on a 4.0 scale. Applications must include two letters of support (preferably from AUM faculty or staff), a 250-word essay on career objectives and a current resume.
Interested students may email [email protected] for an application or obtain an application form online.
Seeking candidates to become Curtiss
Are you good at working a crowd? You might have what it takes to fill the beak – and orange and white sneakers – of Curtiss The Warhawk. If you're a student with a minimum grade point average of 2.5 and the maximum amount of AUM spirit, you might be a candidate for the coolest job on campus. Tryouts for the role of Curtiss will be held in April. Interested in learning more? Get the details by emailing [email protected].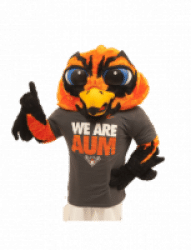 Students: 15 minutes could win you a $50 Amazon gift card
The Princeton Review wants to know about your experience at Auburn University at Montgomery. And you'll be entered to win a $50 Amazon gift card when you take 15 minutes to provide your insights on academics, fellow students, student engagement, athletics, clubs and organizations, school traditions, professor/student interaction, residence halls, and food. Your information about AUM will provide invaluable guidance for future college bound students searching for their best-fit schools.
Take The Princeton Review's online student opinion survey now.
Check out our Diversity & Inclusion events
International Women's Day Celebration
Thurs., Mar. 7 | Noon–1 p.m. | Taylor Center 230
Diversity Book Club Chat
Tues., Mar. 12 | 12:15–1 p.m. | Global Education Center
Political Film Series: RGB (2018), film introduction by Dr. Theresa Pelfrey
Thurs., Mar. 21 | 7 p.m. | Goodwyn Hall 109 | Co-sponsored by AUM's College of Liberal Arts and Social Sciences
Diversity Book Club Chat
Tues., Mar. 7 | 12:15–1 p.m. | Global Education Center
Art Exhibition: Women in the Arts (private tours available upon request)
Fri., Feb. 22 – Fri., Mar. 29 | Global Education Center | Co-sponsored by AUM's Department of Fine Arts
2019 BizWeek
Midterm Mixer
Visit with faculty and staff while enjoying free food and fun to help beat those mid-semester blues
Wed., Mar. 6 | Noon–1 p.m. | Clement Hall, 2nd floor
Major Decisions
Having trouble choosing a career path or major? Join the College of Business as we invite professionals from the River Region to share information about career paths for each major in the College of Business.
Thu., Mar. 7 | Noon–1 p.m. | Taylor Center 222–223
Etiquette Luncheon & Professional Dress Workshop
For BUSN 3060 classes only, see your professor for more details!
Fri., Mar. 8
LGBTQ+ support group to hold meetings
Finding Your Rainbow, a support group for members of the LGBTQ+ community, will meet every Thursday from 3 p.m. to 4:30 p.m. in Goodwyn 116. The group is sponsored by AUM's Counseling and Health Promotion Services office. For more information, call 334-244-3469 or email [email protected].
Green Fest
Spring has finally sprung and with it comes Housing and Residence Life's annual Kill-A-Watt Challenge!
Every year, Housing and Residence Life encourages residents to embrace the newly warm weather to do something good for the planet, and this year is no exception! Turn off your lights, unplug your electronics, and step out into Green Fest.
There will be lots of eco-friendly activities and games, as well as lots of tasty food!
Tue., Mar. 19 | Noon | The lawn next to Plum Place
Life After College
Come meet with the AUM Career Development Center to develop your tool-kit to move from college to the workplace!
Light breakfast items and lunch will be served. Please register at www.aum.edu/LAC. For more information, please email Brad Robbins or call 334-244-3304.
Fri., Mar. 22 | 9 a.m.–2 p.m. | Taylor Center 230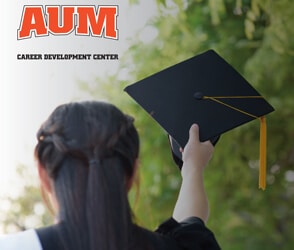 Adams Foundation Clinical Laboratory Sciences Symposium
The 2019 Robert & Jean Adams Foundation Clinical Laboratory Sciences Symposium will feature keynote speaker Dr. Don Siegel, Professor of Pathology, University of Pennsylvania, and three sessions with Dr. Kathryn Rizzo, Piedmont Hospital; Dr. Andrew Young, Quest Diagnostics; and Mr. George Fritsma, Fritsma Factor.
The symposium is free for laboratory personnel who are wanting continuing education credit; however, registration is required. Please RSVP by March 26 to Brittaney Jenkins or call 334-244-3790.
Light breakfast and lunch will be provided. A schedule for the symposium can be found here.
Fri., Mar. 29 | 8:30 a.m.–3 p.m. | Taylor Center 221–223
Save the Date: Spring Career Fair
The AUM Career Development Center will be hosting the 2019 Spring Career Fair. Company recruiters from various industries will be available to meet and network with students and alumni seeking career opportunities locally, as well as nationally.
For more information, please email Edna Vincent or call 334-244-3342.
Wed., Apr. 3 | 11 a.m.–2 p.m. | Taylor Center 230
Political Film Series schedule set
Auburn University at Montgomery's College of Liberal Arts and Social Sciences will feature a documentary on Supreme Court Justice Ruth Bader Ginsburg as the next feature in its 2019 Political Film Series. The screening of "RBG" on Thursday, March 21 at 7 p.m. in Goodwyn 109 is free and open to the public. Complimentary popcorn and sodas will be available for attendees. The film series schedule can be found at www.aum.edu/politicalfilms.