Warhawk Weekly 3–17: Updates on COVID-19
NEWS
University finalizes temporary adjustments to business operations
Students encouraged to use Warhawk Help portal
Social distancing explained
Gulf South Conference suspends athletic events
Publishers offering free books
People of AUM: Antavia Sanders
EVENTS
Events canceled, postponed
University finalizes temporary adjustments to business operations
While most Auburn University at Montgomery employees will be encouraged to work remotely between now and April 10, the university will remain open and attentive to the needs of current students, faculty, staff, and prospective students.
Several units will maintain campus-based staffing to provide ongoing service. These units include:
Each of these units will have at least one staff member present daily and will adhere to social distancing and other guidelines recommended by public health officials to minimize the risk of spreading COVID-19.
Campus trash will continue to be picked up daily, while all housing common areas and core administrative and academic buildings will be cleaned daily. The university mailroom will maintain hours Monday-Friday, from 8 a.m. to noon.
Students encouraged to use Warhawk Help portal
Students with specific questions or needs pertaining to COVID-19 or campus services and resources during AUM's transition from in-person instruction to remote course delivery are encouraged to utilize our online Warhawk Help portal.
Employees with questions may reach out to their supervisors. We will continue to provide new information as it becomes available, via email, AUM social media accounts, and our COVID-19 resources web page. Please continue to monitor each of these touch points on a regular basis.
Social distancing explained
"Social distancing" has been recommended by public health experts as a means of preventing the community spread of novel coronavirus (COVID-19), but what does it mean? Let's use our friend, Curtiss The Warhawk, to help illustrate the concept.
His wingspan is roughly 6-feet, which is a decent buffer zone to put between yourself and others no matter your setting. The point of social distancing is to break potential chains of COVID-19 transmission by preventing infected people from coming into close contact with healthy ones.
That's why we are making the transition from face-to-face course instruction to remote delivery through April 10. That's why major sporting events and other large public gatherings are being canceled or postponed. That's why, for the time being, interpersonal interaction may best take place through text, FaceTime, Zoom or other technological tools. Disruption of pandemics means disruption of routines and every day interactions.
For background about COVID-19 and how to minimize community spread, visit the Centers for Disease Control and Prevention information page.
Be well, Warhawks, and watch your wing span,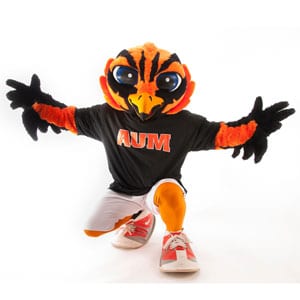 Gulf South Conference suspends athletic events
The Gulf South Conference, the NCAA Division II league in which AUM is a member, has suspended all athletic activities to help safeguard student-athletes, coaches, support staff and spectators. Learn more from AUM Athletics about the suspension.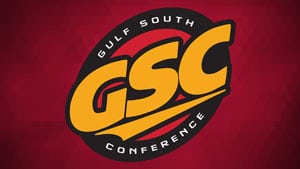 People of AUM: Antavia Sanders
In addition to helping students identify and pursue their passions, Auburn University at Montgomery connects students to a supportive network of faculty, staff and alumni mentors. Theatre arts student Antavia Sanders explains.
Events canceled, postponed
All campus events through April 10 are canceled or postponed unless approved by the Office of the Chancellor. Spring Break is March 16-20 and there are no classes. Campus offices will remain open, but employees are asked to work remotely as much as possible.