Warhawk Weekly 3–14: Crystal's chemistry; Kinesiology students present
HOME GAMES @ AUM
Today, March 14 | NEW TIME: 4 p.m. vs. University of North Georgia
Dining in the Dark
AUM Connected and the Center for Disability Services invites students, faculty and staff to Dining in the Dark, a sensory experience where the diner is blindfolded and experiences what it's like to be unable to see while eating a meal.
Without sight, tastes, smells, textures and sounds are heightened. This is an excellent opportunity to learn about vision loss and awaken your senses!
Register online. Limited to first 50 who register.
Wednesday, March 22 | 5–6:15 p.m. | Taylor Center 221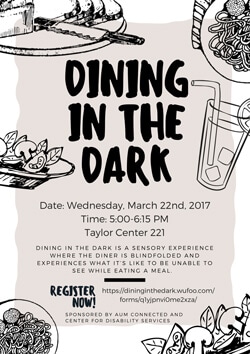 Actor Richard Herd coming to campus
Drawing on more than six decades of experience in the entertainment profession, actor Richard Herd will offer survival skills to help anyone building a career — no matter the field — land that first job.
With more than 500 radio, theater, film and TV roles to his credit, Herd is best known for portraying Mr. Wilhelm in the TV comedy Seinfeld. His most recent film appearance is in this year's hit movie "Get Out," filmed in Alabama. Herd has also appeared in "Star Trek Renegades" and "Star Trek Voyager" as Admiral Owen Paris.
In addition to acting and teaching college acting classes, Herd is a musician and singer, a jewelry maker, a poet and playwright, and an established artist with numerous exhibitions to his credit.
Following the presentation and Q&A session with the audience, Herd will be available to pose for photographs and sign photos.
Wednesday, March 22 | 6:30 p.m. | Goodwyn Hall 109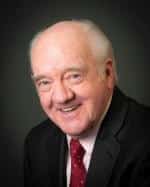 MLA graduate students host colloquium
Master of Liberal Arts graduate students will share insights in history and English at the Spring Liberal Arts Graduate Colloquium.
Nikki Headley, Master of Liberal Arts in English, "Lavinia and Feminism"
Barry Buford, Master of Liberal Arts in History, "McClellan and Lincoln, 1862"
Crystie Deuter, Master of Liberal Arts in English, "A Week on the Concord and Merrimack Rivers: Thoreau's Treatment of Nature in 'Sunday'"
Wednesday, March 29 | 12:30–2 p.m. | Library Tower, 10th floor West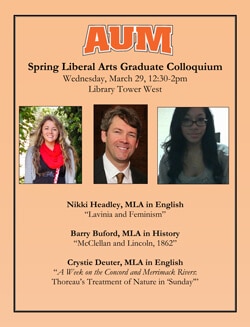 Piano concert features AU, UA professors
The College of Arts and Sciences presents a "battle" between Alabama and Auburn piano professors.
Edisher Savitski, University of Alabama
Wednesday, March 29 | 6:30 p.m. | Goodwyn Hall 109
Jeremy Samolesky, Auburn University
Wednesday, April 12 | 6:30 p.m. | Goodwyn Hall 109
For more information, visit the Promenade Concert Series webpage.
Alpha Gamma Delta hosts Lip Jam
Alpha Gamma Delta is gearing up for its 3rd annual Lip Jam. The lip sync and dance competition has a theme each year that assists participants with music selections, dances and outfits. This year's theme is "Night at the Movies."
Teams can be formed by any faculty, staff or student combination. A minimum of 5 is needed to form a team. To get registration fee and application information, please email [email protected].
Friday, April 21 | 7–9 p.m. | AUM Athletics Complex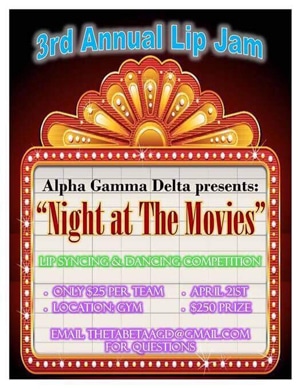 AUM-SPLC on Campus Club book drive, tour
Book Drive
The AUM-SPLC on Campus Club is sponsoring a book drive for incarcerated juveniles throughout March. Drop-off boxes can be found in the following locations:
Warhawk Alley;
Goodwyn Hall 209 (Department of Political Science and Public Administration);
Clement Hall 319 (College of Public Policy & Justice/Dr. Brackett's Office);
Dr. Paul Hard's Office (Education 305C);
Liberal Arts 223 (Dept. of Communication/Dr. Giagnoni's Office); and
Student Affairs (Dr. Tyre's Office, Taylor Center 319)
Donations also may be left with Dr. Annice Yarber-Allen (Sociology), Dr. Rolando Carol (Psychology), Dr. David Hughes (Political Science), Dr. John Harvard (English), SPLC Club President Cornelia Brown, or SPLC Club Secretary (Tristan Bradley).
SPLC Civil Rights Memorial Center Tour
Students, faculty and staff also are invited to sign up for a free tour of the SPLC Civil Rights Memorial Center on March 24. The tour starts at noon, and we will meet 11:50 a.m. in front of the Center, located downtown, 400 Washington Ave. To sign up, email Dr. Pia Knigge, the Club's faculty sponsor, at [email protected] no later than March 21.
Friday, March 24 | Noon (Meet at Center at 11:50 a.m.) | Civil Rights Memorial Center, 400 Washington Ave.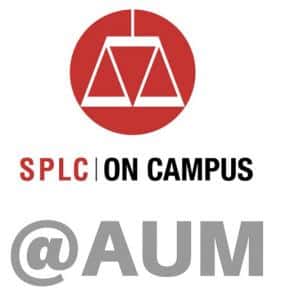 Informatics Institute Cybersecurity Seminar Series
Dr. Vir Phoha, a professor of Computer Science in the College of Engineering and Computer Science at Syracuse University, will present a seminar titled "Continuous Authentication Using Wearable Devices and Its Performance Evaluation" on March 24.
Phoha's presentation will elaborate on the building of spoof-resistant continuous authentication systems using the unique patterns obtained from tactile, physiological, and neurobiological sensory information from mobile and wearable devices, such as smart phones, smart watches and brain-computer interface devices like NeuroSky Mindwave.
Phoha's current research addresses cyberspace defense and offense mechanisms, in particular net-centric authentication systems (biometrics, authentication in networks, monitoring, and attribution); machine learning (Bayesian, reinforcement, evolutionary); and data mining.
Friday, March 24 | 2:30–3:50 p.m. | Library Tower, 10th floor West
Orange Jacket Society accepting applications
Interested in furthering your professional skills on campus? The Orange Jacket Society (OJS) is an organization built on prestige, professionalism and ultimate school spirit.
OJS will help build your skill sets and develop relationships with others who share your passion for this University. OJS helps serve AUM in a multitude of events including on-campus and throughout the community.
OJS participates in trainings guided by faculty, professionals, and former members. OJS members are expected to present themselves in a dignified and professional manner at all times. The individual growth students gain from this experience is unparalleled to anything else on campus. With the opportunity to make connections in the community and on campus, OJS members receive an experience that will last a lifetime.
Students speak highly of their time in OJS, leaving with valuable knowledge to help propel them in the future. "OJS has helped me develop my leadership skills greatly by allowing me to network and make connections, present myself professionally at all times, and has made me more comfortable with socializing in professional settings," Tiara Key, Legal Studies, says.
Students can apply now, and interviews for OJS are April 5 and April 7. Be sure to apply using the online application before March 24, 2017. For more information, contact Serena McCovery at [email protected] or 334-531-9573.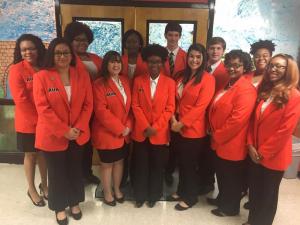 Engage in random acts of kindness
As the new year and new semester begins, AUM Connected: Common Reading Program invites you to engage in random acts of kindness. Our book this year, The Dinner, features characters who lack kindness and empathy. Here at AUM, we expect better.
Please visit the bulletin board on the second floor of the library or the other smaller displays around campus to get ideas for random acts of kindness.
If possible, take a picture of your random act and email it to [email protected] so we can include it on the AUM Connected Facebook page.