Warhawk Weekly 2–7: Continuing Merit Scholarship available; Staff Council Spotlight
Warhawk Weekly 2–7: Continuing Merit Scholarship available; Staff Council Spotlight
Current students: Continuing Merit Scholarship
The Continuing Merit Scholarship application is available to current AUM students who are in good standing. Students must have completed 12 or more hours of undergraduate or 9 or more hours of graduate coursework to be considered for university scholarships.
This application will also serve as the 2017-2018 Ida Belle Young Merit Scholarship application. Currently enrolled AUM undergraduate students who have completed a minimum of 24 credit hours and graduate students who have completed a minimum of 9 credit hours with a minimum 3.5 cumulative GPA will be considered for this scholarship. The Ida Belle Young Scholarship is also competitive and limited in number.
Students can find the scholarship application online. The deadline to apply for the scholarships is March 1.
Staff Council Spotlight: February 2017
Jenise Jenkins, Center for Disability Services
Read about Jenise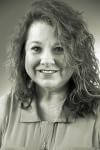 Gerard awarded grant for Sterne research
Dr. W. B. Gerard of the Department of English and Philosophy has been awarded a Franklin Grant from the American Philosophical Society to pursue research in the influence of the English writer Laurence Sterne (1713-1768) in early America.
Sterne's substantial impact on Britain and Europe in the late eighteenth and early nineteenth century has been well documented, but there has been little grounded discussion about his effect across the Atlantic.
Gerard will use the funding to travel to archives in Boston, New York and Philadelphia over the summer, accumulating material for a longer study on the subject.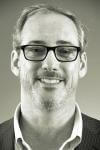 Sterling article on racially-motivated murders published
Dr. Eric Sterling of the Department of English and Philosophy published an article entitled "The Mothers' Tragedy: Loss of a Child in the Works of Gwendolyn Brooks, Dudley Randall, and Michael Harper." The article appeared in Critical Insights: Civil Rights Literature, Past & Present, edited by Christopher Allen Varlack.
Unlike other articles on Emmett Till, the female victims of the Sixteenth Street Baptist Church bombing in Birmingham, and the Algiers Motel police brutality murders in Detroit, Sterling's writing focuses on how racially-motivated murders of African Americans affected the victims' mothers.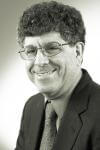 AUM-SPLC meeting
The AUM-SPLC on Campus Club, a student-led organization launched last semester to advocate for tolerance of diversity and inclusion on campus, will hold an informational meeting tonight.
Club members and any interested AUM students, staff or faculty members are invited to meet the club officers, faculty advisor, and the new national SPLC-on-Campus Coordinator. Hear about the club's forthcoming events and activities for the spring semester, and sign up for the field trip to the SPLC Civil Rights Memorial Center in March while you mingle with old and new friends.
For information, contact the club's faculty advisor, Dr. Pia Knigge, at [email protected] or visit the Facebook page of AUM Chapter – SPLC on Campus Facebook page.
Today, Feb. 7 | 7 p.m. | Goodwyn Hall 111 | Sponsored by Student Life
Black History Month documentary kicks off Political Film Series
Get ready for 13TH (2016; TV–MA), the first of this semester's exciting films in the Political Film Series sponsored by the Department of Political Science and Public Administration and the College of Public Policy and Justice.
This Black History Month documentary provides a brutally honest, informative and emotional portrayal of our current prison system and its evolution from slavery, one that "challenges your idea about the intersection of race, justice and mass incarceration in the United States" (New York Times). The movie includes archive footage, interviews (Angela Davis, Cory Booker, Bryan Stevenson, Henry Louis Gates Jr., Michelle Alexander, and Newt Gingrich to name a few), and testimonies for formerly incarcerated men and women.
The film will be introduced by Dr. David Hughes, assistant professor in the Department of Political Science and Public Administration, and is co-sponsored by the AUM-SPLC Club. Audience discussion will follow the screening.
The Political Film Series is made possible thanks to a grant from the Ida Belle Young Special Projects Fund. The event is free and open to the public; popcorn and soda are complimentary. For further information or to receive email updates, please contact Dr. Pia Knigge at [email protected] or 334-244-3834.
Wednesday, Feb. 8 | 7 p.m. | Goodwyn Hall 109
AUMazing spring workshop: Taking Good Notes
Sponsored by the Warhawk Academic Success Center, Learning Center, Career Development Center, and YOUR Library, the free AUMazing Workshop Series workshops introduce attendees to library and academic support resources that will help them on their academic journey.
This week's session is "Taking Good Notes in Class!" Whether you take notes by hand or on a computer, you need to know how to take good notes in class so you can review them for mid-terms and finals. This workshop will cover different techniques and approaches to good note-taking.
While registration isn't required, it is encouraged as seating is limited! You can register electronically via the AUM Library calendar or choose from the times listed below!
Refreshments will be provided at all workshops and, for UNIV students, the workshops count toward the required Supplemental Instruction in their Warhawk Passport!
Encourage your students or come and learn how you can become AUMazing! If you have any questions, please contact Jessica Hayes at [email protected].
Thursday, Feb. 9 | Library Computer Lab, 2nd floor of the AUM Library Tower
Students: Improve your résumé
Release the power of your résumé with Résumé Breakout, a series of workshops and labs designed to help students create effective résumés and other professional job search materials. Students will learn tips for building a strong and effective résumé from industry professionals and get one-on-one résumé assistance from Career Development Center specialists.
The Résumé Breakout workshops will feature a recruiting professional presenting best practices for creating résumés and other job search materials in specific career fields and/or industries including professionals in Public Education, Law Enforcement, Banking and Human Resources. Students can register for all workshops through WarhawkCareers on the MyAUM portal.
Specialists in the Career Development Center will host Résumé Breakout lab sessions on Thursdays from noon­–1 p.m. throughout the spring semester (excluding Spring Break). Any student seeking assistance in creating resumes or other job search documents is welcome to attend.
In addition the CDC will host evening résumé labs from 5–6 p.m. in Clement 110 on the following dates:
Thursday, Feb. 9
Thursday, Feb. 23
Thursday, March 9
Thursday, March 30
Thursday, April 13
Registration is not required for the résumé lab sessions.
Please contact the Career Development Center at [email protected] or 334-244-3344 for more information.
ON FIRE: The 7 Choices to Ignite a Radically Inspired Life
The AUM Business Breakfast Series will continue on Feb. 16 with John O'Leary, inspirational speaker and author of number one national best-seller "ON FIRE".
Join John O'Leary as he discusses what our day, impact and output look like if we live a radically inspired life every single day.
Living radically inspired means you learn from past mistakes, rise above challenges and thrive no matter the circumstances. No one embodies "living radically" more than O'Leary–who was nearly killed in a devastating fire at age nine.
Tickets must be purchased in advance.
AUM employee discount tickets, $30
AUM groups, $250
The Business Breakfast series runs from October through March, with a different speaker each month. AUM faculty and staff can attend at a discounted rate. Visit the AUM Outreach page to see the full line-up of speakers and to register.
Thursday, Feb. 16 | 7:30–9 a.m. | Wynlakes Golf & Country Club, Montgomery, Ala.
AUM Day of Giving
Mark your calendars for #AUMDayofGiving 2017, a special, 24-hour fundraising initiative on Tuesday, Feb. 14!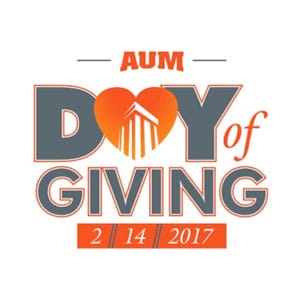 Show your love for AUM by supporting the many projects and programs from the colleges and departments seeking private support. A social media based initiative, AUM has ambassadors from all areas of the campus who will utilize their personal social media accounts, as well as the official AUM Facebook pages, Twitter and Instagram accounts to promote their AUM projects. Keep an eye out on AUM Facebook pages, Twitter and Instagram for information on projects that need your support!
AUM Projects:
 Curtiss the Warhawk
 Kinesiology
The Learning Center
The Library
Medical and Clinical Laboratory Sciences
Operation Warhawk Assist
Student Athlete Advisory Committee
Study Abroad
University Honors Program
Keep an eye out for more details on the projects and how you can show your love for AUM on this special day!
For more information, visit www.aum.edu/dayofgiving.
2017 Human Resource Professionals Conference
This one-day conference will provide professionals in personnel administration, human resources, training and development, talent management, and human capital management an opportunity to hear from field experts who will be addressing an array of critical and relevant topics.
Registration is required. Tickets are $119, or $99 for AUM staff and students. AUM staff and students must call 334-244-3804. Online registration can be found through OutReach at AUM.
I 'Heart' UNIV
Come join us to celebrate UNIV and student success at AUM.  Goals of "I 'Heart' UNIV" include recognizing former and current UNIV students and instructors and recruiting new instructors. A slide show and handouts about the course and program will be included as well as pizza, drinks, cake, UNIV swag, and drawings for door prizes.
For more information about UNIV for students, visit the AUM UNIV-1000 page. For more information about becoming a UNIV instructor, visit AUM's page on why you should teach UNIV.
Faculty and staff interested in teaching UNIV should apply by March 1, 2017. For information, contact Amy Ingram at [email protected] or 334-244-3153.
Wednesday, Feb. 15 | 11 a.m.–1 p.m. | Library Tower, 10th floor East
Theatre AUM's 'Coupler' opens Feb. 16
Theatre AUM's production of Coupler, a new and original work by Meredith D. Levy, opens Feb. 16.
The play, which will be directed by Neil David Seibel, involves six Londoners who are about to discover that the entire world is made of love, trust, and a little bit of pixie dust.
Coupler follows the twists and turns in the lives of the occupants of the last car of the Northern line, who are looking for love and struggling to trust. With the help of some pixie dust, and a particularly vocal tube train, they work to connect, listen, and eventually — inevitably — grow up.
The show dates are Feb. 16, 17, and 18 and Feb. 23, 24, 25, and 26. Show times are 7:30 p.m. Monday thru Saturday, and 2 p.m. for the Sunday matinee.
The playwright, Meredith Dayna Levy, will join the audience on Feb. 24 for a post-show discussion.
General admission tickets are $10. Senior citizen, military, and student tickets are $5. AUM students, faculty and staff are free with ID.
Thursday, Feb. 16 | 7:30 p.m. | Theatre AUM, located in the Taylor Center
Flash Talks combines speed dating, tech mixer
This year, the annual Faculty Development Institute Technology Speed Dating event and the AUM Staff Council's Tech Mixer are being combined into one grand event: Flash Talks. The principle is the same: hear how AUM faculty and staff are using technology in teaching and learning and in the work environment in short visual presentations.
Wednesday, Feb. 22 | 11 a.m.–1 p.m. | Taylor Center 230
Graduate students: Apply for Alumni Association scholarship today
The Auburn University at Montgomery Alumni Association is accepting applications for its 2017–18 Graduate Study Merit Scholarships through March 1.
To be eligible, students must be fully admitted to an AUM graduate program; must have completed at least nine hours of graduate study courses; and have a current grade-point average of 3.4 or higher on a 4.0 scale.
Interested students can email [email protected] with questions or for an application. A completed application will include, among other things, two letters of support (preferably from AUM faculty or staff), a 250-word essay on career objectives and a current resume. Applicants will be notified of their award status by mail.
Shed pounds while assisting Kinesiology study
Looking to shed some of that holiday weight and increase fitness? The Department of Kinesiology is conducting a study on interval training and fitness, metabolism, and body composition. You will undergo four weeks of training three days per week in our lab. You are eligible to participate if you are between 18 and 50 years old and in good health.
Contact Dr. Matt Schubert at [email protected] for more information!
The department also offers fitness and body composition assessments to the public. Contact [email protected] for a list of services and fees.
Engage in random acts of kindness
As the new year and new semester begins, AUM Connected: Common Reading Program invites you to engage in random acts of kindness. Our book this year, The Dinner, features characters who lack kindness and empathy. Here at AUM, we expect better.
Please visit the bulletin board on the second floor of the library or the other smaller displays around campus to get ideas for random acts of kindness.
If possible, take a picture of your random act and email it to [email protected] so we can include it on the AUM Connected Facebook page.