Warhawk Weekly 2–5: SGA applications; Simmons' paper accepted
Warhawk Weekly 2–5: SGA applications; Simmons' paper accepted
NEWS
SGA applications now open!
Simmons' paper accepted for Oxford Conference
AUM earns Military Friendly designation
Mustang Battalion places in competition
$15 Student Rush tickets available for ASF show
Continuing Merit Scholarship available
AUM baseball to play at Riverwalk Stadium
EVENTS
UHP Program Director candidate interviews on campus
Theatre AUM presents Matt and Ben
Celebrate the Year of the Pig
Save the Date: Spring Career Fair
Political Film Series schedule set
SGA applications now open!
The Student Government Association is accepting application for the 2019–2020 academic year. The application closes Feb. 22. Please apply online.
Simmons' paper accepted for Oxford Conference
Michael Bland Simmons, Distinguished Research Professor in the Department of History, World Languages & Cultures, recently learned that his paper will be read at the XVIII International Conference on Patristics at the University of Oxford in August 2019.
Simmons' paper, "Un análisis filológico comparativo Griego- Siriaca de los fragmentos de Gressmann Bruchstücken XVI (V.37f.) y XVII (V.42) del Libro V de la Teofan ía de Eusebio de Cesárea," will be a comparative philological analysis in Spanish of two Greek fragments from Book V of Eusebius of Caesarea's Theophany, written in the 330s A.D., and the corresponding passages of the Syriac translation of the work, which was written in A.D. 411.
AUM earns Military Friendly designation
Auburn University at Montgomery earned recognition on the newly released list of 2019-2020 "Military Friendly" universities published by Victory Media. AUM was the only River Region school to make the list and ranked among the top five universities in Alabama.
Auburn University at Montgomery earned "bronze" status in the annual Military Friend Schools survey, the longest-running comprehensive review of college and university investments in serving military and veteran student populations.
Mustang Battalion places in competition
The AUM Army ROTC placed sixth in the 6th Brigade Ranger Challenge competition. 40 teams from Alabama, Georgia, Florida, Mississippi and Louisiana competed in the three-day competition.
This year's competition took place Jan. 24–27 at Camp Blanding, Fla. The competition consisted of ten events: The Army Physical Fitness test, assembly of the M-249, M-240B, M-16 and M-4 weapons systems, hand grenade assault course, M-9 and M-16 familiarization and qualification weapons firing, land navigation test, tactical combat casualty care, call for weapons fire and HUMVEE push, obstacle course and chemical and biological reaction skills. Each event put the Cadets' fitness and tactical knowledge to the test.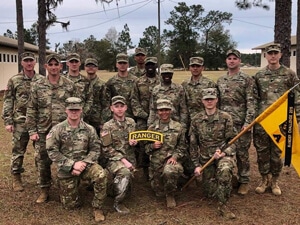 $15 Student Rush tickets available for ASF show
$15 Student Rush tickets for Alabama Shakespeare Festival's "Four Little Girls" will be available beginning one hour prior to the start of the performance.
In order to qualify, students must visit the ASF Box Office and purchase tickets in person within one hour prior to show time. A current valid student ID (or proof of enrollment) is required to receive up to two $20 rush tickets per student. The $15 price is special only for the ASF production of "Four Little Girls." Student Rush tickets are subject to availability and are not available in advance.
For more information on how to get Student Rush tickets, please visit asf.net/tickets/student-rush/.
If you have any questions regarding ticket availability, please email the ASF Box Office or call 1-800-841-4273 Monday through Sunday between noon and 5 p.m.
Continuing Merit Scholarship available
The Continuing Merit Scholarship application is now available online! The deadline for applications is March 1.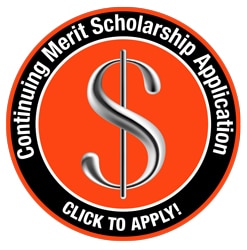 AUM baseball to play at Riverwalk Stadium
Join us at Riverwalk Stadium on Sun., March 3 as the AUM baseball team hosts Montevallo in a 1 p.m. series finale. Tickets are available for $5 and can be purchased at www.aumathletics.com/aumriverwalk or by calling the Riverwalk Stadium Ticket Office at 334-323-2255 or AUM Assistant Athletic Director for External Relations Tim Lutz at 334-244-3832.
UHP Program Director candidate interview on campus
AUM will host a candidate for the position of director of the University Honors Program.
Dr. Jennifer McNabb
Tue., Feb. 5 | 1:30–2:30 p.m. | Goodwyn Hall 112
The candidate has been asked to speak on the following topic: Please describe how you would achieve growth in the Honors Program where diversity of the students is enhanced and a close community is created.
Theatre AUM presents Matt and Ben
Theatre AUM's production of Matt and Ben opens Feb. 14.
In 1997, boyhood friends Matt Damon and Ben Affleck won an Oscar for their screenplay Good Will Hunting. The success of the film had a remarkable impact on the careers of the young actors, turning Matt and Ben into household names. This delightful comedy by Mindy Kaling and Brenda Withers, tells the story of Hollywood's golden boys, before anyone knew who they were, when the screenplay for Good Will Hunting mysteriously drops from the heavens.
Matt and Ben runs Feb. 14–16, 21–24. Show times are 7:30 pm. Thursday through Saturday with a Sunday matinee at 2 p.m. Tickets are $10 for general admission. Senior citizens, students, and military tickets are $5. AUM students, faculty and staff are free with AUM ID.
Fri., Feb. 14–16, 21–24 | 7:30 p.m., 2 p.m. | Theatre AUM
Celebrate the Year of the Pig
The AUM Confucius Institute will host its Chinese New Year Celebration on Sat., February 16 from 4:30–7 p.m.
Join us for music and dance performances –– including the stunning spectacle of the Dragon Dance –– followed by dinner in AUM's Goodwyn Hall Auditorium. We'll also announce the winners of our Third Annual Confucius Center Art Contest and Exhibition.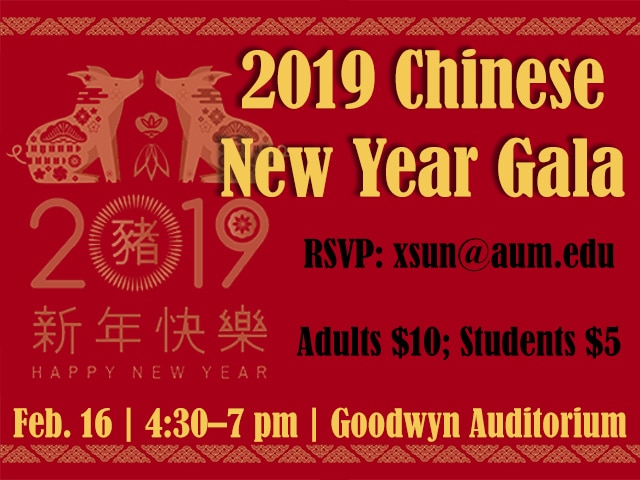 Please RSVP to [email protected] by Feb. 10 as seating is limited. General admission is $10. Students and children are $5; however, children under 3 are free.
Sat., Feb. 16 | 4:30–7 p.m. | Goodwyn Hall Auditorium
Save the Date: Spring Career Fair
The AUM Career Development Center will be hosting the 2019 Spring Career Fair. Company recruiters from various industries will be available to meet and network with students and alumni seeking career opportunities locally, as well as nationally.
For more information, please email Edna Vincent or call 334-244-3342.
Wed., Apr. 3 | 11 a.m.–2 p.m. | Taylor Center 230
Political Film Series schedule set
Auburn University at Montgomery's College of Liberal Arts and Social Sciences will feature a pair of World War II-focused movies, as well as a documentary on Supreme Court Justice Ruth Bader Ginsburg, in its 2019 Political Film Series. The screenings are free and open to the public. Complimentary popcorn and sodas will be available for attendees. The film series schedule can be found at www.aum.edu/politicalfilms.