Warhawk Weekly 2–14: AUM students publish; International Student Experiences
Warhawk Weekly 2–14: AUM students publish; International Student Experiences
Students publish AUM Historical Review #6
The Department of History is pleased to announce the publication of the AUM Historical Review #6 (2017), a journal written, edited and designed by AUM students.
The latest issue features articles on the Civil War, the Dred Scott decision, the history of Prattville and the voting rights movement in Gee's Bend, Alabama. It also contains an essay on the history of Iraq and an interview with AUM history professor, Qiang Zhai.
Copies are available at the Department of History office, 348 Liberal Arts, (334) 244-3221. The journal, traditionally put on display at the Alabama Department of Archives and History, will also be available on the Department of History's website.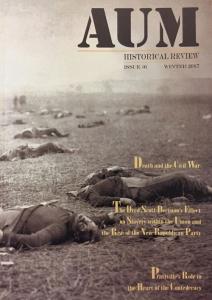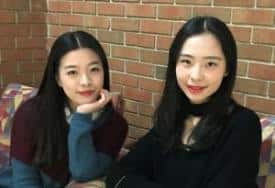 Zhai article examines role of religion in U.S-China Cold War policy
Dr. Qiang Zhai, professor in the Department of History & World Languages & Cultures, recently published an article entitled "Religion and U.S. Policy toward China during the Early Cold War." The article appears in Unfinished History: Christianity and the Cold War in East Asia (Leipzig: Evangelische Verlagsanstalt, 2016) edited by Philip L. Wickeri.
Zhai's article seeks to contribute to the emerging trend of cultural analysis in Cold War studies by focusing on the role of religion in the making of U.S. policy toward China from the later 1940s through the 1950s.
Specifically, it examines the role of Christianity in American encounters with China on two levels: first, how Christian convictions shaped the view of Washington's policymakers about the Chinese revolution; second, how missionary groups influenced public understanding about China during this period.
The article argues that religion formed the basis of how American leaders perceived themselves and the world during the Cold War and that religious organizations (through the China Lobby) played a major role in framing domestic debates about policy toward China and in limiting the range of choices available to policy makers with regard to China.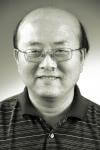 College of Education debuts Virtual Avatar Laboratory
The College of Education was proud to highlight the new Virtual Avatar Laboratory (VAL) during the Auburn University Board of Trustees meeting on Feb. 3.
Faculty and staff from across campus came to see the demonstration, which highlighted the need to improve teacher candidate lab and field experiences. One way to do that is through the VAL.
Trustee Liz Huntley volunteered to teach a live demonstration to middle school students on avatars. She was successful in working with them in a discussion on Romeo and Juliet. Stay tuned for a VAL open house announcement coming soon. For more information, contact Dr. Kate D. Simmons at [email protected].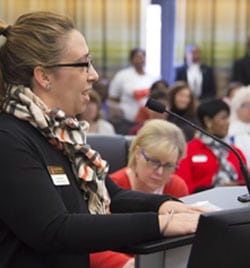 Library highlights financial success books, resources
To support the upcoming Money Talks series hosted by the AUM College of Business (Feb. 15–16, Library Tower, 10th floor West) and in partnership with the College of Business, the AUM Library will highlight its financial success books and resources in their Successful Money Management display on the second floor of the Library Tower.
The AUM Library's display includes popular books likes:
Your Money or Your Life (Joe Dominguez and Vicki Robin)
The Bogleheads' Guide to Investing (Taylor Larimore, Mel Lindauer, Michael LeBoeuf, and John C. Bogle)
What Color is Your Parachute (Richard Nelson Bolles)
Real Money (Jim Cramer)
The Millionaire Next Door (Thomas Stanley and William Danko)
The Money Book for The Young, Fabulous, and Broke (Suze Orman)
Get a Financial Life: Personal Finance in Your Twenties and Thirties (B. Kobliner)
And many more…
The AUM Library has created an online guide to provide users with information on the Money Talks sessions and money management in general. Visit the online guide or stop by the second floor of the Library Tower and browse the display to learn more about how you can successfully manage your finances.
AUM Day of Giving
Mark your calendars for #AUMDayofGiving 2017, a special, 24-hour fundraising initiative is happening today!
Show your love for AUM by supporting the many projects and programs from the colleges and departments seeking private support. A social media based initiative, AUM has ambassadors from all areas of the campus who will utilize their personal social media accounts, as well as the official AUM Facebook pages, Twitter and Instagram accounts to promote their AUM projects. Keep an eye out on AUM Facebook pages, Twitter and Instagram for information on projects that need your support!
AUM Projects:
Curtiss the Warhawk
The Learning Center
The Library
Medical and Clinical Laboratory Sciences
Operation Warhawk Assist
Student Athlete Advisory Committee
Study Abroad
University Honors Program
Keep an eye out for more details on the projects and how you can show your love for AUM on this special day!
For more information, visit www.aum.edu/dayofgiving.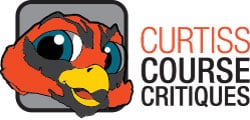 2017 Human Resource Professionals Conference
This one-day conference will provide professionals in personnel administration, human resources, training and development, talent management, and human capital management an opportunity to hear from field experts who will be addressing an array of critical and relevant topics.
Registration is required. Tickets are $119, or $99 for AUM staff and students. AUM staff and students must call 334-244-3804. Online registration can be found through OutReach at AUM.
Wednesday, Feb. 15 | 8:30 a.m.–4:30 p.m. | Taylor Center
I 'Heart' UNIV
Come join us to celebrate UNIV and student success at AUM.  Goals of "I 'Heart' UNIV" include recognizing former and current UNIV students and instructors and recruiting new instructors. A slide show and handouts about the course and program will be included as well as pizza, drinks, cake, UNIV swag, and drawings for door prizes.
For more information about UNIV for students, visit the AUM UNIV-1000 page. For more information about becoming a UNIV instructor, visit AUM's page on why you should teach UNIV.
Faculty and staff interested in teaching UNIV should apply by March 1, 2017. For information, contact Amy Ingram at [email protected] or 334-244-3153.
Wednesday, Feb. 15 | 11 a.m.–1 p.m. | Library Tower, 10th floor East
Money Talks!
The College of Business and UNIV 1000 invite you to attend Money Talks! Designed for students, the talks are 1-hour sessions on managing your financial life offered by AUM and community partners. The talks will be held on Wednesday, Feb. 15 and Thursday, Feb. 16 in the Library Tower, 10th floor West. Choose your sessions and stop by. Attendance is open to students, faculty and staff.
Wednesday, Feb. 15 | 8 a.m. | "Your Credit Cards, Your Credit"
Wednesday, Feb. 15 | 9:25 a.m. | "Identity Theft"
Wednesday, Feb. 15 | 12:45 p.m. | "Financial Wellness"
Thursday, Feb. 16 | 8 a.m. | "Countdown to Retirement–It Starts Now"
Thursday, Feb. 16 | 9:25 a.m. | "Budgeting for Success"
Thursday, Feb. 16 | 12:45 p.m. | "Your Credit Report and What Builds Your Credit"
Thursday, Feb. 16 | 5 p.m. | "Investing in Yourself, for Others and for Your Future"
Students can also check out the library display on the second floor of the Library Tower for books and resources on money management.
ON FIRE: The 7 Choices to Ignite a Radically Inspired Life
The AUM Business Breakfast Series will continue on Feb. 16 with John O'Leary, inspirational speaker and author of number one national best-seller "ON FIRE".
Join John O'Leary as he discusses what our day, impact and output look like if we live a radically inspired life every single day.
Living radically inspired means you learn from past mistakes, rise above challenges and thrive no matter the circumstances. No one embodies "living radically" more than O'Leary–who was nearly killed in a devastating fire at age nine.
Tickets must be purchased in advance.
AUM employee discount tickets, $30
AUM groups, $250
The Business Breakfast series runs from October through March, with a different speaker each month. AUM faculty and staff can attend at a discounted rate. Visit the AUM Outreach page to see the full line-up of speakers and to register.
Thursday, Feb. 16 | 7:30–9 a.m. | Wynlakes Golf & Country Club, Montgomery, Ala.
Disney's Inside Out showing on campus
The Warhawk Disability Alliance is hosting a viewing of Disney's "Inside Out."
This movie brings to life the real emotions that we all can go through on a daily basis. Those who live with neurological disabilities can experience a rush of any of these emotions at any time. Also, some may experience just one of these disabilities consistently. For example, this movie can be viewed in a way that depicts depression. Although this is a somewhat funny and lighthearted movie, it shows some of our day-to-day struggles.
"Inside Out" (2015) is a fantasy/comedy-drama that takes a different perspective on the old coming of age story. It is about a young girl named Riley (voiced by Kaitlyn Dias) whose life is changed when her family moves to San Francisco. She must navigate her own emotions with the help of "Joy" (voiced by Amy Poehler) and come to terms with this event.
Thursday, Feb. 16 | 11:30 a.m.–2 p.m. | Taylor Center 230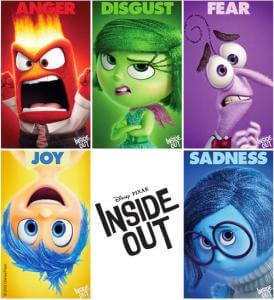 Theatre AUM's 'Coupler' opens Feb. 16
Theatre AUM's production of "Coupler," a new and original work by Meredith D. Levy, opens Feb. 16.
The play, which will be directed by Neil David Seibel, involves six Londoners who are about to discover that the entire world is made of love, trust, and a little bit of pixie dust
"Coupler" follows the twists and turns in the lives of the occupants of the last car of the Northern line, who are looking for love and struggling to trust. With the help of some pixie dust, and a particularly vocal tube train, they work to connect, listen, and eventually — inevitably — grow up.
The show dates are Feb. 16, 17, and 18 and Feb. 23, 24, 25, and 26. Show times are 7:30 p.m. Monday thru Saturday, and 2 p.m. for the Sunday matinee.
The playwright, Meredith Dayna Levy, will join the audience on Feb. 24 for a post-show discussion.
General admission tickets are $10. Senior citizen, military, and student tickets are $5. AUM students, faculty and staff are free with ID.
Thursday, Feb. 16 | 7:30 p.m. | Theatre AUM, located in the Taylor Center
Save the Date: Homecoming 2017
Check out all the fun for Homecoming week!
The Campus Activities Board is hosting the HoCo Bash on Thursday, Feb. 23 from 8 p.m. until midnight in Taylor Center 221–223. The event is open to AUM students only and ID is required.
All AUM departments and offices are invited to the annual tailgate before the men's and women's basketball games Feb. 25.
Feb. 20–25 | www.aum.edu/Homecoming
AUM Reads! An AUM Connected Day of Celebrating Reading
Join us for a day of lectures, food and incentives as well as a movie at lunchtime. "It's a Disaster" (2012) is a comedy about the worst brunch ever: The eggs are cold, tensions are high, and the end of civilization is near.
Also, the 2017–2018 connected book will be announced at the beginning of lunch.
Monday, Feb. 27 | 9:30 a.m.–5 p.m. (Lunch and movie, 12:15 p.m.) | Taylor Center 230
Laissez les bons temps rouler!
Let the good times roll!
Join the Campus Activities Board as we dive into our Mardi Gras celebration with traditional food and music. Student ID required.
Tuesday, Feb. 28 | 5–7 p.m. | Warhawk Alley
Continuing Merit Scholarship open to current students
The Continuing Merit Scholarship application is available to current AUM students who are in good standing. Students must have completed 12 or more hours of undergraduate or 9 or more hours of graduate coursework to be considered for university scholarships.
This application will also serve as the 2017-2018 Ida Belle Young Merit Scholarship application. Currently enrolled AUM undergraduate students who have completed a minimum of 24 credit hours and graduate students who have completed a minimum of 9 credit hours with a minimum 3.5 cumulative GPA will be considered for this scholarship. The Ida Belle Young Scholarship is also competitive and limited in number.
Students can find the scholarship application online. The deadline to apply for the scholarships is March 1.