Warhawk Weekly 11–1: Study Abroad Fair; WAC Program celebrates birthday
Warhawk Weekly 11–1: Study Abroad Fair; WAC Program celebrates birthday
Warhawk Spotlight: Diversity and Collaboration
4th annual Study Abroad Fair
Diversity and Collaboration: The 4th annual Study Abroad Fair presented an opportunity for students to see possibilities in a diverse world and to work together.
Students, faculty and staff worked side by side in Taylor Center 230, where tables representing programs in countries like South Korea, Ecuador, China, Japan, Mexico, Costa Rica, the United Kingdom–and a new country, Madagascar–were the sites of dialogue and creativity.
WAC Program celebrates birthday
#AUMWrites, held on October 20 and sponsored by the AUM Writing Across the Curriculum Program, Learning Center/ISL, WASC and the library, was a successful and fun student support event.
We celebrated the WAC Program's seventh birthday, the National Day of Writing and AUM students' academic and creative writing. WAC Interns and LC Writing Consultants provided research and writing assistance to walk-in students. More than 100 students attended the afternoon session, and 65 students attended the evening session.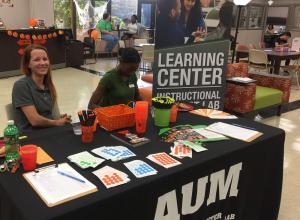 Field day at the Arboretum School
Students in Dr. Nick Bourke's Methods of Teaching Elementary Science course shared a fun day of environmental education with the third graders from Pintlala Elementary School. The Montgomery Arboretum School, the outdoor school of Montgomery public schools, hosted the Pintlala students and the AUM Childhood Education majors for the event.
The AUM crew prepared a rotation of engaging outdoor activities connected to environmental education topics for the third graders. Activities included habitat hunts, nature walks searching for evidence of wildlife, and nature journaling and poetry writing. The Pintlala students left the Arboretum exhausted but with a deeper understanding and appreciation of the natural world around them.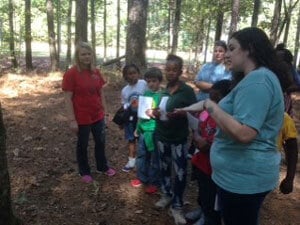 Graduate students complete teaching certification
Oninye Ulasi and Kristen Waters, AUM graduate students, completed the Graduate Student Teaching Certification Program through the Center for Excellence in Learning and Teaching.
The program, which began in January, aims to assist graduate students in obtaining some of the necessary skills and information for effective teaching and requires participants to attend eight CELT sessions and a syllabus peer review session. Graduate students in any field are welcome and can sign up by contacting CELT Director, Dr. Lee Farrow at [email protected].
Let's Talk provides counseling services
Overwhelmed with school? Stressed about finals? Visit Let's Talk, a program sponsored by the AUM Counseling Center that engages students by providing brief informal walk-in consultations with a counselor.
Let's Talk is free and held every Tuesday from 1 p.m. to 2 p.m. in Room 126 of the Taylor Center and every Wednesday from 1 p.m. to 2 p.m. in Room 109 of Clement Hall. For more information, contact the AUM Counseling Center at [email protected] or 334-244-3469.
Foundation Center workshop
Are you seeking grants for your campus unit, tax-exempt organization or research project? To help you navigate the funding landscape, the AUM library is hosting a free workshop demonstrating the Foundation Center's Foundation Directory Online.
Attendees will learn to use Foundation Directory Online, which is available in the library, to search for grant prospects using more than 140,000 non-governmental grantmaker profiles and more than 5 million recently awarded grants.
All are welcome; however, space is limited, so advance registration is requested. To register, please visit the AUM Library's site.
Today, Nov. 1 | 2–3 p.m. | Library Tower, 2nd Floor, Instruction Lab
Career Talk: A panel discussion
The AUM College of Business is pleased to invite students to the inaugural Career Talk panel discussion series. The event will be followed by a networking session with refreshments.
Panelists are members of Emerge Montgomery, a premiere young professionals organization in the River Region. These young professionals have excelled in the medical, financial, educational, entrepreneurial and marketing fields. Students will have the opportunity to network with these young professionals and gain insight into building successful careers. This is a free event, and no registration is required; however, professional dress is required.
Today, Nov. 1 | 5:30–6:30 p.m. | Taylor Center 230
AUMazing Workshop Series continues
The Warhawk Academic Success Center, Learning Center, Career Development Center and the library are sponsoring the AUMazing Workshop Series.
These free student workshops will introduce attendees to library and academic support resources that will help them on their academic journey.
All workshops will be held in the Library Computer Lab on the 2nd Floor of the AUM Library Tower. While registration isn't required, it is encouraged, as seating is limited! You can register electronically via the AUM Library calendar or choose from the times listed below!
Refreshments will be provided at all workshops, and attendees will have the opportunity to win AUM goodies, iTunes gift cards, and Amazon gift cards!
Learn how you can become an AUMazing student! For more information, contact Jessica Hayes!
November 2––Using LinkedIn to Develop Your Career
12 pm–12:45 pm
5:15 pm–6:00 pm
November 3––Using LinkedIn to Develop Your Career
AUMcapella hosts spring auditions
AUM's ladies a capella group, AUMcapella, is holding open auditions. The audition will consist of two songs: One will be any song you choose; the other will be a piece for which we will provide sheet music and a practice track.
Please be able to specify your vocal range as Soprano I, Soprano II, Alto I or Alto II. Sight reading ability is preferred but not required.
A complete list of requirements will be provided before the audition dates. Contact E. L. DuBose at [email protected] or 334-244-3810 to obtain materials. Also, please visit the AUMcapella page for more information.
Monday, Nov. 7 | 7–9 p.m. | Goodwyn Hall 109
Friday, Nov. 11 | 2–4 p.m. | Goodwyn Hall 109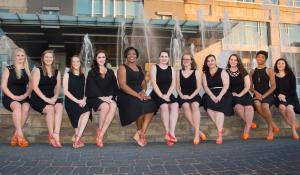 Feedback better, mobile, eco-friendly with online course evals
No more paper! AUM's new online course evaluation system, Curtiss Course Critiques, will help you…
Improve your learning experience by giving feedback to instructors in your major
Complete evaluations quickly and easily on any mobile device
Ensure responses will remain confidential and evaluation results will not be available to instructors until after they've submitted final grades
Keep an eye out for an email from the Office of the Provost with information about how to access Curtiss Course Critiques and complete your evaluations.
Curtiss Course Critiques Schedule for Fall 2016:
| | | |
| --- | --- | --- |
| | Open Date | Close Date |
| 2nd Half and Full Terms | 11/7/2016 | 11/29/2016 |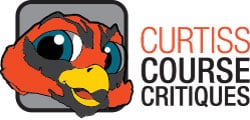 Don't make a boo-boo with your career
Are you on track to begin your career out of college? Are you learning pertinent knowledge that will help you be successful at your new job? Come join Medical and Clinical Lab Sciences as we show you a great career choice. We will be giving out free information and free Band-Aids!
Tuesday, Nov. 8 | 11:30 a.m. | AUMazing Bean
Hot Topics Café: Election watch party
Housing and Residence Life is hosting a Hot Topics Café to view the election results and engage in discussion on the candidates' positions on important issues.
Tuesday, Nov. 8 | 7 p.m. | The Landing (located in The Nest)
Political Film Series schedule
Get ready for another semester of exciting films in the Political Film Series sponsored by the Department of Political Science & Public Administration and the College of Public Policy & Justice. All films start at 7 p.m. with an introduction to the film subject and context. Audience discussion follows the screening.
We Were Soldiers (2002; R)
November 10 | Goodwyn Hall 111
We Were Soldiers is a fact-based tale of men under fire, their common acts of uncommon valor, and their loyalty to, and love for, one another during one of the most savage military battles during the Vietnam War. Dr. Ben Severance of the History department will give an introduction. This film showing is co-sponsored by the College of Arts & Sciences
The Political Film Series is made possible thanks to a grant from the Ida Belle Young Special Projects Fund. The event is free and open to the public; popcorn and soda are complimentary. For further information, or to receive email updates, please contact Dr. Pia Knigge at [email protected] or 334-244-3834.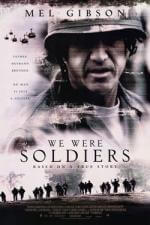 CELT sessions this week
FDI: Black Board Assessments
* Required for online teaching certification
Today, Nov. 1 | 9 a.m.–noon | Clement Hall 111
CELT Discussion of Article: "Unskilled and Unaware in the Classroom"
Wednesday, Nov. 2 | Noon–1 p.m. | Library Tower, 10th Floor East
FDI: AUM Online Course Quality Standards
* Required for online teaching certification
Thursday, Nov. 3 | 9 a.m.–noon | Clement Hall 110
Working with International Students
* Recommended for UNIV instructors and for WAC recertification
Thursday, Nov. 3 | 1–2 p.m. | Taylor Center 223
Research from the Other Side
* Recommended for UNIV instructors and for WAC recertification
Friday, Nov. 4 | Noon–1 p.m. | Library Tower, 10th Floor West
For upcoming CELT events, visit the AUM Center for Excellence in Learning and Teaching homepage.
Kinesiology department assesses body composition
The Physiology of Exercise Laboratory course is conducting a study for student research. The goal is to examine the day-to-day noise in various measures of body composition used in our lab. There are a number of methods to assess body composition. Each varies in cost and complexity. It is our goal to examine the differences between four commonly used methods and identify which one may be optimal and has the lowest amount of day-to-day noise.
You are eligible to participate if you are between 18-50 years of age and in good health. Women must not be pregnant. You will need to come to the lab twice within a two-week period for about 75 minutes each visit.
You will be fasted overnight and will provide a urine sample to make sure you are hydrated and to screen for pregnancy (women). You will then complete four body composition assessments in order: BodPod, DEXA, BIA, and underwater weighing. The BodPod and underwater weighing require tight-fitting spandex shorts or briefs.
After you have completed both visits, you will be emailed a detailed body composition analysis sheet. If interested, contact Matt Schubert at [email protected] for more information.
#AUMSoCon
How does social marketing work in the business world? We've got the answer from the experts! OutReach at Auburn University at Montgomery invites you to attend #AUMSoCon.
Each year at #AUMSoCon, we try to build on past content and include new and emerging topics in marketing! This one-day conference will provide professionals an opportunity to hear from field experts who will be addressing an array of critical and relevant topics. #AUMSoCon will help you to: expand your network, learn new skills and tools, break out of your comfort zone, and expand your resources.
Visit the conference site for up to date information on speakers and topics! Tickets are $129. Call 334-244-3804 to register at the $99 student rate!
Pre-registration is required. The deadline is November 15 but there is limited space.
Wednesday, Nov. 16 | 8:30 a.m.–4:30 p.m. | AUM Taylor Center
Call for Submissions – AUM Lecture Series Program
The AUM Lecture Series Program Committee is calling for submissions to the AUM Lecture Series Program for the fiscal year 2016-2017. The submission deadline is 3 p.m. on November 18.
Please submit the Lecture Speaker proposal and all supporting documents to [email protected] or send 10 copies of the completed form to Dr. Gilbert Duenas, College of Education, Room 319.