Warhawk Weekly 10–4: NCAA hires AUM alums; Recruiters visit campus for job fair
Warhawk Weekly 10–4: NCAA hires AUM alums; Recruiters visit campus for job fair
Warhawk Spotlight: Students First:
AUM alums land jobs at NCAA schools
Students First: Casey Page and Cayla Morgan, who both obtained Master's degrees in AUM College of Education, have recently been accepted into athletic programs at the University of Arkansas and the University of Pittsburgh respectively. Both grads attribute their experience at AUM to their recent success.
Recruiters visit campus for job fair
The AUM Career Development Center, along with the College of Business and College of Public Policy and Justice, will host a governmental job fair Oct 11. Recruiters from federal, state, local, and contractor government organizations will be on campus to network with students interested in employment in the public sector. All students are welcome to attend. Professional dress is required.
Career specialists within the Career Development Center and the College of Business Office of Student Engagement and Success will be available to review resumes and other job search materials prior to the job fair. Please contact the Career Development Center at [email protected] or the Office of Student Engagement and Success at [email protected] to schedule an appointment.
Teacher candidates hit the classroom
On Tuesday, Sept. 20, teacher candidates assisted Bear Exploration Center teachers and students in fun-filled math activities.
Each AUM educator spent their time volunteering with a different teacher in various grade levels as students and parents rotated classrooms throughout the evening.
Make donation, get 20 percent off on AUM insignia items
If you bring any canned food or non-perishable food item to the Warhawk Shop during the month of October, you will receive 20 percent off on any AUM insignia item. All items will be donated to the AUM Campus Food Bank.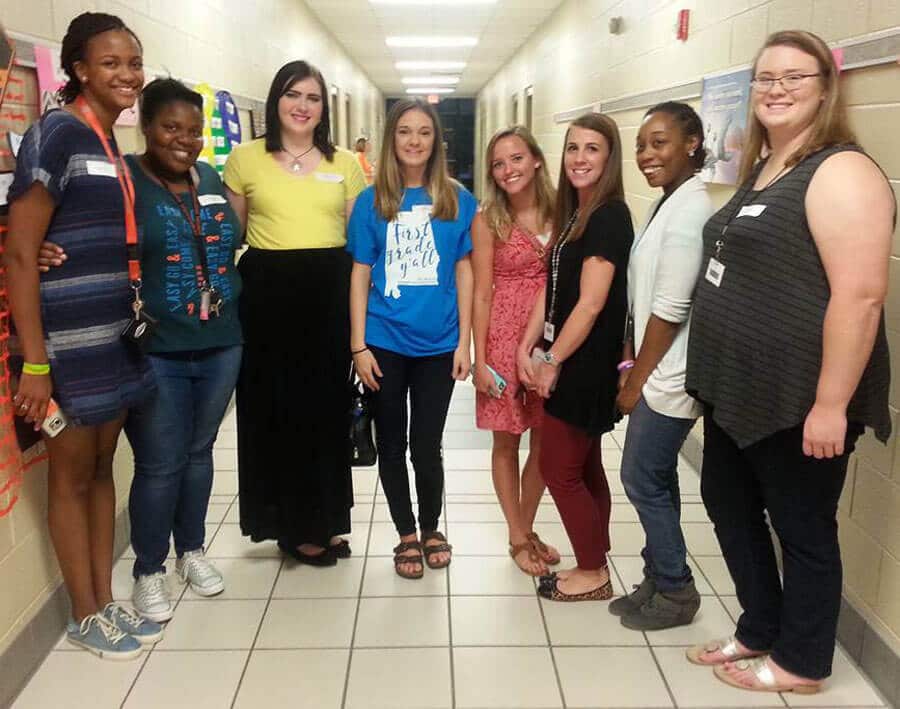 Local news reporter to coach students in networking
Local news reporter Rosanna Smith will present "Networking 101," a workshop for students to learn strategies for networking with individuals in recruitment and other professional situations. Verbal and non-verbal behaviors, conversational strategies and other techniques for engaging others will be included in the presentation.
Students can register for the event through Warhawk Careers at MyAUM.
Today, Oct. 4 | 11:30 a.m.–1 p.m. | Taylor Center 221
Karaoke, All You Care to Eat
The Roost is hosting an All-You-Care-to-Eat buffet and Karaoke night. Papa John's will still remain open. Come out and join The Roost for endless food and singing!
Today, Oct. 4 | 5–8 p.m. | The Roost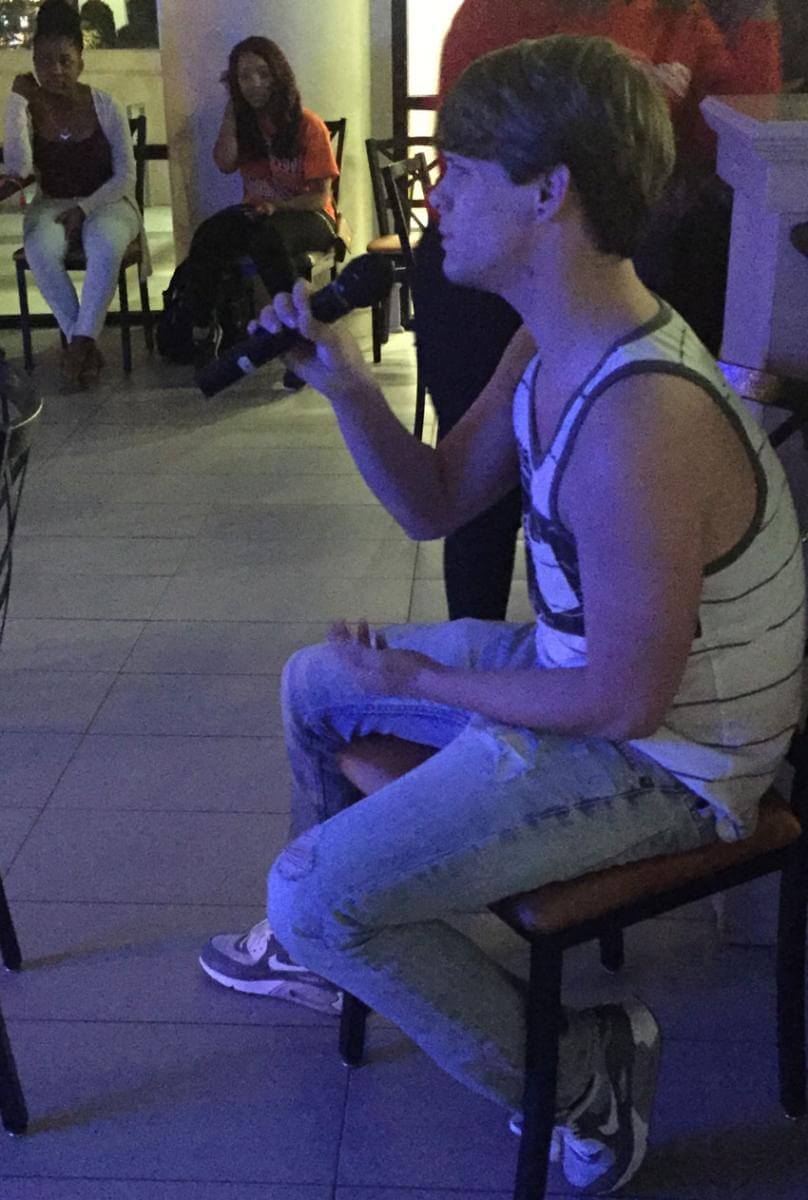 Ultimate Frisbee interest meeting
Come try out for a new Ultimate Frisbee team. It is free to play and anyone is welcome, especially current, past and future AUM students.
It is suggested that you bring a 175g disc, running shoes, shorts, a shirt, football or Frisbee gloves, a towel, sunglasses or a hat, and water or sports drinks. Combine will start at approximately 5 p.m. and a scrimmage will occur after combine if time permits.
No knowledge or experience in Ultimate Frisbee is required or needed to play or try out. If you miss the interest meetings, there will be another meeting with makeup tryouts during a team scrimmage.
Wednesday, Oct. 5 | 5 p.m. | Field across from Baptist Campus Ministries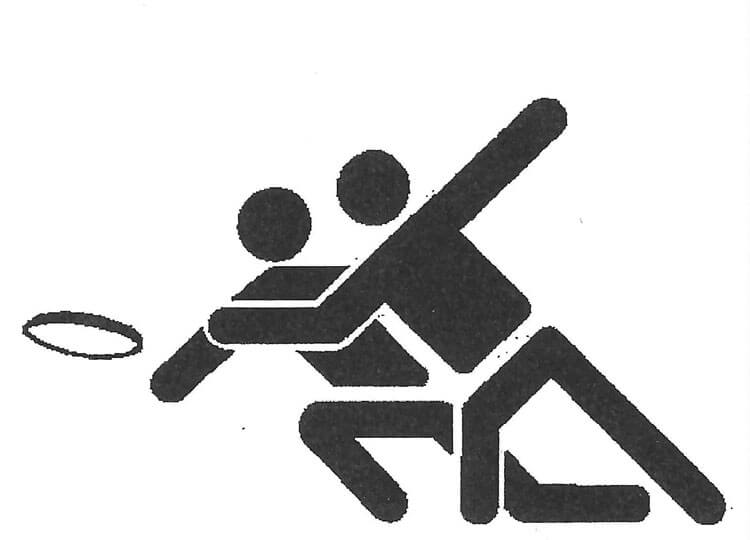 Chaucer's astrolabes how-to
Near the end of the 14th century, Geoffrey Chaucer, the English author best known for the Canterbury Tales, penned a treatise on the use of the astrolabe for his son Lewis. In her talk, Dr. Kristine Larsen from Central Connecticut State University will introduce Chaucer's treatise and explain several computations that can be done with the astrolabe based on Chaucer's text.
The first 50 people attending the talk will receive a free astrolabe constructed to conform to the astrolabe Chaucer used in his work, calibrated to the latitude and longitude of Oxford, England.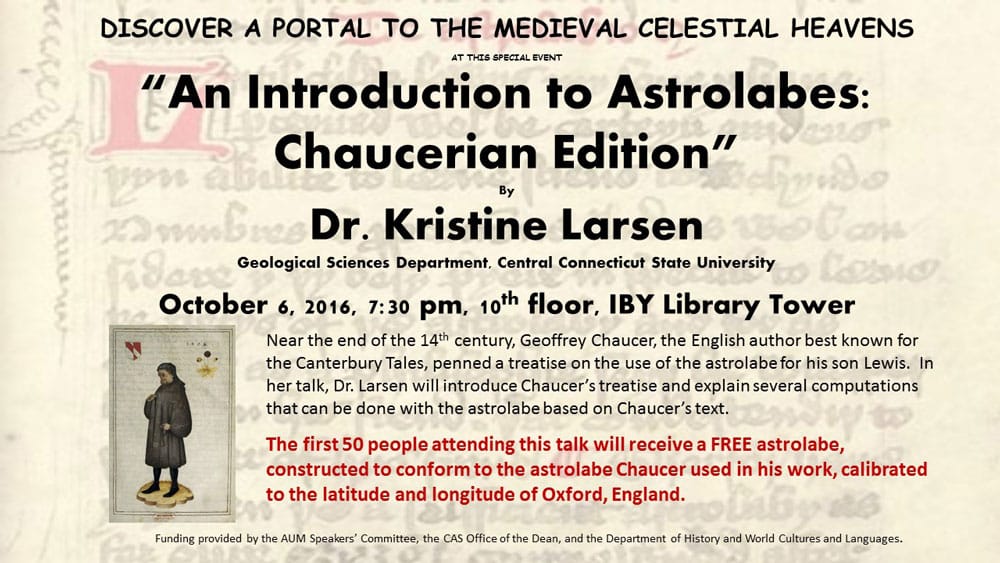 Harper to discuss teen decision-making
Bridgette Harper, associate professor in the Department of Psychology, will explore teenage choices and how adults can provide guidance Friday in her discussion, "What Were They Thinking? Understanding Teen Brain Development and Decision-Making."
Even though teens may look like adults, their brains are far from adult cognitive abilities. Recent research suggests that the frontal cortex, the part of the brain responsible for reasoning, understanding consequences and self-regulation, continues to develop well into our 20s. However, there are things mentors can do to encourage and help develop teens' risk/benefit assessment and aid the development of rational thinking and self-discipline in our teens.
Friday, Oct. 7 | 1–2 p.m. | Goodwyn Hall 112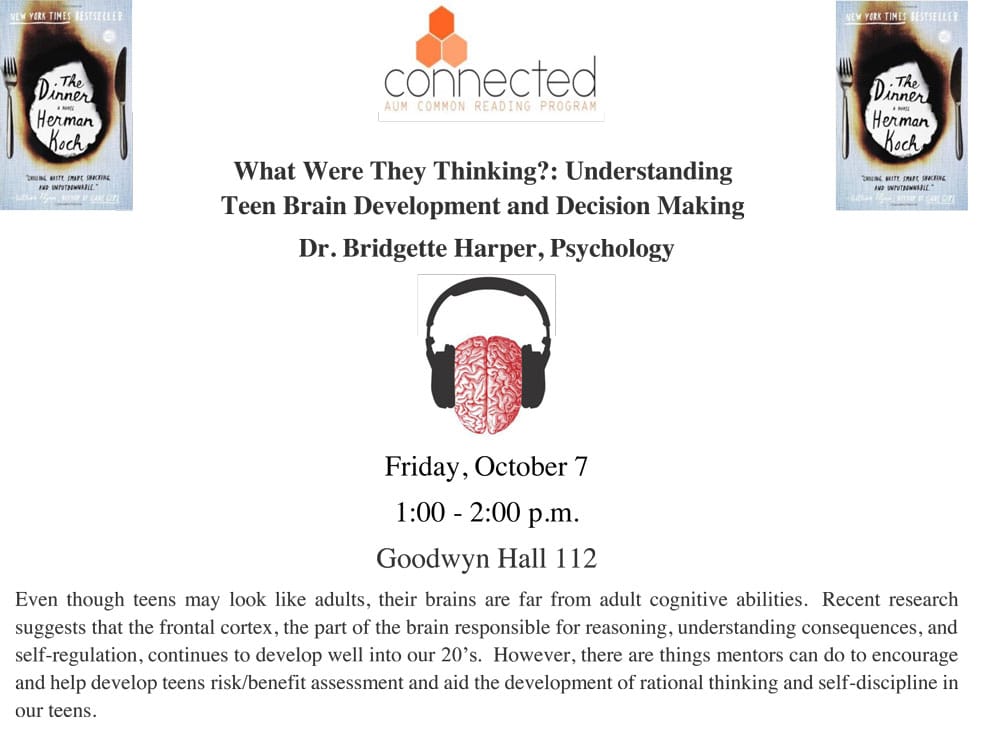 Out of the Darkness Walk to raise suicide awareness
The AUM Counseling Center is hosting the Out of the Darkness Walk to fight suicide. If you've lost someone to suicide, or if you or someone you know suffers from a mental condition like depression or anxiety, please join us.
Suicide is the tenth leading cause of death in this country. It touches millions of lives —people of all ages, ethnicities and backgrounds — but the research is clear: Suicide is preventable, and the more people who stand up for suicide prevention and mental health, the more lives we can save.
The event is free; however, any funds raised will support the American Foundation for Suicide Prevention (AFSP) and its bold goal to reduce the annual suicide rate in the United States 20 percent through research, education, advocacy and support by 2025. These walks are truly an uplifting experience, and they grow every year.
For more information, visit the AFSP website or contact Jennifer Bradley, director of AUM's Counseling Center, at [email protected] or 334-244-3469.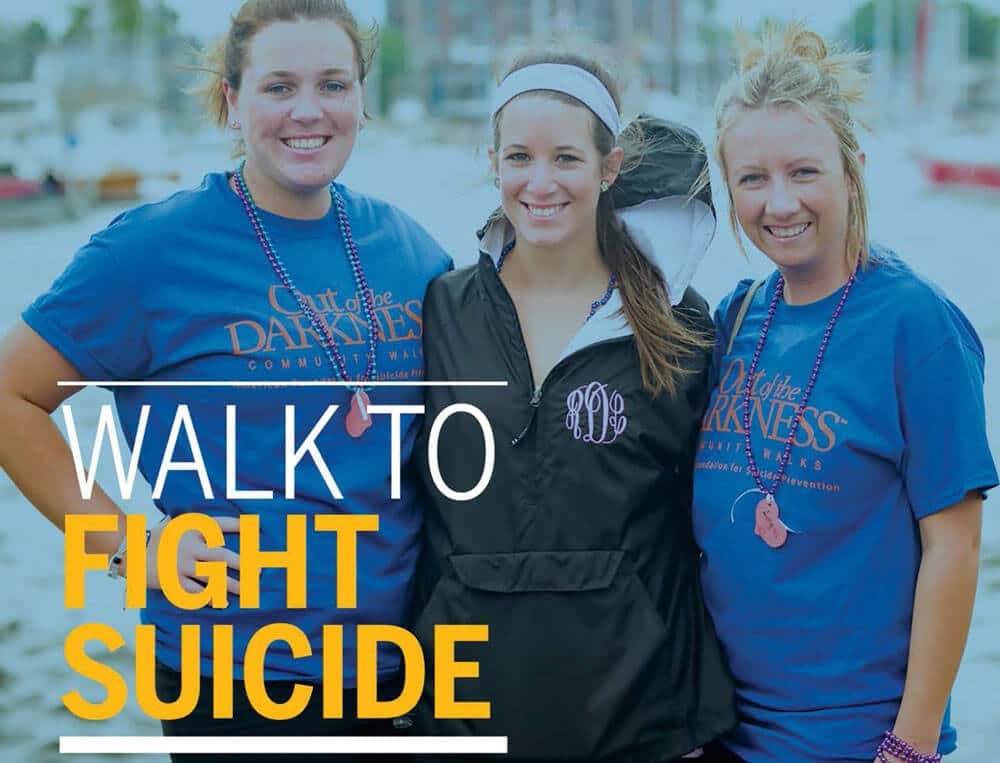 AUMazing Workshop Series continues
The Warhawk Academic Success Center, Learning Center, Career Development Center and the library are sponsoring the AUMazing Workshop Series.
These free student workshops will introduce attendees to library and academic support resources that will help them on their academic journey.
All workshops will be held in the Library Computer Lab on the 2nd Floor of the AUM Library Tower. While registration isn't required, it is encouraged, as seating is limited! You can register electronically via the AUM Library calendar or choose from the times listed below!
Refreshments will be provided at all workshops, and attendees will have the opportunity to win AUM goodies, iTunes gift cards, and Amazon gift cards!
Learn how you can become an AUMazing student! For more information, contact Jessica Hayes!
October 10 — "I just got Assigned A Research Paper! Now What?": Starting the Research Paper Process with the AUM Library"
12 pm – 12:45 pm
5:15 pm – 6:00 pm
October 13 — "I just got Assigned A Research Paper! Now What?": Starting the Research Paper Process with the AUM Library"
12 pm – 12:45 pm
6:20 pm -7:05 pm
Nursing & Health Sciences students to train at Warhawk Hospital
Three departments in the College of Nursing & Health Sciences will train together at this interdisciplinary learning activity.
Communication Disorders, Medical & Clinical Lab Sciences, and Nursing majors all will learn to work efficiently together in a mock hospital setting. Each department also will learn how the others work in a hospital to provide the best possible patient care.
Thursday, Oct. 13 | 9 a.m.–4 p.m. | Moore Hall
Stitch to help Belize girls
Students in Global Child Advocacy Issues, offered by the Department of Sociology as a part of the Child Advocacy minor and Pre-Social Work curriculum, are working with the Montgomery Chapter of Days for Girls to assemble 50 personal hygiene kits for girls in Belize. Last year, students assisted with 100 kits, which were sent to young women in Nigeria.
Sewers of all skill levels are welcome to assist the "Sew-In," which serves as one part of the students' required civic engagement project. Also, the students will travel to Belize this fall to conduct counseling sessions with young women at risk of being victimized by human traffickers.
The Days for Girls project is still accepting donations of travel-sized and hotel soaps, gallon-sized zip-lock bags, washcloths, and underwear (girls, sizes 10–14, and women, sizes 4–8).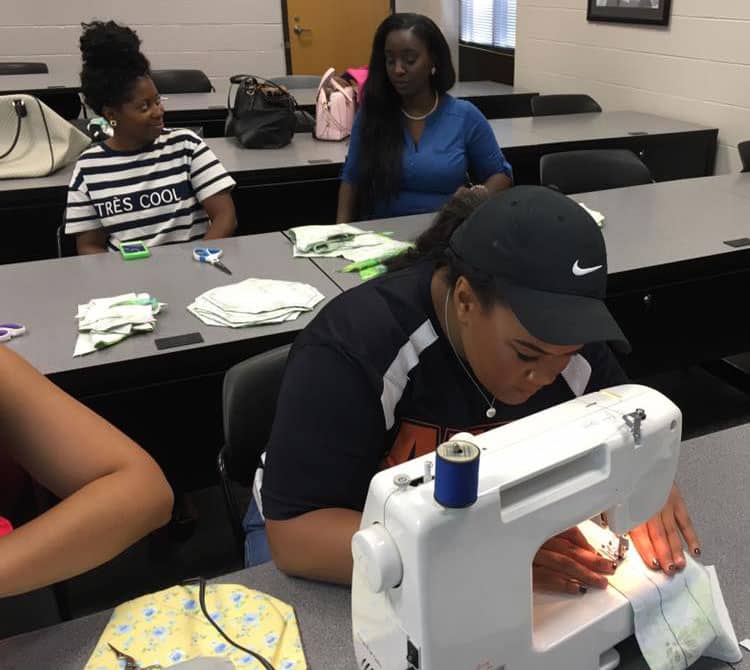 Shakespeare celebration features Willis lecture, 'No Holds Bard' performance
Join Theatre AUM for the Shakespeare Celebration at Alabama Shakespeare Festival. Enjoy an afternoon with your family at ASF with crafts, artisan demonstrations, talks on Shakespeare, and a performance of Theatre AUM's production of "No Holds Bard: A Shakespearean Celebration," featuring scenes, songs and soliloquies.
Dr. Susan Willis, professor in the Department of English and Philosophy, will present a Theatre in the Mind lecture at noon. Additionally, The Montgomery Museum of Fine Arts will present a First Folio exhibit.
These festivities are part of the yearlong international commemoration of Shakespeare 400.
Saturday, Oct. 15 | Noon–7 p.m. | Alabama Shakespeare Festival

How Did We Get Here? Trump vs. Clinton and What Business Leaders Need to Know
The AUM Business Breakfast Series will kick off Oct. 28 with David Wasserman, election analyst with the Cook Political Report.
Join David Wasserman as he analyzes how we arrived at our chaotic political predicament. Wasserman will lay out the powerful, long-term forces that have led us to this milestone in presidential politics and structurally shaken Congress: a cultural self-sorting of the electorate, the decentralization of news, a decline in the power of political parties (independent voters are now 43 percent of the electorate), economic bifurcation and the global rise of nationalism. Come hear Wasserman's take on the future of American politics and his prognosis of what we can expect in the 2016 presidential and congressional elections.
Tickets must be purchased in advance, and the deadline to register is Oct. 26.
Prices are:
Individual tickets, $35
Table of 8 tickets, $350
AUM employee discount tickets, $30
AUM groups, $250
The Business Breakfast series runs from October through March, with a different speaker each month. AUM faculty and staff can attend at a discounted rate. Visit the AUM OutReach page to see the full lineup of speakers and to register.
Friday, Oct. 28 | 7:30–9 a.m. | The Marriott Legends at Capitol Hill, Prattville, Ala.
CELT sessions this week
Teaching in the Honors Program
Today, Oct. 4 | 9:30–10:30 a.m. | Goodwyn Hall 109
FDI: Blackboard Assessments
* Required for online teaching certification
Today, Oct. 4 | 1­–4 p.m. | Clement Hall 111
FDI: Self-Guided Self-Review in Quality Matters
* Elective for online teaching certification and recertification
Wednesday, Oct. 5 | 9 a.m.–noon | Clement Hall 114
Writing Course Goals and Outcomes for Classes
Wednesday, Oct. 5 | 2–3 p.m. | Goodwyn Hall 109
Webster and Degree Works for Faculty
* Elective for online teaching certification
Thursday, Oct. 6 | 11 a.m.–noon | Clement Hall 111
FDI: Blackboard Basics
* Required for online teaching certification
Thursday, Oct. 6 | 1–4 p.m. | Clement Hall 111
AUM Connected Lecture: What Were They Thinking? Understanding Teen Brain Development and Decision Making
* Recommended for UNIV instructors
Friday, Oct. 7 | 1–2 p.m. | Goodwyn Hall 112
Worried about a Student? How to Report a Judicial Concern
Monday, Oct. 10 | 2–3 p.m. | Library Tower, 10th floor West
Feedback better, mobile, eco-friendly with online course evals
No more paper! AUM's new online course evaluation system, Curtiss Course Critiques, will help you…
Improve your learning experience by giving feedback to instructors in your major
Complete evaluations quickly and easily on any mobile device
Ensure responses will remain confidential and evaluation results will not be available to instructors until after they've submitted final grades
Keep an eye out for an email from the Office of the Provost with information about how to access Curtiss Course Critiques and complete your evaluations.
Curtiss Course Critiques Schedule for Fall 2016:
Open Date
Close Date
1st Half Term
09/20/2016
10/04/2016
2nd Half and Full Terms
11/15/2016
11/29/2016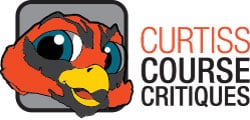 Get ghoulish for Halloween decorating contest
AUM Staff Council is presenting its annual Halloween decorating contest, and this year's theme is "animation." Judging will begin Monday, Oct. 31, and winners will be announced Tuesday, Nov. 1.
Departments who want to participate should email Kathryn Ashmore at [email protected] no later than 5 p.m. on Friday, Oct. 7.
Chancellor's Convocation Oct. 21
Faculty and staff are encouraged to attend the annual Chancellor's Convocation on Friday, Oct. 21. Join Dr. Stockton for breakfast and see the new faces of AUM slideshow and presentation of the following awards:
Faculty Service Award
OutReach Grant Award
OutReach Excellence Award
Friday, Oct. 21 | 8:30–10 a.m. | Taylor Center 221–223 | RSVP via email to [email protected]
Upcoming CELT Sessions
AUM Online Course Quality Standards
* Required for online teaching certification
Tuesday, Oct. 11 | 9 a.m.–noon | Clement Hall 111
Blogging the Revolution: Connecting the Past to the Present
Wednesday, Oct. 12 | 9:30–10:30 a.m. | Library Tower, 10th floor East
Lunch and Learn: "Appy Hour"
* Elective course for online teaching certification
* Recommended for UNIV instructors
Wednesday, Oct. 12 | Noon–1 p.m. | Taylor Center 222
Beyond the Written Text: Classrooms without Walls
* Recommended for UNIV instructors
* Recommended for WAC recertification
Wednesday, Oct. 12 | 2–3 p.m. | Library Tower, 10th floor East
FDI: Using Respondus to Create Tests in Blackboard; and StudyMate: Creating Flash-Based Activities for your Course
* Elective for online teaching certification
Thursday, Oct. 13 | 1–4 p.m. | Clement Hall 111
Cell Phones, Tardiness, and Absenteeism: Strategies for Preventing Problematic Student Behavior
* Recommended for UNIV instructors
Friday, Oct. 14 | 1­–2 p.m. | Library Tower, 10th floor East
Warhawk Warning
* Recommended for UNIV instructors
Monday, Oct. 17 | 11 a.m.–noon | Taylor Center 223