Warhawk Weekly 10–17: Study Abroad Fair success; Shriek Week needs volunteers
Warhawk Weekly 10–17: Study Abroad Fair success; Shriek Week needs volunteers
Annual Study Abroad Fair successful
The 5th annual Study Abroad Fair provided an opportunity to AUM students to touch different cultures and discover the possibilities of exploring the world.  About 400 AUM students, faculty and guests visited to enjoy the cultural fair to learn about the programs offered for the 2018 Study Abroad season.
The 2018 lineup has five programs to offer and each one is open for applications. Each program is only about two weeks but the experiences gained will last a lifetime. The line-up is as follows:
Costa Rica (ECEL 4973, INST 6914/7914) – Prof. Nicholas Bourke, College of Education
England (HONR 1957, PHIL 4230/6230) – Prof. Matthew Jordan, College of Arts & Sciences and University Honors Program
Europe (ECON 4970) – Prof. Jeff Bates, College of Public Policy & Justice
Japan (INFO 4900/6900) – Prof. Donald Amoroso, College of Business
Mexico (SPAN 3000/4000) – Prof. Pamela Long, College of Arts & Sciences
Study Abroad offers four exchange programs as well. Students have options when it comes to how long they would like to study in their foreign. The four countries available to choose from are listed below:
England – University of Lincoln
Japan – University of Shiga Prefecture
Mexico – Tecnológico de Monterrey
South Korea – University of Ulsan
During the fair, attendees also had a chance to know the world diversity by experiencing different culture activities, such as cultural intelligence, henna tattoo, national dances, etc.
If you have any questions or comments, contact our team at [email protected] or 334-244-3375. Or if you would like to come see us in person, we're located in the Administration building, room 109B.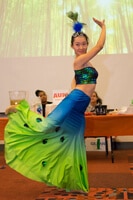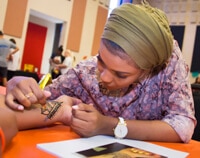 Shriek Week needs Haunted House volunteers!
Shriek Week is coming up quickly, and the Campus Activities Board (CAB) is looking for volunteers to assist with the Haunted House on Wed., Oct. 25.
If you are interested in being a "scarer," please email CAB at [email protected] by Fri., Oct. 20. Only current AUM students are allowed to be volunteers.
AUM Library wants YOUR feedback
The AUM Library wants to know how YOU feel about their customer service. Please take 5 minutes to fill out the online survey and give the library some feedback on how they can serve you better.
TV Tuesdays: The Good Doctor
Join the Warhawk Disability Alliance for TV Tuesdays. The featured TV show for the semester is The Good Doctor, starring Freddie Highmore as a young surgeon with autism and Savant syndrome that is recruited into the pediatric surgical unit of a prestigious hospital. The question will arise: Can he adapt to his environment and debunk others' expectations of him in order to save the lives of his patients?
Tue., starting Oct. 3 | 11 a.m.–Noon | Global Education Center, Taylor Center 219
Food Drive for UNO tournament
Monday through Wednesday until Oct. 17, donation tables will be in front of the AUMazing Bean collecting food cans and non-perishable items. All items will be donated to the student food pantry on campus and the items given count as an early entry fee to an UNO tournament.
Runs through Tue., Oct. 17 | 11 a.m.–12:30 p.m. | In front of AUMazing Bean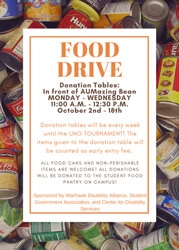 AUMazing Health and Wellness Fair
Departments across campus are joining together to host the AUMazing Health and Wellness Fair, a health awareness event that will include information and screening booths represented by AUM departments and local businesses as well as a raffle of gifts.
Booths at the fair will include services such as health assessments, self-breast exam information, screenings for depression and eating disorders, blood glucose testing, body composition assessments, information on fruit and vegetable benefits, hearing tests, and information on accommodations for students with disabilities.
Warhawk ID required.
For information, contact Hillary K. Porter, Student Health Center, at 334-244-3281 or [email protected].
Tue., Oct. 17 | 10 a.m.–2 p.m. | Taylor Center 230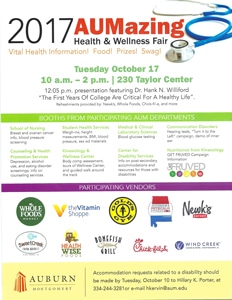 Dining in the Dark
Dining in the Dark is a sensory experience where the diner is blindfolded and experiences what it is like to be unable to see while eating a meal.
Those who registered will be guaranteed a seat until 5:30 p.m. at which point seats will be available on a first-come first-serve basis.
Tue., Oct. 17 | 5:15–6:30 p.m. | Taylor Center 221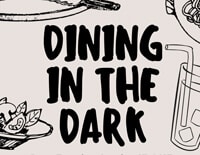 Showtime at the Apollo
Are you an undiscovered celebrity? Got a talent that's going to make you famous? Show it off at Housing and Residence Life's "Showtime at the Apollo," where AUM students can showcase their talents before a roaring, adoring crowd.
Snacks will be served. Contact [email protected] for information about signing up to perform. Sign up online. Submissions due Oct. 12.
Tue., Oct. 17 | 7 p.m. | The North Commons Circle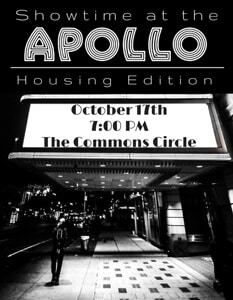 LGBTQ Meet-Up
Counseling and Health Promotion Services is offering an LGBTQ meet-up to any LGBTQ student, identified or questioning, on Thursdays.
Topics to be covered include relationships, disclosure, esteem and body image, and coping with anxiety and depression. This informal group is meant to serve as a safe place to discuss thoughts and feelings related to one's identity in an affirmative and empowering environment.
Thu., starting Oct. 12 | 4–5 p.m. | Taylor Center 158
Hoops Madness
The Department of Athletics and the AUM Student Government Association is hosting its third-annual Hoops Madness event to officially tip off the 2017-18 basketball season.
The event, which is free to the AUM and Montgomery community, will feature a skills challenge, 3-point challenge, dunk competition and promotional games.
Free pizza will also be available to AUM students, and a grand prize of a $400 VISA gift card will be given away to one lucky student.
Thu., Oct. 19 | 6 p.m. | AUM Gymnasium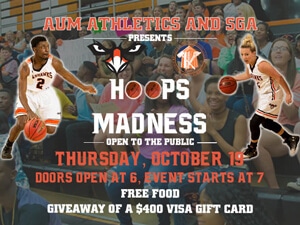 AUM Promenade Concert
The Promenade Concerts at AUM present pianist Jeremy Samolesky in concert.
Samolesky, a native to Manitoba, Canada, currently serves as the associate professor of piano at Auburn University. Known for his passion for both solo and collaborative performances, Samolesky has appeared in concert as soloist and chamber pianist throughout North America, South America, Europe and Asia, including a full recital at the Kennedy Center in Washington D.C., which was broadcast nationally on National Public Radio's "Performance Today."
Thu., Oct. 19 | 7:30 p.m. | Goodwyn Hall 109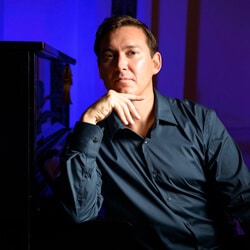 Auburn, AUM Colloquium
Auburn professor, Dr. Mehmet Gurmus will be speaking on recent developments regarding Lyapunov diagonal stability. The Department of Mathematics and Computer Science of AUM and the Department of Mathematics and Statistics of Auburn University are sponsoring the colloquium.
There will be light refreshments served and a Math Club, Engineering Club and Computer Science Club social gathering at 12:30 p.m.
Fri.., Oct. 20 | 1 p.m. | Goodwyn Hall 109
Overwhelmed? Anxious? Learn how to relax!
Life can be overwhelming. Counseling and Health Promotion Services can help.
This series of workshops will expand your toolbox of techniques that you can use to relax when you are feeling stressed out. The events are open to all students, faculty and staff.
All workshops are located in the Global Education Center, Taylor Center 219.
Laughter Wellness
Thu., Oct. 19 | Noon–1 p.m.
Focused Attention Meditation
Mon., Oct. 23 | 3:30–4:30 p.m.
Thu., Oct. 26 | Noon–1 p.m.
Coloring Relaxation
Mon., Oct. 30 | 3:30–4:30 p.m.
Thu., Nov. 2 | Noon–1 p.m.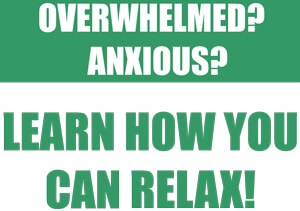 Filibuster accepting submissions
The Filibuster, AUM's literary magazine, is accepting poetry, prose, photographs and artwork for its 2018 issue.
Any student currently enrolled at AUM may submit his or her work as an attached file (.txt, .doc, or .docx) to [email protected]. Students should title their file using the following pattern: Last Name_Title of Story_Genre. Written work should be in Times New Roman, 12 pt.-font and double-spaced. Files containing photographs or scanned artwork (.png, .jpeg, or .bmp) should be at least 300 PPI.
There is no limit on the number of submission per student. The deadline for submissions is Dec. 31, 2017.
For more information, contact the 2018 issue editor, Caitlin Celka at [email protected].
Professors -N- Pajamas
It's that time again! Professors -N- Pajamas is back and so are the prizes and bottomless breakfast. Housing and Residence Life's flagship event provides all students a chance to relax with friends, study with professors, and of course, eat lots of food before hitting their final exams out of the park. We'll see you there!
Wed., Nov. 29 | 8 p.m. | Taylor Center 221–223, 230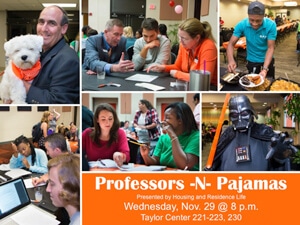 Hot Topics Café: Trump's America
It's been one year since President Donald Trump took office. Join us for an open, honest conversation about the previous year and what it means for us going forward. Snacks will be served.
Wed., Nov. 15 | 7 p.m. | The Landing (in the Nest)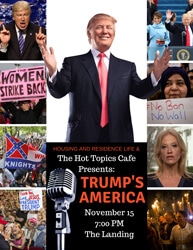 Salvation Army community service opportunity
Housing and Residence Life has been serving all over the community this year! Join us for our final community service effort of the fall semester. We'll be going to the Salvation Army to help the residents of Montgomery and just in time for the holidays! Lunch will be provided for those that serve.
Fri., Nov. 10 | 9:30 a.m. | Meet at the Nest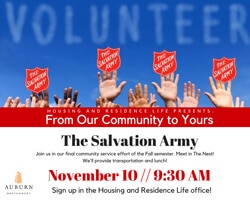 ELC hosts annual Halloween Parade
The preschoolers in the Early Learning Center will be dressed up to go around the sidewalk of the quad to show off their costumes, decorated jack-o-lanterns, and dance moves as they "trick or treat" to any faculty, staff or students that would like to participate.
Tue., Oct. 31 | 10 a.m. | The Quad
Athletics accepting Hall of Fame nominations
The Auburn University at Montgomery Department of Athletics is accepting nominations for its Hall of Fame Class of 2017. The inductees, along with the Class of 2016, will be enshrined during a ceremony in May of 2018.
Athletes who made outstanding contributions in athletics as students at AUM, coaches of AUM's intercollegiate teams and other individuals making significant contributions to AUM Athletics are eligible for membership in the Hall of Fame.
In order to nominate a former student-athlete, he/she must have completed their athletic eligibility at AUM by the 2011-12 season. The nominee must have also graduated from a four-year institution. For coaches, he/she must have coached at AUM for at least five years.
The deadline for nominations for the Class of 2017 is Oct. 31. To nominate someone, please complete the Hall of Fame nomination form online.
A complete look at the AUM Athletics Hall of Fame can be found online.
For more information, please contact Assistant Director of Athletics for External Relations Tim Lutz at [email protected].
Thanks Giving around the World
The holidays are upon us again and that means lots of fun, family, friends, and food! Join Housing and Residence Life for Thanks Giving around the World, a celebration representing your culture by bringing a dish or speaking at the event.
Please email Housing and Residence Life at [email protected] if you would like to participate.
Mon., Nov. 6 | 6 p.m. | Taylor Center 221–223
CAB entertains in November
AUM Bowling Night
Enjoy a night of bowling at the Brunswick Lanes on College Night. Transportation provided.
Wed., Nov. 8 | 7–9 p.m. | Brunswick Lanes
Sex in the Dark: Safe Sex Forum
It is a common thing in college; it is always good to be informed.
Mon., Nov. 13 | 6–8 p.m. | Goodwyn Hall 109
Diabetes Awareness
November is National Diabetes Month. Stop by the table to get informed on the subject.
Thu., Nov. 16 | Noon–2 p.m. |  In front of AUMazing Bean
Business Breakfast series begins
OutReach at Auburn University at Montgomery's Business Breakfast series begins Oct. 3. Each breakfast lecture is $30 for AUM students and employees or $35 for general admission. Tables of 8 can be reserved at a discounted rate for AUM departments.
Registration is required.
J. Walker Smith, Exec. Chairman of Kantar Futures
Thu., Nov. 9 | 7:30–9 a.m. | The Marriott Legends at Capitol Hill
Phil Bush, Director of MavRen Marketing and Sales
Tue., Jan. 23 | 7:30–9 a.m. | Wynlakes Golf & Country Club
Peggy Brockman, Author, inspirational speaker and business coach
Tue., Feb. 27 | 7:30–9 a.m. | The Marriott Legends at Capitol Hill
William Espey, Branding Visionary for Chipotle Mexican Grill
Tue., Mar. 20 | 7:30–9 a.m. | Wynlakes Golf & Country Club
'Still Life' at Goodwyn Gallery
The Department of Fine Arts is presenting the special exhibition, 'Still Life,' featuring the work of Erin L. Palmer. Organized by Andrew Hairstans, Associate Professor of Fine Arts, the exhibition runs from Mon., Oct. 2–Fri., Oct. 27. Stop by and visit the exhibition before it closes!
To learn more about the exhibition, visit Goodwyn Gallery online.
Runs through Fri., Oct. 27 | Goodwyn Hall 101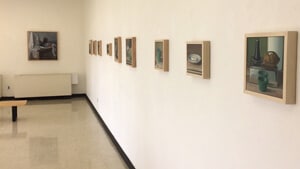 Shriek Week 2017 approaches
Magician performance
Come enjoy the comical yet magical tricks of the magician, Josh McVicar.
Mon., Oct. 23 | 7–9 p.m. | Goodwyn Hall 109
Movie on the lawn
Come and enjoy a fright fest movie on the lawn (in front of the Library Tower).
Tue., Oct. 24 | 7–9 p.m. | Taylor Center Concourse
Haunted house
Come and enjoy a terrifying haunted house that will scare your pants off.
Wed., Oct. 25 | 7–11 p.m. | Quad
Annual library haunted open house
Thu., Oct. 26 | 11 a.m.–1 p.m. | Ida Bell Young Library Tower
Annual costume party
Come and enjoy the last day of Shriek Week at our Halloween Costume Party. Prizes awarded for best costume
Thu., Oct. 26 | 8 p.m.–12 a.m. | Taylor Center 230
Masquerade Ball
Speak with any member of the University Honor's Program to get ticket information
Fri., Oct. 27 | 7 p.m. | Taylor Center 230
Halloween treat
Pick up a goodie bag at our Halloween table by filling out an evaluation of Shriek Week. Happy Halloween!
Tue., Oct. 31 | Noon–2 p.m. | In front of AUMazing Bean
'Know Dope' film with WSFA's Josh Johnson
Prescription painkiller abuse and overdose are on the rise in Alabama. In an effort to combat this growing epidemic, the United States Attorney's Office for the Middle District of Alabama will sponsor the showing of Know Dope, a documentary aimed at educating students and young adults about the dangers of addiction. The film focuses on the dangers and effects of heroin addiction on the lives of two Alabama natives.
Students, faculty, and staff are invited to view the film on Wed., Oct. 25. Ben Baxley, Assistant United States Attorney, and Doug Howard, Law Enforcement Coordinator, will speak about the opioid epidemic's effect on Alabama. Louis V. Franklin, Sr., U.S. Attorney for the middle district of Alabama, will speak during the first viewing. Special guest Josh Johnson, WSFA meteorologist, also will speak and share his personal story. In addition, a representative from the Counsel of Substance Abuse will be on hand to answer questions.
This event is a joint effort of Counseling and Health Promotion Services, the Department of Athletics, Student Involvement and Leadership, UNIV, and the Warhawk Academic Success Center to educate the AUM community about the heroin epidemic in Alabama.
Wed., Oct. 25 | Film viewing times: 9:30 a.m., 3:45 p.m., 6:30 p.m. | Taylor Center 230
ZooBoo 2017
Halloween is here and that means it's time for ZooBoo! Volunteering for ZooBoo is a Housing and Residence Life tradition, and this year, we want you to be a part of it. The Montgomery Zoo provides dinner and costumes, and we'll provide transportation. You just come with your best scary faces and heart for your community!
Fri., Oct. 27 | 5 p.m. | Meet at the Nest