Warhawk Weekly 1–10: Engage in random acts of kindness
Warhawk Weekly 1–10: Engage in random acts of kindness
Engage in random acts of kindness
As the new year and new semester begins, AUM Connected: Common Reading Program invites you to engage in random acts of kindness. Our book this year, The Dinner, features characters who lack kindness and empathy. Here at AUM, we expect better.
Please visit the bulletin board on the second floor of the library or the other smaller displays around campus to get ideas for random acts of kindness.
If possible, take a picture of your random act and email it to [email protected] so we can include it on the AUM Connected Facebook page.
Spring 2017 College of Arts and Sciences Lecture Series
Sterling speaks on 'female baby killers in Victorian England'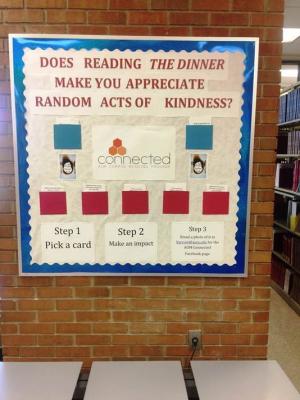 Dr. Eric Sterling of the Department of English and Philosophy will present a lecture Jan. 26 on "Desperate Motives for Murder: Mercenary Female Baby Killers in Victorian England."
The presentation focuses on the socioeconomic and political conditions that led to the rise of the deadly baby farming industry in Victorian England. During this time, baby farmers took infants into their homes for a fee but often killed the vulnerable children for profit.
Societal gender double standards and the Poor Law Amendment Act of 1834's Bastardly Clause, which freed men from financial obligations to the unwed mothers they impregnated, placed single mothers in a precarious financial and social situation, causing them to seek out baby farmers.
Thursday, Jan. 26 | 12:30 p.m. | Library Tower, 10th floor South | Light refreshments will be served | Open to the public
Emory professor emeritus to lecture on 'liberal education and the civil character'
Dr. Ann Hartle, professor emeritus of philosophy at Emory University, will present a lecture Feb. 233 on "Liberal Education and the Civil Character."
Hartle says the clash between civility and the right of free speech is especially acute on college campuses and is based on confusion about what civility is and what it is not. Her presentation examines the origin of the idea of civility in early modern philosophy (Montaigne), the conditions for a free "civil" society, and the role of liberal education in fostering civility.
Hartle has authored many books, including The Modern Self in Rousseau's Confessions (Notre Dame, 1983), An Inquiry into the Nature of Philosophy (SUNY, 1986), Self Knowledge in the Age of Theory (Rowman and Littlefield, 1996), and Michel de Montaigne: Accidental Philosopher (Cambridge, 2003).
Thursday, Feb. 23 | 12:30 p.m. | Goodwyn 112 | Light refreshments will be served | Open to the public
Donate by noon to win $125
Turning in your pledge card to Robin Forester in the Chancellor's Office by noon today enters you into the final cash drawing for $125 today at 3 p.m.
The River Region United Way provides grants and funding to more than 40 local agencies that touch the lives of thousands in our community. Every dollar makes a difference.
Register for Scale Back Alabama
Teams of two among faculty and staff can win a one-year membership to the Wellness Center if both team members lose 10 pounds. Teams can register at Scale Back Alabama's website. Weigh-ins will begin Jan. 11.
Also, all AUM faculty/staff participants are eligible to use the Wellness Center for the first three weeks of Scale Back. If during those three weeks they make 3 visits each week for a total of 9 visits, they will receive an additional five weeks of free access to the Wellness Center during Scale Back.
Weigh-in dates and times
Wednesday, Jan. 11 | 8 a.m.­­­­–1 p.m.
Thursday, Jan. 12 | 2 p.m.–4:30 p.m.
Friday, Jan. 13 | 8 a.m.–1 p.m.
Wednesday, Jan. 18 | Noon–2 p.m.
For more information, contact Wendy Franklin at [email protected].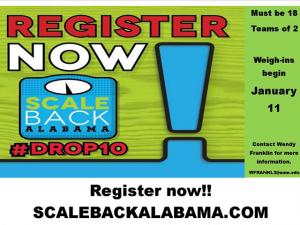 Baldwin magnet teachers learn about Writing Across the Curriculum
Dana Bice, Center for Excellence in Learning and Teaching, led an all-day Writing Across the Curriculum workshop on Jan. 3 at Baldwin Arts and Academics Magnet School.
Baldwin's 40 teachers were introduced to practices of AUM's WAC Program that have made a successful impact on AUM students' writing skills. A few of the workshop topics included the different models of writing; how to design good assignments and rubrics; how to assist students during the writing processes; and methods to assess student writing.
The workshop inspired Principal Jannette Wright to form a committee of teachers to redesign how writing is embedded across the curriculum at Baldwin.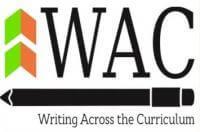 AUM Alert Reminder
As part of AUM's ongoing effort to safeguard students, faculty, and staff, the university has implemented a new emergency communications system. Known as the AUM Alert, the system allows you to receive time-sensitive emergency messages in the form of email, voice mail and text messages.
Everyone who has an AUM email address will receive emergency alerts to that email. To receive text messages and voice mail alerts, we will ask you to provide a mobile phone number. While participation in the text and voice messaging notification is optional, we strongly encourage you to enroll. We consider the information that you supply confidential and will not share it. You will only be contacted through the system in the event of an emergency.
For more information or to enroll in text and voice messaging notifications, please visit the AUM Alerts information page.

Sigma Gamma Rho interest meetings
Sigma Gamma Rho Sorority, Inc. is returning to AUM Spring 2017. Please join the organization as it hosts two informal interest meetings.
Thursday, Jan. 12 | 7:30 p.m. | Taylor Center 223
Wednesday, Feb. 22 | 7:30 p.m. | Library Tower, 10th floor South
From Darkness to Light: Surviving Tragedy
Scared, abused and her endurance of tragedy taken to the limit, Elizabeth Liz Huntley reveals the perils of a childhood that would lead most a broken life or premature death. Huntley, now a successful attorney at prestigious Southern law firm, recounts her journey from unimaginable darkness to radiance thanks to the early intervention of teachers, a pastor and caring people, strategically placed in her life by God.
Huntley is the guest speaker for the Auburn University at Montgomery Business Breakfast series. Tickets are $30 for AUM staff or $250 for a table of 8. Registration is required.
To register and purchase tickets, please visit the Business Breakfast webpage.
Wednesday, Jan. 18 | 7:30 a.m. | The Marriot Legends at Capitol Hill, Prattville
Political Film Series kicks off Feb. 8
Get ready for another semester of exciting films in the Political Film Series sponsored by the Department of Political Science and Public Administration and the College of Public Policy and Justice. All films start at 7 p.m. with an introduction to the film subject and context. Audience discussion follows the screening.
13TH (2016; TV-MA) –– Black History Month feature | Feb. 8 | Goodwyn Hall 109
This documentary provides a brutally honest, informative and emotional portrayal of our current prison system and its evolution from slavery, one that "challenges your idea about the intersection of race, justice and mass incarceration in the United States" (New York Times). The movie includes archive footage, interviews (Angela Davis, Cory Booker, Brian Stevenson, Henry Louis Gates Jr., Michelle Alexander, and Newt Gingrich to name a few), and testimonies for formerly incarcerated men and women.
The film will be introduced by Dr. David Hughes, assistant professor in the Department of Political Science and Public Administration, and is co-sponsored by the AUM-SPLC Club.
Anita (2013; NR) –– International Women's Rights Day feature | March 8 | Goodwyn Hall 109
This documentary looks at the life of Anita Hill, the accomplished African American law professor at the University of Oklahoma who challenged Clarence Thomas's nomination to the U.S. Supreme Court, before, during, and after the highly controversial Senate hearings in 1991.
The film will be introduced by Dr. Yulanda Tyre, assistant vice chancellor of Student Affairs, and is co-sponsored by the University Honors Program.
Deepwater Horizon (2016; PG-13) –– Earth Day feature | April 20 | Goodwyn Hall 111
The feature, which stars Mark Wahlberg and Kurt Russell, is a dramatization of the 2010 explosion on the Deepwater Horizon offshore oil rig in the Gulf of Mexico, an accident that killed 11 workers, injured 17, and stands today as the worst ecological incident in our country's history.
The film will be introduced by Dr. Rosine Hall, professor of Biology, and is co-sponsored by the College of Arts and Sciences.
The Political Film Series is made possible thanks to a grant from the Ida Belle Young Special Projects Fund. The event is free and open to the public; popcorn and soda are complimentary. For further information or to receive email updates, please contact Dr. Pia Knigge at [email protected] or 334-244-3834.