Warhawk Spotlight: Vallely weighs opportunities on stage and screen
Warhawk Spotlight: Vallely weighs opportunities on stage and screen
Brittany Vallely's final performance as a Theatre AUM cast member came in "Arcadia," a play with a storyline that offers windows into past and present. With graduation approaching for Vallely, a senior theatre and communication major from Opelika, Ala., she has spent considerable time contemplating her future.
Her experience and accolades on stage, which included a nomination for the Irene Ryan Acting Award presented at the Kennedy Center American College Theater Festival during the spring semester, have opened the door to continue acting after graduation. This summer, she will gain additional experience through summer stock theatre in Chillicothe, Ohio, performing with the nationally recognized drama, "Tecumseh!" However, a recent internship with Montgomery's WAKA-TV has also provided experience in front of and behind the camera that can position her for a career in broadcast journalism.
Vallely, who transferred to AUM from Southern Union Community College, took time to discuss her internship experience and how it might influence her post-graduation plans.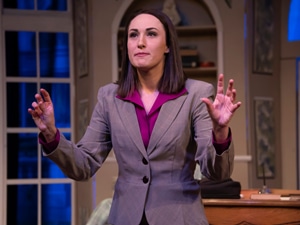 What are the different organizations you've been involved in during your time as a student?
"Theatre AUM Guild (president 2017-2018), Omicron Delta Kappa (current president), and staff writer for the Aumnibus."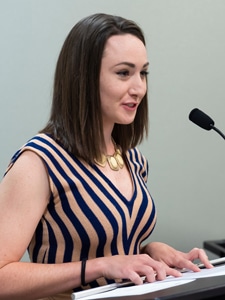 After graduation, you'll be doing summer stock theatre in Ohio. How did the opportunity come about?
"My professor, Neil David Seibel, recommended students to go to the Summer Outdoor Theatre Auditions in North Carolina, and a group of us went. After the auditions, the company, Tecumseh, gave me a call back. After my call back I had to send them another video audition and they later offered me a job."
Tell us a bit about your TV internship at WAKA. What's a typical day like, and what advice would you give to Communications students who may be trying to identify internship opportunities or prepare for the job market?
"My internship has been the best/most influential experience ever, and I love the people at WAKA. I have mainly shadowed the reporters because I am interested in television reporting. The supervisor takes into account what I like to focus on.
I have also written a lot of VOSOTs [voiceover-to-sound] that have actually been aired. A typical day starts with the morning meeting, and they even let me pitch story ideas. After the meeting, I get my assignment. I usually get to go on location with a reporter and I will help shoot B-roll. While covering some stories, the reporters will also let me shoot my own stand-up and tag. Right now, I am putting my packages together from the stories I covered and I will put them on my reel. I suggest that all communication students should do some kind of internship, and at least start looking into one by their junior year of college. I also suggest to start making a portfolio and a reel, because you will need that for jobs. The more work experience you have the more valuable lessons you will gain."
What was it that drew you to AUM? And what do you consider to be the most valuable aspect of your experience here?
"AUM has a great theatre and communication department. I also love the size of the university because I knew I would get hands-on experience and the teachers would truly help me. The most valuable aspect from my experience is how my professors have prepared me for interviews and auditions. I feel like I know what to expect and I will have the materials that I need to market myself."
It looks like you'll have great options after graduation whether you decide to pursue acting or a career in broadcast. Is there a strong preference for one over the other in terms of your career plan?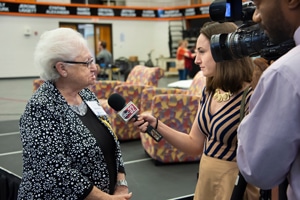 "My strongest preference is in acting, because theatre has made me the person that I am today. I love studying theatre and I want to give back to the community by using skill I have been practicing. However, studying communication has helped me grow, because it is always good for an actor to have multiple skill sets. I have always had an interest in broadcasting." Vallely is says she is glad she pursued her Bachelor of Arts degree with a major in Communication and a double concentration in Theatre and in Journalism. "No matter what, I feel prepared."