Warhawk Spotlight: Toussaint's med school journey draws Twitter interest
Warhawk Spotlight: Toussaint's med school journey draws Twitter interest
Warhawk Spotlight: Toussaint's med school journey draws Twitter interest
In the span of 54 characters and a string of celebratory emojis, recent Auburn University at Montgomery (AUM) graduate Felix Toussaint became something of a social media celebrity on Twitter in mid-August.
His exuberant message – "I GOT ACCEPTED INTO MEDICAL SCHOOL!" – has been seen by more than 8 million people, liked more than 200,000 times and re-Tweeted more than 11,500 times since he shared it on the afternoon of August 15. Toussaint, who will begin classes at American University of the Caribbean School of Medicine on August 29, also has been embraced by a global community of health care professionals and medical school students since sharing his good news.
"This post and this thread got me all mushy," wrote a family medicine practitioner in Glasgow, Scotland. "I remember when I got my letter of acceptance to medical school. Still never experienced that level of elation since! Hard work pays off when you really want something & when times get tough, you always go back to that feeling of gratitude."
"I'm following you so I can see you graduate," wrote another well-wisher. "I believe you're going to do something great."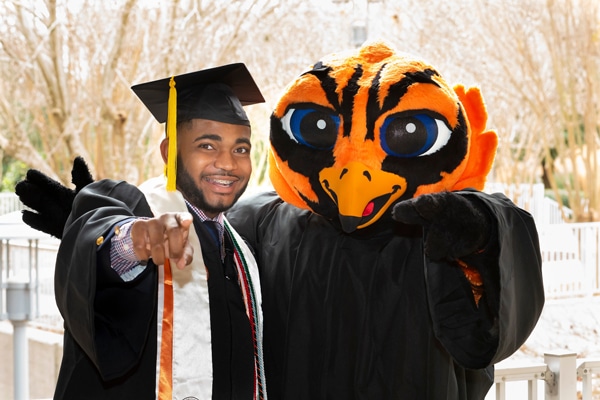 Toussaint, who graduated from AUM in December after completing a double major in biology and chemistry, said he has been flooded with congratulatory and motivational direct messages from physicians, nurses and hospital administrators, and students who are well into the journey he has just begun.
"I now have a lot of doctor friends and mentors in health care administration who I've never even seen before," Toussaint said. "People like to see uplifting news. When they ended up re-Tweeting it, it brought them back to their acceptance letter. A lot of people have offered me great advice."
Toussaint, who aspires to be a neurosurgeon, considered a number of U.S. medical schools, but decided to explore American University of the Caribbean School of Medicine (AUCSM) after meeting representatives at a national conference. AUCSM is an accredited, U.S. curriculum-based medical school located on the Dutch side of the island of Sint Maarten.
Soon after Tweeting the news of his acceptance into medical school, Toussaint followed up with a thank you message to Auburn University at Montgomery Chancellor Carl A. Stockton, Provost Mrinal Varma and Distinguished Research Professor of Biology and Environmental Science Ben Okeke for writing recommendation letters. Toussaint, who graduated from Prattville High School, said he initially planned to attend another university better known for its health care programs.
"We have this preconceived notion that if you want to be a banker, you have to hang around with bankers," Toussaint said. "My mom told me to give AUM a try. While at AUM, I saw the vast opportunities available. At AUM, I received a lot of one-on-one time with faculty and I got a lot more attention than if I would have attended [the other university]. I had just as many opportunities to network with physicians through AUM's Alumni Association."
One facet that differentiated Auburn University at Montgomery, Toussaint said, were the opportunities for undergraduate students to participate in research.
"I started [research] my junior year," he said. "If I could go back, I would have started my freshman year. It enhances your critical thinking skills. To have that experience is like no other. You fail more than you succeed. It's kind of like Thomas Edison. He went through 10,000 inventions before the light bulb. You're going to fail some, but your next idea might become the cure for cancer."
Beyond what he experienced in the classroom and laboratory, Toussaint derived value from being involved in AUM's student organizations. He was a founding member of the Black Student Union and served in the Student Government Association and as a member of the Orange Jacket Society.
"For new students, take full advantage of the resources you have at AUM," Toussaint said. "A lot of students who come to AUM are the first in their family to attend college, and AUM has the resources to help you succeed. I wouldn't have been able to do everything I was doing if not for the help of faculty, staff and administration. Take the opportunities AUM gives you. It's the foundation for making your dreams come true."
Toussaint supplemented his campus involvement with work experience at a Publix pharmacy and by shadowing the only family medicine practitioner in Autaugaville, Dr. Lee Carter. That opportunity helped Toussaint settle on his plans to attend medical school.
"He would see a lot of patients who were on Medicare or Medicaid," Toussaint said. "It was exciting to see how he gave such excellent care to each of those patients. We need great doctors, and there are certain regions where proper health care isn't available. That's why I want to become a physician, to be a voice for the voiceless."