Warhawk Spotlight: Theatre AUM travels to SETC
Warhawk Spotlight: Theatre AUM travels to SETC
AUM Strategic Communications and Marketing | Apr. 11, 2017
Excellence: Theatre AUM students, faculty and alumni recently traveled to Lexington, Ky., to compete in the Southeastern Theatre Conference (SETC).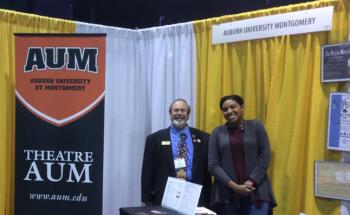 Students Amber Baldwin, Kodi Robertson, Haeley DePace, and Danielle Phillips as well as alumna Samantha Blakely participated in the conference. SETC is a renowned network of theatre practitioners in the United States dedicated to the careers of emerging artists, seasoned professionals and academicians.
Baldwin was selected for professional auditions with eight callbacks and accepted a one-year contract with Cincinnati Shakespeare Theatre. Baldwin's other callbacks were with First Stage (Milwaukee, Wisconsin), New Stage (Jackson, Miss.), Lexington (Ky.) Children's Theatre, Birmingham (Ala.) Children's Theatre, Missoula (Mont.) Children's Theatre, Jewish Ensemble Theatre in Michigan, and the Harold Clurman Laboratory Theatre Company in New York City.
Robertson received a callback with Theatre West Virginia, and DePace received eight interviews. Also, Phillips received 15 graduate school callbacks while Blakely was accepted into Stella Adler Summer Conservatory in New York City.
Neil David Seibel, associate professor and director of performance studies, served as an Alabama state representative and juried two presentations, "Viewpoints: From Overlie to Bogart" and "New Play Development Across Disciplines," with Saffron Henke, Miami University and Todd Ristau, and Hollins University.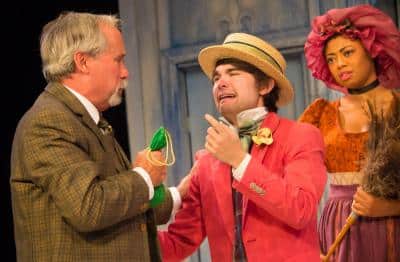 Sam Wallace, lecturer of Theatre, manned AUM's table at the Education Expo, observing eight hours of recruitment auditions, and other AUM team members also helped share AUM's story at the Expo as well. Faculty also attended multiple workshops and presentations.
(Editor's note: The Warhawk Spotlight features news about people, projects and programs at AUM that illustrate our Core Values. Need a refresher on our Core Values?)