Warhawk Spotlight: Sollie selected for Mayo Clinic internship
Warhawk Spotlight: Sollie selected for Mayo Clinic internship
by Neil Probst | Feb 29, 2016
Excellence: Zach Sollie, a senior Exercise Science major in the Department of Kinesiology and a member of the Men's Cross Country team, has been selected for a 10-week internship at the Mayo Clinic during the summer semester of 2016 in the Mayo Clinic's Clinical Exercise Physiology Internship Program. 
Sollie will spend five weeks working at the Cardiac Rehabilitation Center, which will include hands-on work encompassing all the responsibilities involved in patient case management, and will spend another five weeks studying cardiac stress testing.
In addition to gaining experience with clinical exercise physiology, Sollie will observe medical procedures that take place before patients enter the Cardiac Rehabilitation Center, gaining a deeper understanding of what patients go through prior to visiting the clinic.
"Ultimately, this internship will play a crucial role in broadening my perspective of the entire process involved for cardiopulmonary patients," Sollie said. "I will be able to observe the role of each member of the team, from the physicians all the way to the exercise physiologists."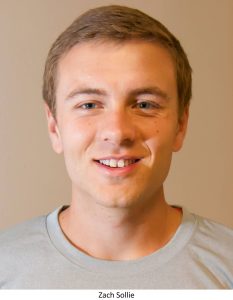 Sollie said the experience will be especially important for him as he transitions from earning his exercise science degree to studying the field of medicine.
"I am blessed and humbled to be accepted into a program at one of the nation's top medical centers," he said. "None of this would be possible without the help of the faculty in the Department of Kinesiology at AUM. Thanks to all the people who helped make this happen!"
(Editor's note: The Warhawk Spotlight features news about people, projects and programs at AUM that illustrate our Core Values. Need a refresher on our Core Values?)