Warhawk Spotlight: Kinesiology students recognized for academic excellence, community service
News Releases
Check out the latest news listed below. To be added to AUM's press release distribution list, contact Layne Holley.
Warhawk Spotlight: Kinesiology students recognized for academic excellence, community service
by Neil Probst | May 16, 2016
Excellence/Citizenship and Community: Two students from the Department of Kinesiology were recently recognized for outstanding academic and leadership achievements as well as service to the community.
Sollie named American Kinesiology Association Undergraduate Scholar 
Zach Sollie, an Exercise Science major in the Department of Kinesiology and a member of the Men's Cross Country team, was recognized as the American Kinesiology Association Undergraduate Scholar for 2016, an award that honors a select number of students whose academic and leadership records are distinctive.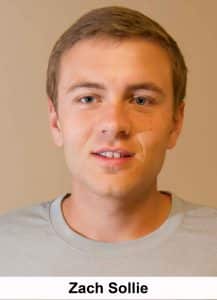 The Undergraduate Scholar winners were nominated by faculty, have demonstrated an exceptional interest in the field of kinesiology, and possess personal qualities that lend themselves to assuming leadership positions. The scholars also have the potential for making a significant impact on the field.
"It is an honor to be recognized for my efforts on a national level," Sollie said. "I couldn't have done it without the help of all the faculty in the Department of Kinesiology."
Jackson recognized for service to youths at karate school
Briana Jackson, a Physical Education major in the Department of Kinesiology, was a nominee for the HandsOn River Region and Montgomery Junior League Volunteer of the Year.
Jackson was nominated for her work with youth at Johnson's Martial Arts Academy in Montgomery, where she organizes and leads youth ages 12 to 17 in community service projects in Montgomery, from serving meals at the Salvation Army to making blessing bags for the homeless.
"It's an honor just to be recognized by such a prestigious organization, and I'm very humbled that I got an opportunity to be recognized with some truly amazing and selfless volunteers," Jackson said.
(Editor's note: The Warhawk Spotlight features news about people, projects and programs at AUM that illustrate our Core Values. Need a refresher on our Core Values?)