Warhawk Spotlight: Fulbright trip puts vice chancellor in international students' shoes
Warhawk Spotlight: Fulbright trip puts vice chancellor in international students' shoes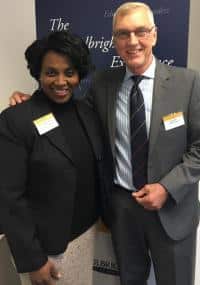 By Neil Probst | Nov. 29, 2016
Diversity and Collaboration: Carolyn Campbell-Golden, vice chancellor for Advancement at Auburn University at Montgomery, recently returned from Germany, where she learned about the European country's higher education system, shared best practices with fellow international educators, and visited memorials that underscored the importance of peace and collaboration.
"It definitely widened my perspective of what an international student may experience when coming to the U.S.," said Campbell-Golden, who took part in the Fulbright U.S. Scholars Program and hopes to expand campus-wide awareness of the opportunity for students, faculty and fellow administrators at AUM.
While in Germany, Campbell-Golden first met and became acquainted with 19 fellow U.S. higher education administrators at the Berlin Fulbright Center.
Later, she visited the Berlin Wall and Brandenburg Gate as well as prominent higher education institutions like Technical University and Humboldt University in Berlin, Leipzig University, and Goethe University Frankfurt.
At the German universities, Campbell-Golden said a student body comprising many nationalities is a top priority.
"The universities I visited believe strongly that diversity of the student body makes them a richer university and that internationalization greatly enriches the classroom," she said.
At Goethe University, Campbell-Golden met several international education administrators and took part in a Day in the Life of an International Student, an experience that expanded her awareness of the international student experience and highlighted the importance of an international presence at universities.
"Each of us participating in the program were English speakers immersed in a foreign land and, while it was a challenge, it was also thrilling," said Campbell-Golden.
While her visits to German universities heightened her awareness of the importance of internationalization and study abroad efforts in higher education, Campbell-Golden's tours of historic sites underscored the importance of tolerance and peace.
Campbell-Golden and her fellow Fulbrighters visited a Holocaust memorial as well as Kaiser Wilhelm Memorial Church in Berlin, which was bombed during World War II. They also visited Leipzig, where a pro-democracy demonstration in October 1989 helped inspire the destruction of the Berlin Wall the following month.
On another tour, she found herself at Humboldt University, site of a memorial that recalls the Nazi book burning in 1933, when the regime set fire to about 20,000 books of authors such as Albert Einstein and others who did not align with the party's philosophy.
"It is memorials like the empty bookcases on the Humboldt University square, ruins of Wilhelm Church and remnants of the Berlin Wall that are reminders of the damage of war and tyranny," she said.
At the same time, traveling in Berlin also reminded Campbell-Golden of the plight of refugees. Several of her tour guides were refugees from Syria who had been studying in the war-torn country, and three of these refugees led the Fulbrighters through the Pergamon in Berlin, site of the Islamic Art Museum.
"Germany as a country has made a decision to accept refugees, and they are figuring out a way to adopt them into the society.  Many of these refugees are pursuing degrees in history, arts, or other fields," she said.
Campbell-Golden's experience reflects the opportunities available to students, faculty and administrators through the Fulbright Program, the flagship international educational exchange program sponsored by the U.S. government and designed to build relations between people of the United States and of other countries that are needed to solve global challenges, such as sustainable energy, climate change, public health and food security.
And the Fulbright Program takes participants around the world.
For Campbell-Golden, though her visit was designed so that knowledge of the German language was not necessary, she still departed the country with a greater awareness of the international student's challenges.
"Most of us had never visited Germany and didn't know the language. I still had to figure out and learn enough in order to speak so I could communicate," Campbell-Golden said. "I definitely was able to walk more in an international student's shoes."
(Editor's note: The Warhawk Spotlight features news about people, projects and programs at AUM that illustrate our Core Values. Need a refresher on our Core Values?)