Warhawk Spotlight: First Taylor Road campus student still learning at AUM
Warhawk Spotlight: First Taylor Road campus student still learning at AUM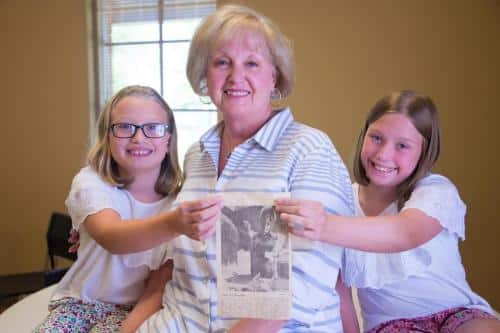 Neil Probst, AUM Strategic Communications and Marketing | July 11, 2017
Lifelong Learning: Pam Taylor was the first student to register for classes at Auburn University at Montgomery's Taylor Road campus. Almost a half century later, the grandmother is still learning at AUM, delightfully studying alongside her granddaughters, thanks to AUM's Osher Lifelong Learning Institute (OLLI).
In the pages of Taylor's home scrapbook is a picture of her that was published in the Montgomery Advertiser on Sept. 17, 1971, in which the paper records Taylor as "First to Register" at AUM's campus, which then was in its infancy.
"My parents wanted me to follow in my brother's footsteps and attend a Christian college in Nashville," said Taylor, whose maiden name is Wiley. "I did not want to go that far away, so AUM became the perfect choice, and it is a decision that I have never regretted."
Student treasures class with granddaughters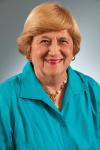 This summer, Taylor is enjoying an experimental course — Fruitcakes and Kites — taught by Nancy Anderson, distinguished OutReach fellow at AUM, a class for which grandparents and grandchildren were invited to enroll. The two generations of each family read and talked about Truman Capote's "A Christmas Memory," watched a film version of the short story, then wrote versions of memorable Christmases in their own lives with the goal of publishing each family's narratives.
For Taylor, continuing her education with her granddaughters just as they begin theirs has been a great joy.
"The experience of being in a class with my granddaughters has been priceless," Taylor said. "I don't know who enjoyed it the most, and I would not be surprised if they follow in my footsteps and attend AUM some day."
Not only has OLLI been the perfect place to strengthen her bond with her granddaughters — Julia Taylor, 11, and Rori Taylor, 9 — but, for Taylor, AUM's Lifelong Learning Institute also has been a resource that filled a void in the alumna's life during a difficult time.
Taylor recalled, "I started taking OLLI classes a couple of years ago after I retired. My husband, Mike Taylor, had passed away, and I needed something to get me up and out of the house. I looked on the AUM website to see what was available in the continuing education department. I had not heard of OLLI, but thought I would check it out. It has been a wonderful experience."
Diverse learning opportunities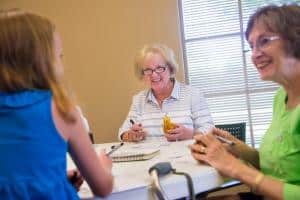 Because the experience has been so meaningful, Taylor encourages others to try OLLI courses, which are diverse in topic so that residents with almost any interest can find something to enjoy learning at AUM.
"There are so many things that I enjoy about taking the OLLI classes," Taylor said. "I have been amazed at the diversity of the courses, and I have learned everything from gardening to investing in the stock market. The instructors are so professional and many are AUM professors. Also, I have met so many nice people that I otherwise would not have met. I just can't say enough good things about OLLI and the wonderful staff."
Taylor has been amazed to learn again at AUM. She is awed by her experience with OLLI; at the same time, to see how AUM's campus has expanded and grown also leaves her speechless.
"One of the memories that stands out, during my four years at AUM, is the growth of the school that I saw firsthand. I am very proud to see that my alma mater has continued to grow and I am proud to be a graduate of a truly great university," Taylor said.
To learn more about classes available at AUM's Lifelong Learning Institute, see OLLI's Curriculum and Member Benefits or contact 334-244-3804. Also at AUM, the Senior Guest Program allows seniors 60 and over a chance to take courses at no cost, and class auditing opportunities also are available.
(Editor's note: The Warhawk Spotlight features news about people, projects and programs at AUM that illustrate our Core Values. Need a refresher on our Core Values?)