Warhawk Spotlight: AUM Library teaches UNIV students improved research skills in recent workshops
Warhawk Spotlight: AUM Library teaches UNIV students improved research skills in recent workshops
By Ryan Preskitt | Sept. 26, 2016
Students First: UNIV courses help new students obtain the tools that will help them throughout their college career. The AUM Library provides an expansive wealth of knowledge and material for their access. The two have come together to provide hands-on experience that will be useful well beyond the classroom.
For UNIV students, the fifth week of the fall semester is dedicated to developing library, research and information literacy skills. Students learn what plagiarism is and how to avoid it, as well as being introduced to citation styles. Students will then employ their knowledge through projects such as an annotated bibliography assignment.
To better teach these important techniques, the staff at the AUM Library have lent their expertise. Recently, UNIV students attended presentations by Teaching and Outreach librarian Samantha McNeilly, director of Library Public Services Jessica Hayes, and Dean Phill Johnson. They headed up a two-week string of workshops created specifically for UNIV 1000, 1004, and 1007 students.
During their class period, students either visited the computer labs in the Library, Clement Hall 111 or Goodwyn Hall 205, or received a visit by McNeilly or Hayes.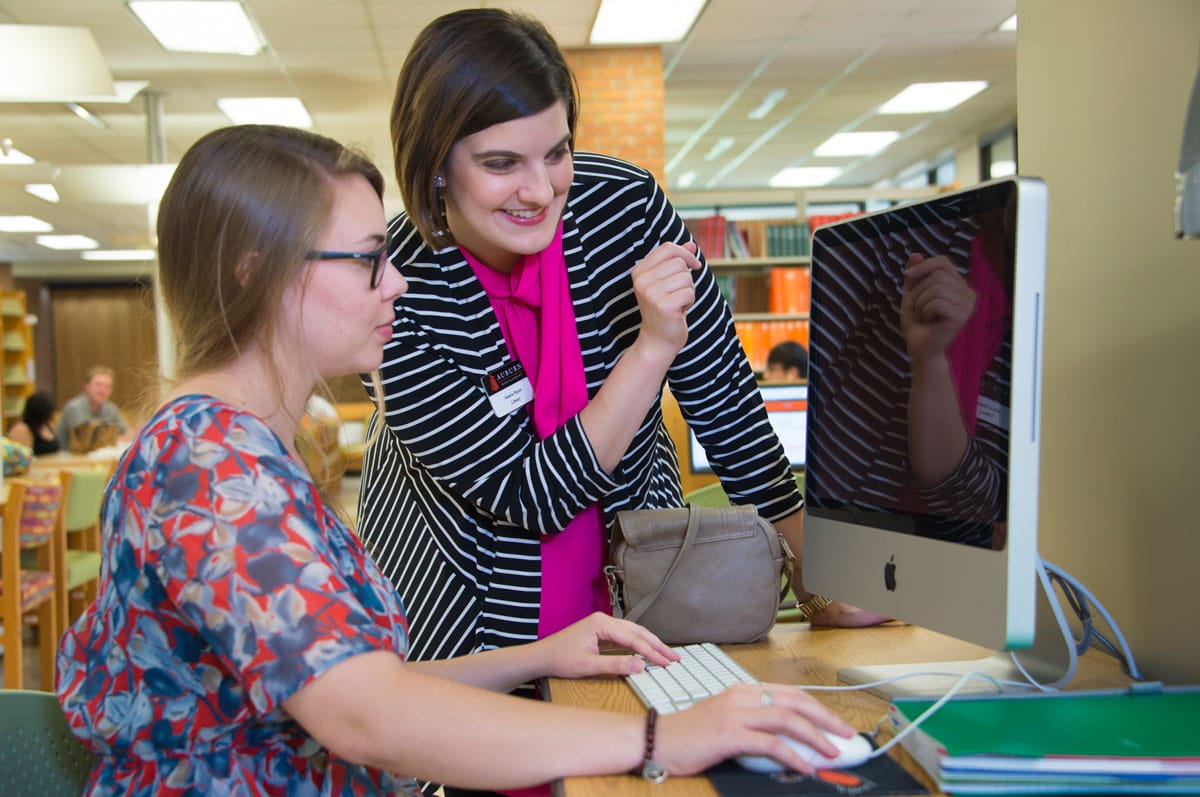 The AUM Library hosts a massive selection of online documents and databases for research, as well the physical material available in the Library Tower. These workshops allow new students to better familiarize themselves with the resources offered so that they can have greater success in their scholarly pursuits.
"Research can be intimidating," McNeilly said. "The library wants to help students overcome their anxiety about conducting their own research, and to help them find the best information for their assignments."
The presentations by the Library staff provided UNIV students with hands-on training related to understanding and summarizing a scholarly journal article, learning how to access and utilize AUM Library databases, and determining other credible sources.
For Hayes, teaching information literacy is a key aspect of her duties as a librarian. The opportunity provided by these UNIV classes allows her to share her knowledge with a much greater number of new students, many of whom might be apprehensive about seeking help on their own.
"To me, teaching information literacy and how to evaluate information from various sources is the most critical thing an academic librarian can do. Students, and people in general, are constantly bombarded with content and information; to know the questions to ask to correctly evaluate the information and then apply it to their life is essential to be successful," Hayes said.
McNeilly and Hayes hope that the lessons learned in these courses will remain with students even when their college years are behind them. "The past week, while I taught students how to use and evaluate sources that they found, I didn't see it as just training students on how to finish their assignment but instead providing them tools to become informed critical thinkers," Hayes said.
UNIV is designed to better prepare students for challenges they will face in their academic journeys, but the efforts made by the AUM Library are intended to leave a more lasting impact ­— even if students have not comprehended it yet. "They might not have realized it, and it might not have sunk in during this one specific session, but I hope that something I said stuck," said Hayes. "Years from now, they will be able to remember what that lady said and carefully evaluate the information they are presented. I would consider myself successful if that happens."
\
(Editor's note: The Warhawk Spotlight features news about people, projects and programs at AUM that illustrate our Core Values. Need a refresher on our Core Values?)