Warhawk Spotlight: Alshami earned Student Diversity Award
Warhawk Spotlight: Alshami earned Student Diversity Award
FOR IMMEDIATE RELEASE
Warhawk Spotlight: Alshami earned Student Diversity Award
Beyond her coursework as a nursing major, Auburn University at Montgomery student Lama Alshami has found her involvement in campus organizations to be vital components of her educational experience.
"The most rewarding aspects of being involved with these clubs and organizations would definitely be the bond shared with other members, and being introduced to so many news faces, as well as being informed of the different backgrounds, cultures and traditions," Alshami said.
Alshami, who was born in Jordan, is an active member of the AUM campus community through her involvement in the Muslim Students Association, the International Student Association, the Indian Student Organization and the Association of Latin American Students. She recently earned AUM's 2019 Student Diversity and Inclusion Award by virtue of her efforts to live the university's core value of fostering diversity and a climate of inclusion.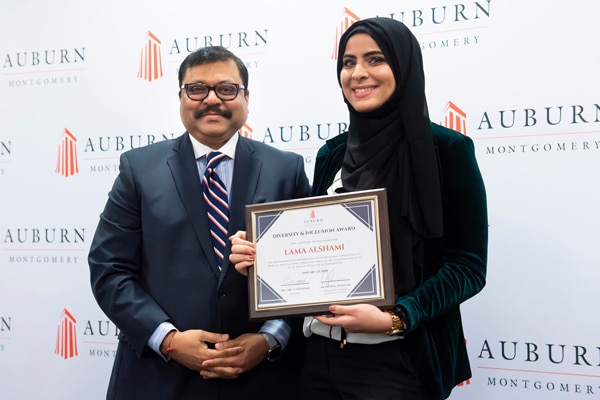 AUM Center for Disability Services Program Manager Tamara Massey earned the Staff Diversity Award, while Assistant Professor of Political Science and Public Administration Pia Knigge earned the Faculty Diversity Award.
Alshami, who grew up in Chicago before moving to Montgomery for middle school and high school, said it's important for students to overcome any apprehension they may feel about interacting with individuals of other cultures, backgrounds and faiths.
"Taking these chances could lead to lots of great outcomes like a lifetime of friendship and bonds, as well as knowledge from all around the world, really," she said. "Make sure you are open to communication with anyone and everyone. It is key, and you will comfort through it in many ways."
Alshami said AUM presents numerous opportunities for students to develop fluency in other cultures given its range of student organizations and entities like the Global Education Center, which is open to anyone. Currently, 45 nationalities are represented on the AUM campus.
"Though you may find it to be a small campus, it has people with the biggest minds and hearts who will be great to have in your life," she said.
(Editor's note: The Warhawk Spotlight features news about people, projects and programs at AUM that illustrate our Core Values. Need a refresher on our Core Values?)