U.S. News & World Report ranks AUM among South's top regional universities
U.S. News & World Report ranks AUM among South's top regional universities
FOR IMMEDIATE RELEASE
U.S. News & World Report ranks AUM among South's top regional universities
Auburn University at Montgomery claims status as top university in the River Region and as one of the top public regional universities in the state.
Auburn University at Montgomery | Montgomery, Ala., Sep. 13, 2018 – U.S. News & World Report recognized Auburn University at Montgomery among its top regional universities in the South in its annual survey of the nation's best educational institutions.
Among regional universities in the South, AUM ranked 22nd for the quality of its undergraduate teaching program and 38th among public institutions. AUM's College of Business also ranked among the business schools nationally. U.S. News & World Report based its 2019 rankings on surveys of higher education peers and high school counselors, as well as data detailing faculty resources, student retention and graduation rates and admission selectivity.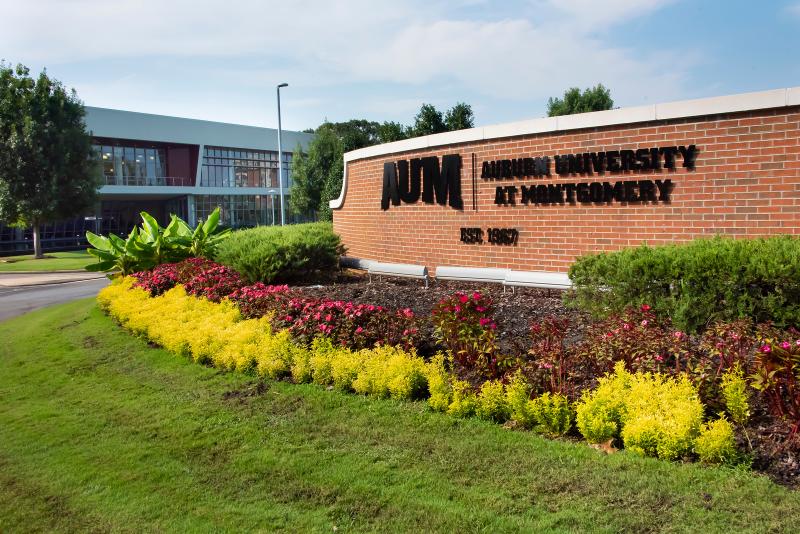 "We are delighted that Auburn University at Montgomery's academic programs have once again been recognized for their high level of quality," said AUM Chancellor Dr. Carl A. Stockton. "This newest set of rankings serves as testament to the hard work of our faculty and staff and underscores our commitment to our core values — particularly our desire to put students first and to pursue excellence in all that we do."
AUM's retention and graduate rates have been strengthened by new scholarship programs that ease costs of attendance, as well as through resources like the Warhawk Academic Success Center. In academic year 2017-18, AUM awarded $6.3 million in scholarships.
Earning a place among the top 25 regional universities in the South for putting a particular focus on undergraduate teaching highlights AUM's strides in the area, such as the university's Virtual Avatar Laboratory (VAL), the state's only virtual-human hybrid learning and teaching environment, and its National Science Foundation-funded Logan Project, dedicated to mathematics learning and evaluation processes for learners with severe vision and mobility limitations.
"We are especially pleased to be recognized for the excellence of our undergraduate teaching and our ability to foster an environment conducive to learning," said Stockton. "AUM is dedicated to putting students first, and we have increased our focus on providing learning experiences that are rewarding and meaningful and prepare our students for college life and life beyond college."
In its assessment of regional universities, U.S. News & World Report weighed such factors as class sizes, student-to-faculty ratios and average starting salaries for graduates. Nearly 50 percent of AUM's classes include fewer than 20 students, with the university boasting a 16:1 student-to-faculty ratio. The median starting salary for alumni included in the publication's 2019 survey was $44,100.
The U.S. News & World Report ranking adds to a list of accolades that includes recognition from The Princeton Review as one of the best colleges in the Southeast.
Established in 1967, Auburn University at Montgomery is a four-year regional institution accredited by the Commission on Colleges of the Southern Association of Colleges and Schools. Offering more than 90 undergraduate and graduate degree programs and certifications, AUM is ranked among the South's top universities by U.S. News and World Report and was named one of the best colleges in the Southeast by The Princeton Review. Consistently chosen as the best university in the area, Auburn University at Montgomery provides students with detailed knowledge and hands-on, practical experience, often from professionals in the field. Classes are offered in person on our verdant campus in Alabama's vibrant state capital or online.
Learn more at aum.edu.
Contact
Troy Johnson
Director of University Communications
Auburn University at Montgomery
334.244.3110 (office)
334.663.4843 (mobile)
[email protected]
aum.edu