University names Interim Dean of Students, creates role for Interim Chief Diversity Officer
Auburn University at Montgomery has made a pair of administrative appointments, including the creation of an Interim Chief Diversity Officer position.
Dr. Brooke A. Burks, associate professor and head of the College of Education's Department of Curriculum Instruction and Technology, will serve as AUM's Interim Chief Diversity Officer. Dr. Leon Higdon, Senior Director of Auxiliary Services, will soon begin serving as AUM's Interim Dean of Students. Josh Roberts, who had been serving as AUM's Dean of Students, has accepted an administrative opportunity in K-12 education. His last day will be June 19.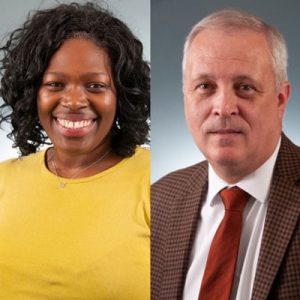 "We appreciate Josh's service and wish him well in his new opportunity," AUM Chancellor Carl A. Stockton said.
Higdon, a member of the AUM staff since 2018, will begin serving as Interim Dean of Students after providing administrative oversight of such areas as AUM Dining, the AUM Bookstore, Housing & Residence Life, the Wellness Center and Conference Services. Higdon earned his doctorate in Higher Education and Higher Education Administration with an emphasis in student affairs from the University of South Alabama. His dissertation research focused on the effects racial microaggressions have on the retention and persistence of minority group students in higher education.
His educational background also includes a bachelor's degree from the University of South Alabama and a master's degree in human environmental science from the University of Alabama.
"Dr. Higdon's versatility has been evident since his arrival at AUM, and he has also guided improvements to so many of the services that our students depend on," Stockton said. "All of that extends from his willingness to ask the right questions and to listen to our students."
Burks, who joined the AUM faculty in 2011, has served as the College of Education's Secondary Intern coordinator and has provided training to faculty colleagues in Writing Across the Curriculum. She earned a bachelor's degree in Language Arts Education from Tuskegee University, as well as a master's degree in Secondary English Education and a doctorate in Curriculum & Instruction from Auburn University. She also served as an AUM Provost's Fellow.