Top faculty members honored at Fall Convocation
Top faculty members honored at Fall Convocation
FOR IMMEDIATE RELEASE
Top faculty members honored at Fall Convocation
Auburn University at Montgomery | Montgomery, Ala. (Oct.22, 2018) — Auburn University at Montgomery recently honored several professors through the Distinguished Faculty Awards presented at the Fall 2018 Convocation.
Presented by AUM Chancellor Carl A. Stockton and Provost and Senior Vice Chancellor Mrinal Varma, the Distinguished Faculty Awards honor professors and instructors who have demonstrated their excellence in teaching, research and outreach. Award winners by category included: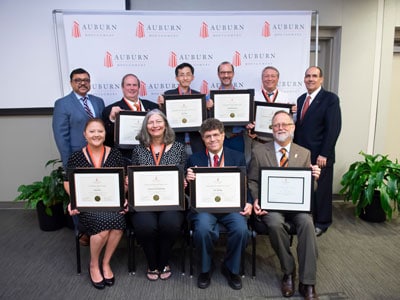 Paul Hard
AUM Alumni Association Faculty Service Award
Hard, an associate professor of Counselor Education, earned recognition from the AUM Alumni Association Board of Directors. His teaching and research concentrations are community, marriage and family counseling. He is a Licensed Professional Counselor, a Nationally Certified Counselor and a Certified Counselor Supervisor.
Keith Krawcyznski
Distinguished Teaching Professor Award
An AUM faculty member since 2000, Krawcyznski is a Distinguished Research Professor in the Department of History and World Languages and Cultures. He earned the Distinguished Teaching Professor Award by virtue of his efforts to develop alternatives to lecture-based courses.
Nicholas Bourke
Distinguished Teaching Associate Professor
In recent years, Bourke, an associate professor in the Department of Curriculum Instruction and Technology, has played an integral role in AUM's summer program to help train Alabama K-12 teachers to develop more engaging approaches to math and science education. He draws on 30 years of experience as a science educator at the elementary and university levels.
Val Winkelman
Distinguished Research Professor
A professor in the Department of Communication and Theatre, Winkelman is known for her work to ensure the high quality of Theatre AUM productions. Her background includes more than 30 years of experience in costume design, makeup and hair design, production management and directing. Her artistry in designing and constructing costumes is supported by careful scholarly research to assure historical accuracy for the period in which a play occurs.
Don Chon
Distinguished Research Associate Professor
A member of the AUM Department of Criminal Justice faculty since 2011, Chon is an internationally recognized criminologist specializing in comparative cross-analyses of violent crimes. Through his research, Chon has advanced an influential theory that attempts to explain why, when a case of suicide or homicide is a response to aggression, that suicides are more likely to occur in developed countries and homicides are more likely to occur in developing nations. He has published three books and numerous book chapters and peer-reviewed journal articles.
Eric Sterling
Outstanding Service Award
As director of the Master of Liberal Arts program, Sterling has earned each of AUM's major teaching and research awards. He is described as a "caring and empathetic" teacher who excels in his role advising undergraduate English majors and MLA graduate students. In addition to serving as a mentor for young faculty members, he has also been an active volunteer and member of numerous departmental, college and university committees.
Sam Wallace
Distinguished Lecturer/Clinical Faculty Award
A Lecturer of Theatre, Wallace has been described as an example of the "primary reason" why AUM established lecturer positions. "His love of theater is evident in the classroom and actively flows out of him whenever he spontaneously breaks into song or recites a line from a beloved play," one nominator said. He works closely with students on Theatre AUM productions and teaches multiple sections of Theatre Appreciation.
Dana Bice
Outstanding Adjunct Award
An art historian who specializes in Modern and American Art, Bice has been a popular teacher at AUM for the last 15 years. Known for her professionalism and dependability, she has also served in a variety of administrative roles in multiple university units. Her work in the classroom and in administrative roles has made her, in the words of one nominator, "indispensable."