Theatre AUM student Tony George finds incredible experience through Lost Colony internship
Theatre AUM student Tony George finds incredible experience through Lost Colony internship
For four years at Auburn University at Montgomery (AUM), senior theatre student Tony George has been training for the acting job of his dreams. His preparation paid off when he landed a summer internship with The Lost Colony, the nation's oldest outdoor theatre.
George traveled to Greensboro, N.C., in January to audition for a national open call for actors to perform at theatre companies around the world. His audition impressed recruiters from The Lost Colony.
"Luckily, I made the call-back list," he said. "I was asked to come read again for them and that led to me receiving a contract with The Lost Colony."
Last summer, George joined The Lost Colony production as an actor and stage technician. The summer internship experience left him with a new perspective on acting and has helped him hone the acting skills he's acquired since becoming a student at AUM.
An outdoor theatre production, The Lost Colony is written by Pulitzer-Prize winning playwright Paul Green and is the "nation's premier and longest-running symphonic drama."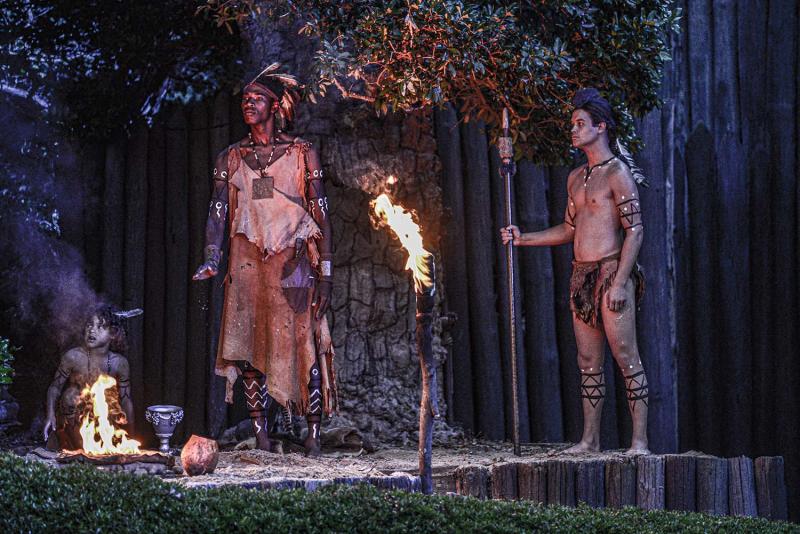 Theatre AUM senior Tony George in The Lost Colony.– Photo by Carl Lewis
The play "commemorates the history of the first English colonies in North America on Roanoke Island, North Carolina," according to its website. George said he played King Wingina of the Secotan Ronoake natives in weekly shows at Manteo's Waterside Theatre on Roanoke Island, where he networked with other industry talent and developed new acting skills and techniques.
"We worked six days a week almost sun up to sundown with rehearsals at night," he said. "It was quite an experience because of the long days."
George, who hopes to become a film actor, also performed in children's shows and professional theatre workshops to showcase his talent. He is now certified in stage combat after undergoing intense training and dueling lessons with the aid of a professional instructor, he said.
"I love action films and thrillers so this will really help me if I want to do fight scenes on camera," he said. "I gained a lot of confidence from the internship. It was all around a great experience and I made a lot of good connections."
The internship also proved that he's chosen the right career path, George said. A native of Wetumpka, Ala., George attended Wetumpka High School where he played basketball and hoped to earn a basketball scholarship to Auburn University.
As a high school student, he also pursued his initial interest in acting by auditioning with The Walter Trumbauer Theatre Festival with a friend and joining his high school's theatre program. In the 11th grade, he acted in his high school's adaptation of the musical Bring It On.
"Because of basketball I ended up realizing I wasn't able to do theatre," he said. "I ended up focusing on basketball."
When his plans to attend Auburn University on a basketball scholarship to major in sports medicine fell through, George said he enrolled at AUM undecided on what to pursue as a major. Standing 6-foot-4, George said Theatre AUM changed his mind about pursuing a career in sports and inspired him to follow his passion for acting.
"I thought I was going to play basketball for the rest of my life or be involved with sports in some way," he said. "I auditioned for Theatre AUM my first day at AUM. I knew right away it was the best decision I ever made."
George credits AUM's theatre program and faculty mentors for helping prepare him for a professional internship program such as The Lost Colony.
"AUM's theatre program really works you hard and trains you in other ways than just acting," he said. "We learn how to do lights, sound and costumes so that when you go to work at a place like The Lost Colony you know how to do everything, not just act."
George has excelled as a Theatre AUM student, said Val Winkelman, Distinguished Research Professor of Communication and Theatre at AUM.
"The professional experience he gained this summer as a performer and as a technician has furthered his confidence, deepened his commitment and refined his leadership skills," she said. "It has also broadened his network and advanced his career readiness."
A natural leader, George has performed in Theatre AUM productions such as The Flick, Coupler, Arcadia, Child's Play, and Woyzeck. His work is respected among his peers and he is a role model for freshmen and sophomores, said Neil David Seibel, associate professor of theatre and director of performance studies at AUM.
"My first production with Tony was working on the play Coupler by Meredith Dayna Levy.  From the beginning Tony had talent," Seibel said. "He has worked very hard and now that he has had a professional taste of his career path after studying it here at AUM, he is more committed than ever."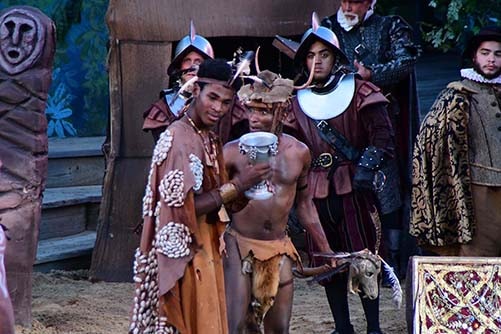 Tony George performs as King Wingina — Photo by Carl Lewis
George said he expects to graduate in May 2020 with a degree in theatre and minor in communication. After graduation, he hopes to return to acting with The Lost Colony and move to Atlanta to pursue a career in film.
"I've been in Theatre AUM all four years here and have made close friends," he said "The program is just one reason I'm glad I chose AUM. The university is so much like home."
Q&A
What is your lucky charm on stage and why?
When I attended (The Walter) Trumbauer Theatre Festival in the 10th grade to audition and compete with other high school students for college scholarships, my high school basketball teammate and best friend, Austin, went with me to support me at the competition. I earned a perfect score at the competition and received a medal, but I was not recruited because at the time basketball was primary in my life. Shortly after the competition Austin died in a car accident. Every time I perform in a play, I carry my Trumbauer medal with me because it reminds me of Austin and how he inspired me to keep performing.
What is your involvement on campus?
My first three years at AUM I was a part of AUM's Successful Warhawks Orientation and Transition Team (SWOT). I joined almost as soon as I got to campus. The SWOT team gave me a really big impression as a new student so I knew I wanted to be a part of the SWOT team. It was a great experience because it exposed me to campus and connected me with other students.  I'm also in the AUM chapter of Omicron Delta Kappa, a national leadership honor society with students from different majors. I am currently serving my second year as president of the Theatre AUM Guild. The Guild is something I've been part of for four years because it helps to raise money for the Theatre AUM program and students to attend conferences and festivals.
What has been your favorite AUM play to perform?
I've been in nearly 10 plays at AUM. My favorite so far has been The Flick, a Pulitzer Prize-winning play. I loved it because it was set in a movie theatre so we moved all the audience chairs down on the stage to look like everyone in the audience was looking at us in a movie theatre. It was really cool. We sold popcorn and fountain drinks to audience members to add to the movie theatre feel and look. The play also had an important message. It was about this young man Avery — the character I played — who meets this guy named Sam and a girl named Rose at work. The three are lonely people who end up talking about their inner-life turmoil while working at the theatre cleaning up after patrons leave every day. They also share how much they all love movies because they are movie nerds. We learned about work, race, class, family, social privilege, and the need for solidarity.
Who are your idols in film and theatre?
I love Denzel Washington, Jordan Fisher, Zendaya Coleman and AUM alum Octavia Spencer. They're my acting idols because they each show that you can do anything you set your mind to. And Zendaya and Octavia have taught me you're never too young or old to achieve your dreams. They inspire me to work hard.