Theatre AUM goes virtual for Fall 2020 season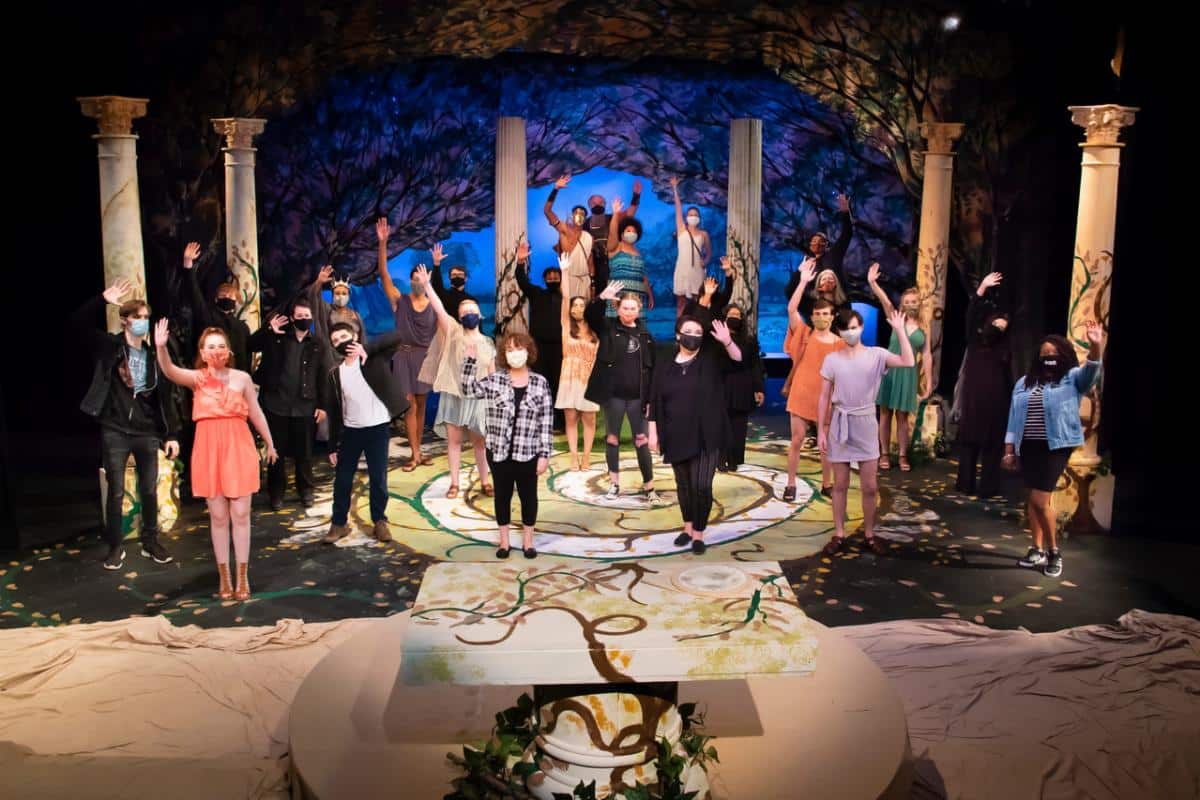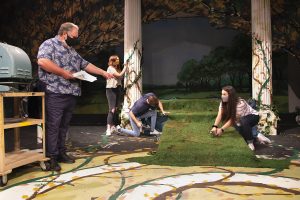 Fusing theatrical creativity and modern technology, Theatre AUM students and faculty overcame social distancing challenges due to the COVID-19 pandemic to present their first fall play, "Shadow of the Son," to the campus community.
Theatre AUM's fall production of "Shadow of the Son" was filmed in an online format rather than an in-person stage performance due COVID-19, said Val Winkelman, professor of communications and theatre. Work on the non-traditional production began in the spring with theatre students and faculty rehearsing, building sets and filming the play while adhering to COVID-19 safety guidelines.
"We are providing this production in a filmed format so that our audience members are able to watch the play from the comfort of their homes, and in order to practice safe social distancing," she said.
"Shadow of the Son," by playwright Kate Leslie, explores the connection between Artemis, the moon goddess, and her brother Apollo, god of the sun, as Artemis struggles to find her way in a patriarchal world. Expected to live up to the ideals of the immortals, Artemis longs for freedom and the opportunity to chart her own path. But when she builds her own world away from that of her father, has she simply traded one set of impossible expectations for another? By viewing the world through Artemis rather than men in history, viewers will get an understanding of how moments in life and history shape and change us into who we ultimately become.
Cheyenne Singleton, a senior communications major, said wearing face coverings and practicing social distancing during filming of the play was a big change for theatre students.
"The process was exciting, but it took longer to give the audience a near perfect show," said Singleton, who plays Leto, mother of Artemis and Apollo, a goddess given the title of The Great Mother. "Usually, we have an audience to laugh at the funny jokes and cry at the emotional scenes. Now we are really emotional watching scenes that we usually don't get to watch because we are normally backstage preparing to go on for our own scenes. This has afforded us an unusual and unique opportunity."
While COVID-19 presented its challenges during production, Singleton said the pandemic has not changed her outlook on working in theatre.
"I still want to be a part of working in theatre and if COVID wants to make it harder, then I'll work harder," she said. "That's the thing about theatre, we're always working harder to improve."
Meeting the challenges of COVID-19 was part of keeping everyone safe and healthy on set, said Olivia Tippett, a senior and double major in fine arts and communications.
"By creating safe spaces, it gives us the opportunity to find a new normal and help direct the path for other theatres," she said.
Tippett, who served as stage manager for "Shadow of the Son," said COVID-19 also has shown her that there is still room to grow and learn in theatre. Wearing face masks during rehearsals, practicing social distancing and sanitizing seating areas and doors required actors and production members to all take on new roles, she said.
"I believe the practices we are establishing now will become a part of how theatres are run," she said. "By the play being recorded, we are more likely to reach more people because they can watch from the comfort of their home and it's safer for everyone's health. We're doing our part to help make sure theatres stay open and keep up with the world."
There also is an upside to working in theatre wearing a face mask, Tippett said.
"Actors are taught to project their voices and over articulate their words," she said. "Wearing masks just gives the actors more opportunities to use those practices and make sure their lines are very clear. With the uncertainty facing theatres across the world, having the opportunity to come into our theatre space and create art has been the most amazing feeling."
"Shadow of the Son" is available online to the campus community through December 15. The play is free to watch online at https://youtu.be/lCi1UzsltJo.