South Africa study abroad offers hands-on learning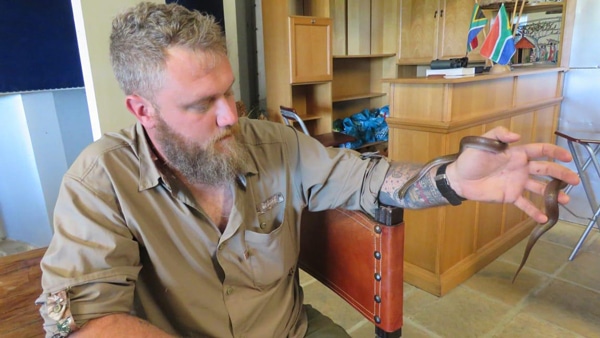 South Africa study abroad offers hands-on learning
Mike Norris wanted a study abroad opportunity that would offer hands-on field experience in biology. It's fair to say experiences don't get any more tangible than his semester-long trip to South Africa.
So far, the biology major from Fort Walton Beach, Fla., has surfed the waves off the beaches of Scarborough, enjoyed a close-up encounter with an elephant on a game drive through Kruger Nation Park, held an egg eater snake, worn the traditional dress of the Venda people and viewed rock art paintings that may date back some 70,000 years.
Auburn University at Montgomery's partnership with the Organization for Tropical Studies provides students with semester-long study abroad opportunities in South Africa and Costa Rica. The programs include a comprehensive introduction to field biology, conservation policy and global health in a variety of ecosystems. Norris took time out of his action-packed trip to share details of his experiences in South Africa.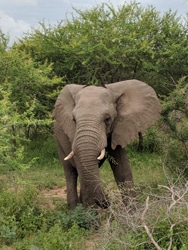 What made you want to do the study abroad in South Africa?
"I chose to study abroad with OTS in South Africa because I wanted to get the hands-on field experience and work with experts in an environment that was totally different than I had ever been to."
What has been your favorite aspect of the experience?
"It would be really hard to pin down one part that has been my favorite so far. We have been all over the country of South Africa and every area is different, but each offers its own excitement and learning experiences. The Savanna was amazing, going on game drives and having a chance to see the mega fauna of Africa. The Cape had plants not seen anywhere else in the world and gorgeous beaches. The Cederberg had amazing rock formations and cave art left by the Sans people. So when I consider all of this, it is really hard to say which one is the best."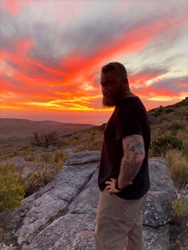 What has been the biggest surprise thus far?
"Academically, my biggest surprise was that I enjoy doing stats and using statistics software."
What would you tell another AUM student who might be thinking about a study abroad opportunity? What would you want them to know?
"I would want other AUM students to know what a valuable experience this has been. I have had the chance to work in small groups with experts in many fields. It has allowed me to break away from a traditional classroom setting and has given me a chance to learn academic material hands-on. It has also allowed me to be immersed in different cultures and to explore another country in a way only this type of experience could provide."
Learn more about what Norris and students from other universities are experiencing in South Africa through the Organization for Tropical Studies field experience blog. Check out Auburn University at Montgomery's assortment of study abroad opportunities.