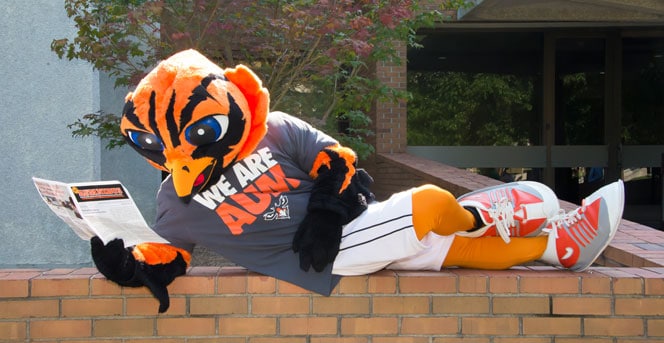 Welcome to Biz Nation!
Save the Date
September 4 – Phi Beta Lambda (PBL) Interest Meeting; 12 – 1 pm; Clement Cove
September 5 – Information Technology Meet and Greet; 11:45 am – 1 pm; Clement Cove
September 5 – School of Accountancy Networking Event; 4:30 pm; Taylor Center, Rm. 230
September 12 – Classmates to Colleagues – Handshake and Internship Process Workshop; 12 – 1 pm; Clement Cove; Registration required
September 23 – Jackson Thornton Presents " The Art and Science of Valuation and Litigation Consulting"; 6:30 pm; Taylor Center, Rm. 223
September 24 – Kickoff to Advising; 12 – 1 pm; Clement Cove
September 25 – Phi Beta Lambda and the Office of Student Engagement and Success presents a Resume Review Workshop; 12 – 1 pm; Clement Cove
October 1 – Ambassador Interest Meeting; 12 – 1 pm; Clement Hall, Rm. 113
October 22 – Fall Graduate Preview Night; 5 – 7 pm; Taylor Center, Rm. 221- 223
Career Development Center
This Week in Career– Mondays this Fall beginning Sep. 9, 11:30 am – 1:00 pm, Taylor Center Breezeway (in front of the AUMazing Bean).
The Career Development Center wants to make sure all members of the AUM Community are aware of services, programs, and activities happening to educate, empower, and create opportunities for all Warhawks to achieve individual professional success. Please stop by our table every Monday this Fall beginning Sep. 9 to visit with Center representatives and learn more about our exciting initiatives!
AUM Career Development Center Presents: Employer Spotlight
Students are highly encouraged to attend employer spotlight events hosted by companies looking to connect, engage and Hire a Warhawk! Be sure to stop the Career Development Center so you can be Warhawk Career Ready when employers visit campus. Schedule your next visit through AdvisorTrac on MyAUM!
Connecting & Engaging with Coding Solutions https://www.codingsolutions.com/September 26, 11:30 am – 1:00 pm.All business studentsare encouraged to attend to learn more about building your future career with a startup company, personal branding, and some great advice for breaking into the industry as a recent graduate.
Graduate Preview Night
Talk to faculty, advisors, graduate school alumni, and current students to get answers to all your questions.
Flexible schedules
Entrance exams and GRE/GMAT waivers
The Graduate Focus Scholarship
Support services
And much more!
All attendees receive an application fee waiver.
Casual attire
Refreshments served
October 22 – Taylor Center, Rm. 221 – 223(5 – 7 pm)
College of Business Clubs
Start this school year right, get active and join a club!
Accounting Club
Advisor: Haley Daniel, 244-3136, [email protected]
AUM Investment Club
Advisor: Dr. Tewhan Hahn, 244-3231, [email protected]
Information Systems Club
Advisor: Wendy Anderson, 244-3977, [email protected]
Marketing Club
Advisor: Dr. Dorcia Bolton, 244-3885, [email protected]
Society for Human Resources Management
Advisor: Dr. Mary Kiker, 244-3517, [email protected]
Entrepreneurship Club
Advisor: Charles Jackson, 244-3518, [email protected]
Phi Beta Lambda
Advisors: Dr. Kimberly Johnson, 244-3398, [email protected]
LeAnn Reeves, 244-3450, [email protected]
5 Tips for Delivering the Perfect Elevator Pitch
Yudy Pineiro
An effective elevator pitch could be the difference between a new connection and a lost opportunity.
An elevator pitch is similar to a personal selling statement, yet different from a sales pitch because it's more of a conversation starter. A good pitch lasts between 15 and 45 seconds — about the length of an elevator ride (which is partly how it got its name).
Capture their attention
Answer the question: Who are you? Introduce yourself and note your credentials such as your major or degree. If possible, reference something that differentiates you from your peers, such as technical training.
Note your career or business goals and experience
Once you've completed initial introductions, draft a short, one-sentence story that answers the question "What do you/your business do?" If your job title is broad or highly specialized, provide a description instead. When the person understands your role and goals, then they are in a better position to help you or possibly connect you to someone who can.
Point to qualifications
To make a successful elevator pitch, you'll also want to point to your qualifications. Now is the time to share information about some combination of your leadership, experience, achievements, expertise, skills, and strengths. Answer the questions: What makes you qualified to do your job/run your business and how long have you been doing it? If you're a new graduate, point to your college major. If not, leave it out. If you're affiliated with industry organizations or have specialized certifications, make a note of it to your listener.
Highlight unique qualities
After establishing your background and goals, you'll want to point to any qualities, experiences, or achievements that make you stand out. Consider what special niche or extensive knowledge you can share with your contact that will set you apart from the rest.
Ask a question
As you close your elevator pitch, make sure to ask an open-ended question that allows the individual to answer. This can help engage the person in a longer conversation. For example: "If you have some time, I would love to meet with you in person to hear more about your organization and any opportunitiesAnd, of course, be sure to ask for a business card so you can follow up.
Practice, practice, practice
Take your time to craft your pitch. Practice it aloud and time it to make sure it's short enough. If you can, practice with friends to gauge their thoughts. Cut out anything that's unnecessary. Remember, your pitch needs to be short and engaging.
Be enthusiastic and smile when delivering your pitch. You should also sound natural, not rehearsed — people can tell if you really love what you do and believe in what you're saying or if you're just trying to sell them on your idea by delivering a rehearsed pitch.
https://www.topresume.com/career-advice/5-tips-for-delivering-the-perfect-elevator-pitch
College Comment Box
Check out the College of Business Comment Box at the entrance to Clement Cove. Fill out a form in person and leave it in the box. We thank you for your feedback!