Public administration graduate earns Local Government Management Fellowship
Public administration graduate earns Local Government Management Fellowship
Labor contracts, proposed development of a townhome complex, naming rights for a new community center and an increase of a city debt limit were among more than 900 pages of meeting material aldermen in Evanston, Ill., recently waded through in preparation for a city council meeting.
Such "light" reading will become the norm for Auburn University at Montgomery alumna Shenicka Hohenkirk as one of the International City/County Management Association's 2019 Local Governmental Management Fellows.
Hohenkirk, who earned a Master of Science in Public Administration from AUM in 2018, will work for the City of Evanston after earning one of the competitive fellowships that enable recent public administration and public policy graduates to earn experience in full-time management-track local government positions.
"It gives you a chance to work closely with a city manager, as well as different department heads from firefighters to the police department to budget and finance, and to work with city council members," said Hohenkirk, who will relocate from Atlanta to the Chicago area. "It gives you that hands-on management experience without being a manager."
Since the ICMA initiated its Local Governmental Management Fellowship program in 2004, more than 30 graduates have been hired as chief administrative officers or assistant chief administrative officers. Many more hold senior leadership roles in local government. Through her fellowship, Hohenkirk will collaborate with and learn from civic leaders in a 75,000 resident city home to Northwestern University and situated a mere 12 miles from Chicago.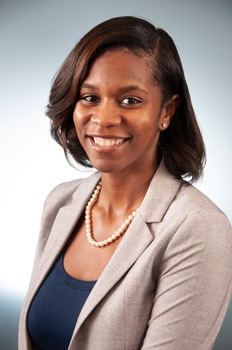 "When it comes to working in government, you have to start locally," Hohenkirk said. "That's where the meat is – the people, the communities. That's how you really learn how to make a difference.
"I'm really open to all of it right now, but I would like to stay in city planning, if possible. I would like to become a city manager one day. That's my long-term goal."
Auburn University at Montgomery's public administration graduate program helped her bring those goals into focus. Hohenkirk, a Brooklyn, N.Y., native, considered a different career after earning an undergraduate degree in English with a minor in legal studies from Alabama State University. After briefly testing out law school, she opted for pursuit of a career in government. AUM's MPA program, the first accredited program in the state and one of the nation's best according to U.S. News & World Report, offered the right fit.
"I had looked at AUM's MPA program because I had friends who graduated from it and said great things about it," she said.
Hohenkirk, who worked as a lead counselor for the Atlanta YMCA's Goodtimes Center, while in the graduate program, took advantage of professional development opportunities offered by AUM's IMCA chapter. Her involvement in the organization, in which she eventually served as chapter president, enabled her to make valuable professional connections through the Alabama City/County Management Association. Attending a state conference enabled her to meet veteran city managers like Mountain Brook's Sam Gaston, an AUM graduate, who offered her an internship. During her six-month internship in 2017, Hohenkirk wrote articles for the city's newsletter, helped shape the new employee orientation process, worked with geographic information system staff members and researched nuisance and property codes of other communities to find potential applications for the City of Mountain Brook's codes.
"Having worked for Sam Gaston and having participated in the Alabama City/County Management Association is a really important signal to potential employers that she is really committed to this profession," said AUM Department of Political Science and Public Administration head and professor Andrew Cortell. "Other people in the profession see that not simply is she committed to it, but she also has talent."