Online program at AUM earns Top 15 status
AUM recognized for flexible class schedules and student access to learning support.
Auburn University at Montgomery/Montgomery, Ala. (November 16, 2016) — Affordable Colleges Online, a leading resource for online learning and college affordability information, has ranked Auburn University at Montgomery among its "Best Online Colleges in Alabama for 2016–17."
Affordable Colleges Online recognized AUM's "wide range of online programs and degrees and non-credit, continuing education courses" as well as the university's use of Blackboard, which enables students to participate in online class discussion and submit assignments online.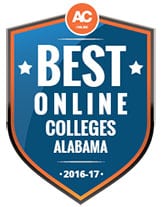 According to AC Online, AUM's online programs also are flexible, allowing students to earn degrees without "sacrificing their work and home lives," and, AC Online noted, AUM offers support to students through its Learning Center and Center for Disability Services.
Carolyn Rawl, AUM's senior director of Online and Digital Learning, applauded the ranking.
"Auburn University at Montgomery is dedicated to providing online education opportunities that deliver an exceptional learning experience. Our faculty are certified to teach online by completing a comprehensive faculty development program," Rawl said.
"By becoming a Quality Matters institution in spring 2015, our focus has been on certifying the quality of our online and hybrid courses through an extensive peer review process," she said.
According to a recent study by the National Center for Education Statistics, 16 percent of all Alabama students are enrolled exclusively in distance education.
"We wanted to highlight the schools in each state that are driving innovative learning and meeting demands of students," said Dan Schuessler, CEO and founder of Affordable Colleges Online. "These schools are not only offering great programs, but they have expanded their program excellence to the much-desired online environment."
About AffordableCollegesOnline.org 
AffordableCollegesOnline.org (AC Online) began in 2011 to provide quality data and information about pursuing an affordable higher education. AC Online's free community resource materials and tools span topics such as financial aid and college savings; opportunities for veterans and people with disabilities; and online learning resources.
About Auburn University at Montgomery 
Auburn University at Montgomery is ranked among the Southeast's top universities by The Princeton Review. Consistently chosen as the best university in the area, Auburn University at Montgomery provides students with detailed knowledge and hands-on, practical experience, often from professionals in the field.
###
Media Contact:
Layne Holley
Communications Manager
Auburn University at Montgomery
[email protected]
Office: 334-244-3642
Mobile: 334-318-1017