Montgomery's Robert E. Lee High School Partners with Auburn University at Montgomery
Ashleigh Hicks | Auburn University at Montgomery | Nov. 16, 2017
Robert E. Lee High School partners with Auburn University at Montgomery (AUM) to provide opportunities to high school seniors.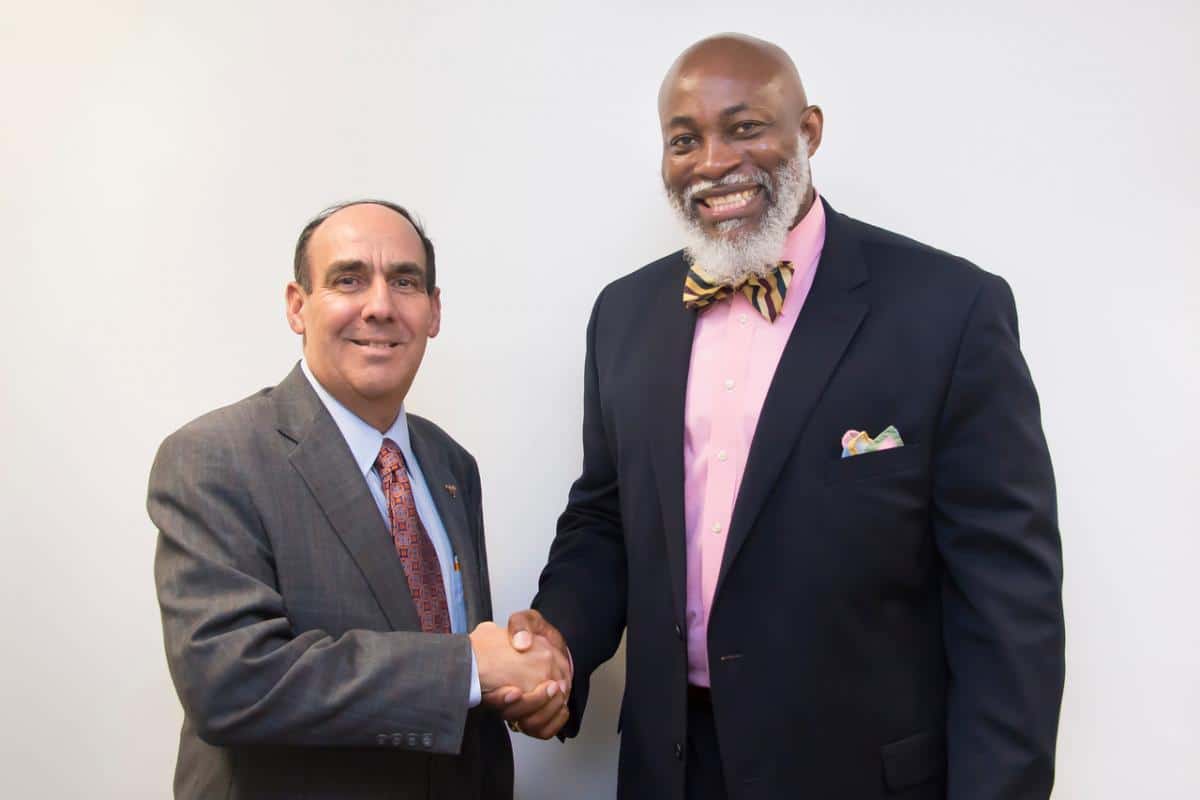 Auburn University at Montgomery/Montgomery, Ala. (Nov. 16, 2017) —A new collaboration between Robert E. Lee High School and Auburn University at Montgomery (AUM) culminated today with Dr. Lorenza Pharrams, principal at Lee, and AUM Chancellor Carl A. Stockton, congratulating newly admitted Lee High School students into AUM. These students were personally awarded letters of admission and scholarship awards.
To be admitted into AUM, these students had to have a competitive GPA of 2.3 or higher and an ACT test score of 18 or higher. Both Pharrams and Stockton were honored to congratulate the more than 20 students on their achievements and to encourage them to keep working toward their life and career goals.
The day's highest scholarship award was $16,000, with several students receiving AUM's Opportunity Scholarship, which requires a GPA of 2.3 and an ACT score of 18. "If you keep working on your ACT scores, many of you will be eligible for greater scholarship awards," Stockton told the students."
Pharrams told students that he believes in the quality of education and atmosphere of inclusiveness AUM provides and strongly encouraged them to "…Take advantage of everything [AUM] has to offer. I don't have any stock in AUM, but if I did not think this is a quality institution, I would not stand before you and tell you to take advantage of what they have to offer."
Pharrams believes, also, in the recognition AUM gives to young people and the experiences they bring. He thanked AUM "… for everything [the university has] done. We are excited once again about the partnership and the manner in which you all have accepted us as educational partners and community partners. We're truly excited about this partnership. "
Auburn University at Montgomery is ranked among the South's top universities by U.S. News and World Report and is recognized one of the best colleges in the Southeast by The Princeton Review. AUM is designated as a Military Friendly School and is consistently chosen as the best university in the area. Auburn University at Montgomery provides students with detailed knowledge and hands-on, practical experience, often from professionals in the field.
Learn more about Auburn University at Montgomery at aum.edu.
###
(Editor's note: The Warhawk Spotlight features news about people, projects and programs at AUM that illustrate our Core Values as well as the opportunities we provide to students, faculty and staff.)