How Do I … Ask questions about AUM programs, activities, policies and more?
How Do I … Ask questions about AUM programs, activities, policies and more?
Warhawk Weekly has a new series — How Do I …?  — that answers questions and provides helpful tips to make your life at AUM easier and more productive.
Every now and then, you need some information that can't seem to find in the aum.edu header links,

or the search box,

or in the footer.

We know how it is. Sometimes, you just can't get what you need, or maybe you don't know enough about what you need to put your finger on it.  That's where [email protected] comes in.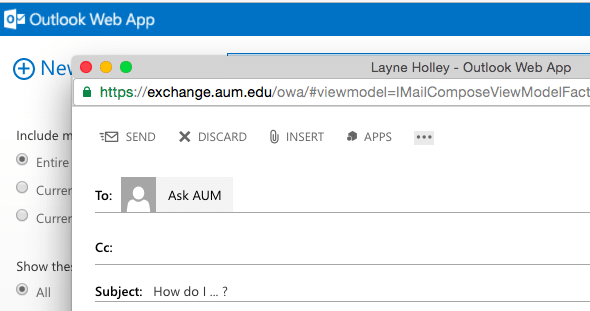 When you just can't find what you're looking for on aum.edu or on the website for your college — College of Business, College of Arts and Sciences, College of Education, College of Nursing and Health Sciences or College of Public Policy and Justice — you can shoot a quick email to [email protected].  We've gotten questions about how AUM policies are made and what our current policies say, to how to change majors, how to change passwords, and how to change the food in the cafeteria (although that one's really rare because the food is pretty good!).
[email protected] questions come to the Office of Strategic Communications and Marketing, which also operates the AUM switchboard. Our goal is to respond to [email protected] queries within 24 hours. Sometimes we can help right away (our communications operator knows a lot and can usually tell you where to find that information or similar information in the future to save yourself some time) or we can connect you with the right department or person.