Honors Day celebrates outstanding students
Honors Day celebrates outstanding students
FOR IMMEDIATE RELEASE
Honors Day celebrates outstanding students
Students Teva Stinson, Haley Toler, Rachel M. Pate, Abbey Fisher and Emily Cosgrove earned the highest honor presented by Auburn University at Montgomery during its 2019 Honors Day celebration on April 12.
The five students were recognized as Chancellor's Scholars for the 2018-2019 academic year. The Chancellor's Scholar Awards, which represent the highest level of distinction conferred to students on the basis of scholarship and service, are voted on by committees made up of deans and department heads from each of AUM's colleges. Stinson earned top honors for the College of Business, while Toler represented the College of Education. Pate, Fisher and Cosgrove represented the College of Liberal Arts and Social Sciences, College of Nursing and Health Sciences and College of Sciences, respectively.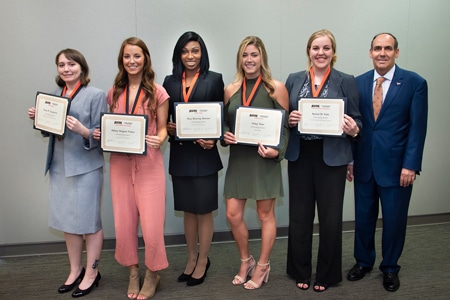 "We are very proud of the dedication these students have shown," Auburn University at Montgomery Chancellor Carl A. Stockton said.
Stinson is a member of AUM's Phi Kappa Phi chapter and Accounting Club. She has also served as vice president and community service chair for the National Society of Leadership and Success. Toler, a member of the National Collegiate Honor Society, has served as captain of AUM's volleyball team. Pate, a Spanish major, recently co-authored a research paper with one of her instructors and is a member of Phi Kappa Phi Honor Society and Omicron Delta Kappa. Fisher, who has set her sights on a career in speech language pathology, has been active in Phi Kappa Phi and has served as secretary of AUM's chapter of the National Student Speech Language and Hearing Association. Cosgrove, a mathematics and computer science major, has served as president of the Math Club and is a recipient of the STEM MAKERS Scholarship.
Senior tennis player Santigo Veglia and senior volleyball player Carly Smart earned AUM's Male and Female Scholar Athlete of the Year Awards. Baglia, a marketing major, is from Santa Fe, Argentina. Smart, a communications disorders major from Columbus, Ga., was named AUM volleyball's Top Newcomer in 2017.
Outstanding Student award recipients for each of AUM's program areas included:
College of Business
School of Accountancy: Teva Sharnay Stinson
Business Administration: Logan Charles Dudley
Information Systems: Luis E. Sarmiento
College of Education
Counselor, Leadership and Special Education: Laura Katherine Jayroe
Curriculum, Instruction and Technology: Brooke E. Williamson
Kinesiology: Haley Toler
College of Nursing & Health Sciences
School of Nursing: Amy Smith Barwick
Communication Disorders: Abbey Wagner Fisher
Medical and Clinical Laboratory Sciences: Cherelle Cox
College of Sciences
Biology and Environmental Sciences: Elizabeth C. Smith
Chemistry: Alyssa J. Muse
Mathematics & Computer Science: Emily Cosgrove
Psychology: Tara N. Trant
College of Liberal Arts and Social Sciences
Communication and Theatre: Marcus J. Godbee
Criminal Justice: Courtney Junkies
Economics: Gavin Payton
English and Philosophy: Anna Grace Meadows
Fine Arts: Megan Lofgren
History & World Languages & Cultures: Rachel M. Pate
Interdisciplinary Studies: Melissa Betz Payne
Sociology, Anthropology & Social Work: Reabecca Paige