Graduation-focused grandmas exemplify AUM's emphasis on lifelong learning
Graduation-focused grandmas exemplify AUM's emphasis on lifelong learning
FOR IMMEDIATE RELEASE
Graduation-focused grandmas exemplify AUM's emphasis on lifelong learning
Karen McQueen gives new meaning to the term graduating "senior." At age 60, the grandmother will be among the more than 400 Auburn University at Montgomery students who will celebrate graduation during spring commencement ceremonies Saturday at the AUM Athletics Complex.
She wouldn't be crossing the stage if not for hearing the story of an 80-something who graduated from AUM and listening to the words of her pastor, who asked congregants if they were reaching their greatest potential.
"After I heard that, I said that when I get my last child out of school, I'm going back to school for me," said McQueen, a Montgomery resident who works for the Alabama Department of Transportation. "I've been hanging in there."
The journey has tested her resilience and demonstrated her perseverance. She changed her major three times before eventually settling on organizational leadership as her focus, worked a pair of jobs for most of her time in school and remained on track despite losing 10 family members since enrolling in 2011.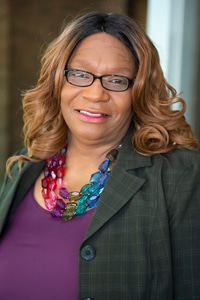 "I've been through a lot, a lot of challenging things," said McQueen, who worked as a night auditor for a hotel during a portion of her time as a student. "I would like to encourage other people that it's never too late to go back to college. Follow your dream."
Hazel Boone, a 66-year-old great grandmother pursuing a bachelor's degree in graphic design, followed different interests to AUM, but shares the same passion for learning and understands the transformative potential of a college education. As one of 12 children, Boone said college wasn't an immediate option when she graduated from Sidney Lanier High School in 1971.
"I went to work for the telephone company," said Boone, a Hope Hull, Ala., resident. "Back then $2 an hour was a lot of money to me."
After 15 years, she paused to raise a family. Her late husband encouraged her to pursue her education and she took a few mathematics courses at AUM in the 1980s, before computers became classroom mainstays. She eventually completed 18 hours of online coursework as a way to "test the waters" before splashing into the pool in 2015. "The students here have been so wonderful to me – 'Miss Hazel, can I carry your books for you?'" said Boone, who has 15 grandchildren and four great grandchildren. "They treat me like the grandmother that I am. I suppose the gray hair gave it away."
McQueen said she didn't have the financial means to pursue a college education immediately after graduating from high school, and worked for UPS for 25 years. She completed multiple two-year programs at Trenholm State and expected her educational journey might end there until the 80-something AUM graduate and her pastor's message encouraged her to continue. McQueen said her AUM education will create possibilities for advancement as a human resources professional, but it has also encouraged other members of her family to rethink what's possible for them.
"I've got grandkids now and I want them to see that it's OK to get your education," said McQueen, who balanced a second job as a hotel night auditor for part of her time as an AUM student. "Your grandmamma did it, so you can do it, too. One of my daughters told me she's going to go back."
Boone has already started passing on some of the knowledge she has acquired as an undergraduate student. After learning the ins and outs of Photoshop, Adobe Illustrator and InDesign in AUM's graphic design program, she began teaching her grandsons how to use the tools. She may even try to persuade them to become AUM Warhawks as well.
"My grandchildren are coming behind me, and I want them to know they can do this," Boone said. "I have had a wonderful journey, and I wouldn't trade it for anything. This is a super-great school. It offers a type of atmosphere that pulls you in. I checked out some other campuses, but AUM offers a family atmosphere. You meet people, and they don't forget your name. It's an awesome thing, a community of people who love people."