Global wildlife trade will put nearly 9,000 species at risk of being bought and sold, according to new study with Auburn University at Montgomery connection
Global wildlife trade will put nearly 9,000 species at risk of being bought and sold, according to new study with Auburn University at Montgomery connection
Global wildlife trade will put nearly 9,000 species at risk of being bought and sold, according to new study with Auburn University at Montgomery connection
A first-of-its-kind study examining the impact of the wildlife trade on biodiversity has determined that the list of land-based species at risk of being bought and sold on the world market as pets and products will grow to nearly 9,000.
The new study, co-authored by Auburn University at Montgomery postdoctoral researcher Brunno Oliveira and published in the journal Science, revealed that more than one in five land-based species are traded globally as pets or for products such as pelts, feathers or horns. Oliveira contributed an automated process for data mining that enabled the research team to gather information on wildlife trade from the internet more quickly and include a larger variety of species. The researchers collected data on more than 30,000 land-dwelling species of birds, mammals, amphibians and reptiles, finding that 5,579 are currently at risk of extinction due to the multi-billion dollar wildlife trade industry.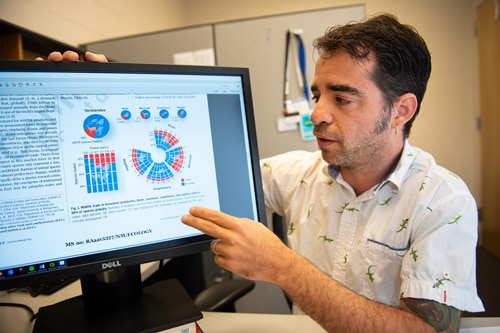 "Many of the previous studies on wildlife trade measured how many individual members of each species are traded," Oliveira said. "We are one of the first that is tackling the diversity of the species that are traded. We created a statistical model to predict, based on phylogenetic proximity and ecological similarities in terms of body size, which species would become traded in the future considering the patterns we know currently exist."
Think of it as forecasting based on the evolutionary history and relationships between individual species or groups of species. The researchers gathered data on traded species tracked by the International Union for Conservation of Nature (IUCN) and the Convention on International Trade in Endangered Species of Wild Fauna and Flora (CITES) and looked for similarities shared by other members across evolutionary trees that, while not currently traded, could become an eventual replacement for an extinct bird, mammal, reptile or amphibian.
Based on data identifying specific traits of currently traded species, Oliveira and co-authors Brett Scheffers of the University of Florida and David Edwards and Ieuan Lamb of the University of Sheffield in the United Kingdom predict that future trade will put another 3,196 species in danger of extinction – bringing the total impacted to 8,775.
Demand for wildlife products and pets has driven dramatic losses in species like elephants, tigers, poison dart frogs and rhinos, Oliveira said. Extinction of a particular species may not extinguish the demand for the products made from it. Consequently, previously safe species sharing the characteristics of genetic cousins may become endangered as wildlife traders seek to fill the void.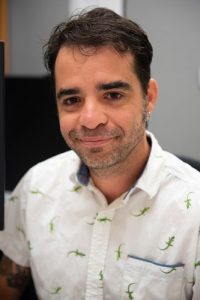 "Trade is not random across the phylogenetic tree," Oliveira said. "Species that are more closely related phylogenetically tend to have a higher chance to be traded. Trade can target all species that have similar traits. We decided to predict what species could be traded in the future based on similarities to currently traded species."
Oliveira said the study offers utility for policymakers worldwide and underscores the need for proactive strategies to regulate wildlife trade. Species can quickly make the transition from safe to endangered as humans harvest and trade across the tree of life, Oliveira said.
"The IUCN list is an example of a reactive way to create conservation," he said. "The species has to be threatened to extinction in order for you to do something. These projections with species that could be potentially traded in the future offers an opportunity for proactive conservation. We suggest that organizations working directly with trade and creating laws for trade could look at the species that could be traded in the future in order to avoid those species becoming threatened. Once those species become desired for trade, it will be difficult to do anything. The population size can be damaged very quickly."