Deal earns Lowder-Weil Chair in College of Business
Deal earns Lowder-Weil Chair in College of Business
Deal earns Lowder-Weil Chair in College of Business
Auburn University at Montgomery accounting professor Keren Deal has been named the newest holder of the Edward L. & Catherine K. Lowder – Adolph Weil Chair in the College of Business.
Established in 1988, the Lowder-Weil Chair honors faculty members for significant achievements and dynamic leadership in business and education. Through her two-year appointment, Deal will work with state agencies to solidify their internal control systems while also working to grow Auburn University at Montgomery's presence in governmental accounting education at the state and national levels.
Deal earned bachelor's and MBA degrees from AUM before completing her doctorate at Auburn. She joined the AUM faculty in 2000 and has earned statewide recognition for her work as an educator and student mentor. A self-described "pracademic" who draws on years of industry experience and close connections with accounting professionals, Deal earned the 2018 Educator of the Year Award from the Alabama Society of CPAs.
Deal mentored a student team that won the Association of Government Accountants' 2018 Fall Government Case Challenge last November. The team, which included Elisabeth Tucker, Yumani Shabazz and Matthew McKinney, became the first group of AUM students to win a national case competition.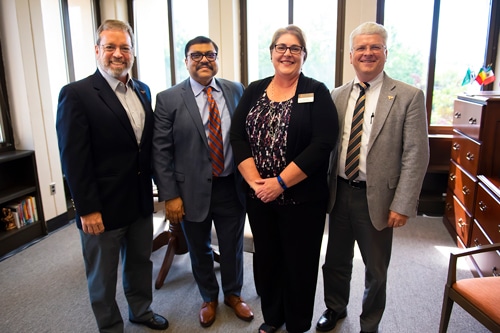 From left: School of Accountancy Director Scott Lane, Provost and Senior Vice Chancellor Mrinal Varma, Accounting Professor Keren Deal and College of Business Dean Ross Dickens