Biology lecturer awarded grant to construct chimney swift tower at Auburn University at Montgomery
Biology lecturer awarded grant to construct chimney swift tower at Auburn University at Montgomery
Chimney swifts returning from their winter migration in South America next spring will have a new home when they arrive on Auburn University at Montgomery's campus.
Shelly Taliaferro, a lecturer in the Department of Biology and Environmental Sciences in AUM's College of Sciences, was recently awarded a $1,000 Education MiniGrant from Alabama Audubon to purchase materials to build a chimney swift tower at AUM.
"The chimney swift tower that we will build and erect on campus will provide a new nest site for one pair of swifts and will provide a nighttime roosting site for numerous other swifts," she said.
The chimney swift project is part of Taliaferro's latest efforts to help protect birds and amphibians on AUM's campus. This past summer, she and her students erected seven bluebird nest boxes on campus and started participating in FrogWatch USA, a citizen science project, to monitor breeding frogs and toad species in two ponds on AUM's campus.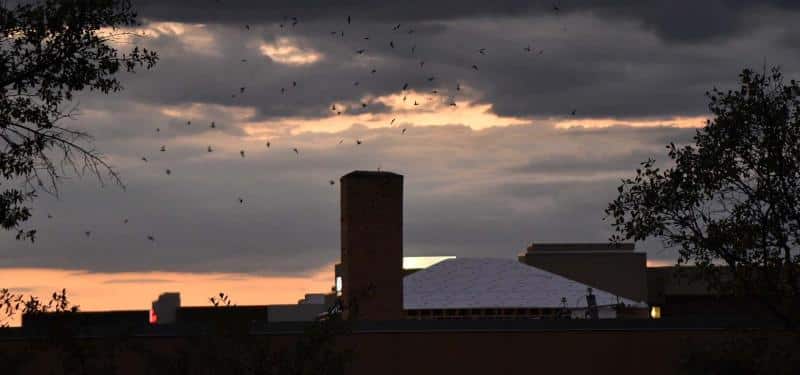 When erected, the chimney swift tower will allow Taliaferro and her students to research and monitor the bird population at AUM. Chimney swifts — which are known to roost at night in chimneys, trees and other hollow structures — are a migratory bird species in steep decline, Taliaferro said.
"Building construction techniques have changed through the years such that most chimney tops today are closed, preventing precipitation, and chimney swifts, from entering," she said. "In each chimney, only one pair of breeding birds nest so you can see how a loss of open chimneys significantly impacts these birds."
To help the chimney swift population recover, concerned citizens are now building artificial chimney towers for use by the birds. AUM's tower will be built in the grassy field area near AUM's library and Goodwyn Hall, Taliaferro said.
"We have chimney swifts that feed in the skies on and around campus in this area," she said. "In the late summer and fall, at dusk, one can see them circling around campus, especially over the grassy area behind the library tower. As far as I know, there are no open chimneys on campus, perhaps they roost in a hollow tree, or a chimney near campus."
In addition to building the chimney swift tower, Taliaferro and AUM students will participate in a new long-term project called Alabama SwiftWatch. The Alabama Audubon project allows volunteer swift watchers to monitor and document swift populations throughout the state.
"We love how Shelly and her students have been involved with us at Alabama Audubon, and we are thrilled they are getting involved with our Alabama SwiftWatch community science program," said Sarah Randolph, director of outreach and communications for Alabama Audubon. "With AUM's chimney swift tower, we will now be able to provide more habitat for these birds."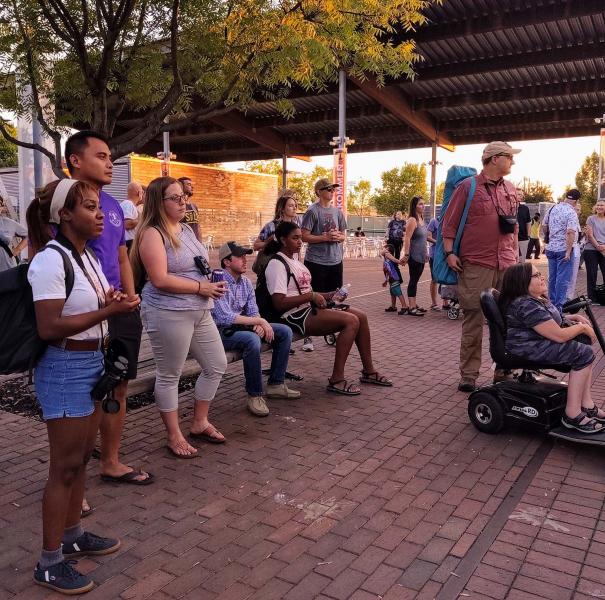 AUM students observed chimney swifts up close during Alabama Audubon's Swift Night Out event Oct. 4.
AUM's chimney swift tower project will launch in early January and be completed by March in time for chimney swifts to occupy when they return from their winter migration from South America, Taliaferro said.
"AUM's chimney swift tower is an opportunity to raise awareness about this threatened bird species and the ability for people to help protect a species," she said. "My hope is that this project will help students make a concrete personal connection to the species, and perhaps they will care more about protecting other living things and their habitat."
For more information on AUM's chimney swift tower project or to participate in the project, contact Shelly Taliaferro at [email protected] or (334) 244-3983.
About Alabama Audubon
Alabama Audubon, formerly known as the Birmingham Audubon Society, has worked on behalf of Alabama's birds and the people who love them since 1946. A certified chapter of the National Audubon Society and an independent 501(c)(3) organization, Alabama Audubon's mission is to promote conservation and a greater knowledge of birds, their habitats, and the natural world. Find out more at alaudubon.org, or follow us on social media @alaudubon (Facebook, Twitter, Instagram).