AUM Weekly 3-29-16: Chambliss, Mense to join emerging leaders; Arts and Sciences creates new journal
AUM Weekly 3-29-16: Chambliss, Mense to join emerging leaders; Arts and Sciences creates new journal
by Nicolette Parrish | Mar 29, 2016
HEADLINES
Chambliss and Mense nominated to participate in 2016 Alabama Leadership Initiative
Laura Chambliss, AUM senior manager of business development and marketing, and Tobias Mense, AUM chief information officer, have been chosen to participate in the 2016 Alabama Leadership Initiative (ALI).
Nominated by Dr. John Veres, AUM's chancellor, Chambliss and Mense will participate in a two-day program that brings emerging leaders between the ages of 25 and 40 from across the state together to participate in a microcosm of Leadership Alabama. They will explore issues in education, economic development, politics and government with experts in these areas.
The 2016 ALI will serve the dual purpose of exposing young leaders to the decision makers in Alabama who are sensitive to the challenges we face as a state and promoting the understanding and belief among participants that a personal commitment to helping Alabama meet these challenges is a lifetime honor and obligation.
The 2016 ALI enables young leaders to interact with elected and appointed officials and private citizens whose actions and decisions govern the direction of our state. Through presentation and discussion, the participants will become acquainted with the varied public and private initiatives established to meet the state's current and future challenges.


College of Arts and Sciences faculty, students create new journal
Faculty and students of the College of Liberal Arts and Sciences have produced a new journal called THAT Literary Review.
General Editor Dr. W.B. Gerard, Poetry Editor Dr. Joyce Kelley and Associate Editor Dr. Seth Reno are faculty members in AUM's Department of English and Philosophy, and student assistant editors include Andrew Blake, Jacob Lambert and Deric Sallas.
Student graphic designers Shaquille Harris and Nikembe Pierce designed the journal and website, and Huntingdon College faculty member Jim Hilgartner serves as fiction editor.
The premier issue of THAT features fiction, poetry and artwork from contributors from around the world and is available in full in PDF through THAT Literary Review's website. Print copies also are available through the website.
Kaufman publishes essay on English chronicles
Dr. Alexander L. Kaufman, professor of English and coordinator of the Bachelor of Interdisciplinary Studies Program, recently published an essay in The Prose Brut and Other Late Medieval Chronicles: Books Have Their Histories, Essays in Honour of Lister M. Matheson, edited by Jaclyn Rajsic, Erik Kooper and Dominique Hoche and published by York Medieval Press.
Kaufman contributed an essay to the peer-reviewed collection titled "'And Many Ober Diuerse Tokens…': Portents and Wonders in 'Warkworth's' Chronicle."
In the essay, Kaufman argues that the portents and wonders within the late fifteenth-century English chronicle are linked to the political situation of England, and he also writes that that the marvelous, unexplained phenomena in the chronicle can be read as signs of the political upheaval during the Wars of the Roses.
The essay collection honors the late Lister M. Matheson, an expert in medieval chronicles and their manuscripts.

New book on Flannery O'Connor features work from faculty, alumna
Dr. Bob Evans, professor in the Department of English and Philosophy, is the editor of a newly published book titled Short Fiction of Flannery O'Connor.
The book contains contributions from Kelhi DePace, a recent AUM graduate; Dr. Aaron Cobb of the Department of English and Philosophy; and numerous O'Connor scholars from around the country.
Short Fiction of Flannery O'Connor is part of the Critical Insights series published by Salem Press and is available at Salem Press' website.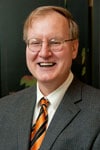 ELC's Glass announces retirement
The AUM Early Learning Center announces the retirement of Kathy Glass on March 31, 2016. Glass has been the administrative assistant in the ELC for 30 years. Her contribution and service to the families and staff have been invaluable. We wish her well on her retirement and thank her for her service.
AUM Phi Beta Sigma chapter wins at state conference
The Alpha Psi Alpha chapter of Phi Beta Sigma Fraternity, Inc., recently attended its state level conference March 18–20 in Huntsville, Ala and achieved great success.
The chapter was awarded the "Educational Trendsetters" award for their school supply drive each semester, which benefited local elementary school in Montgomery who may be classified as a Title I school.
The Phi Beta Sigma Fraternity is a member of the National Panhellenic Council (NPHC) and is one of the three NPHC chapters currently on the AUM campus.
Phi Beta Sigma's national motto is "Culture For Service and Service For Humanity." The Alpha Psi Alpha chapter has embodied that motto in our local community through their service projects and educational programs.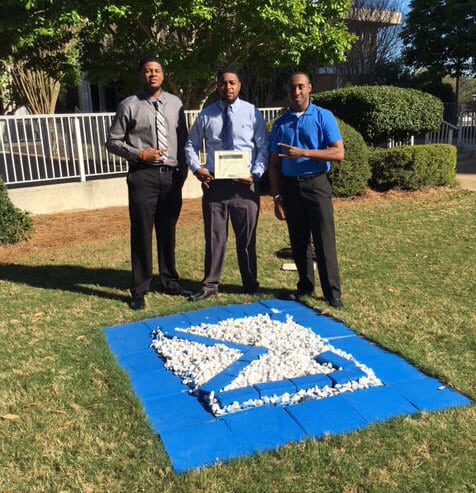 Call for nominations for 2016 Excellence in Faculty Outreach Award
Nominations are being accepted for AUM's 2016 Excellence in Faculty Outreach Award, which includes a $5,000 honorarium that will be presented to one AUM faculty member at the 2016 Convocation for distinguished outreach contributions that exceed expectations for the person's career stage and job responsibilities.
Nominations will be reviewed by a committee comprised of former recipients of this award, other Auburn University at Montgomery faculty, and individuals from the Office of Business & Community Initiatives. Selection recommendations will be made by the Excellence in Faculty Outreach Award Committee. Questions about the process should be submitted to [email protected].
Nomination deadline: Friday, April 29 | 1 p.m. | Complete nomination information
Call for applications for 2016 Outreach Grant Award
The Vice Chancellor for Business & Community Initiatives announces the availability of up to $20,000 to be awarded through one or more grants to Auburn University at Montgomery faculty and staff. The funds have been set aside to encourage the faculty and staff of Auburn University at Montgomery to develop and implement programs of "outreach" to persons in the community.
Awards will be announced at Auburn University at Montgomery's 2016 Convocation. Questions about the process should be submitted to [email protected].
Application deadline: Friday, April 29 | 1 p.m. | Complete application information
2016 Staff Council Scholarship applications now available
In keeping with the Staff Council's commitment to provide opportunities for the personal and professional development of AUM staff, the AUM Staff Council has established five $100 scholarships for full-time AUM staff employees who are enrolled as students at Auburn University at Montgomery.
Applicants must be AUM employees who have been employed on a full-time basis at Auburn University at Montgomery for a minimum of one year prior to application.
Applicants must be enrolled in a degree program at AUM and are required to have successfully completed 12 semester hours of coursework as an undergraduate student or 6 hours as a graduate student as well as maintained a grade point average of 2.5 or higher on a 4.0 scale.
Scholarship awards are not automatically renewed. Applications must be submitted annually.
Download the 2016 Staff Council Scholarship Information Sheet.
Download the 2016 Staff Council Scholarship Application.
Send completed AUM Staff Council Scholarship Application and unofficial academic transcript from Webster to: Fariba Deravi, Staff Council President, 114 Administration Building (334) 244-3249, [email protected]
The completed application is due Monday, April 11.
2016 Staff Service Award nomination period opens
The Staff Council Employee Recognition Committee is pleased to announce the Staff Service Award nomination period is open. Staff Service Award nominations are due April 8, and awards will be presented at the 2016 Spring Fling on April 22. These awards will be presented in three categories:
Professional Staff
Support Staff
Building Services Staff
Download the 2016 Staff Council Staff Service Award Nomination Form.
Orange Jacket Society applications available
Do you have what it takes to wear the orange jacket?
The Office of Orientation and Transitions is looking for 20 juniors and seniors to don the orange jacket for the 2016-2017 school year as part of the Orange Jacket Society, or OJS.
Complete the 2016-2017 Orange Jacket Society application online.
Applications, which will be accepted through April 8, are open to rising juniors and seniors with a 2.5 GPA or higher. Interviews will be conducted April 13–15. Once interviews are evaluated and members are selected, an OJS induction ceremony will take place in late April. OJS members should possess the sprit of the Warhawk Nation and take pride in the university.
The OJS, composed of the official AUM Ambassadors, welcomes guests to AUM's most prestigious events, including graduation and convocation and also serve as hosts for the chancellor's guests to various events. OJS members also work in the community with the AUM Outreach and Continuing Education teams as well as the Montgomery Area Chamber of Commerce to support the Business Breakfast Series.
For more information, please contact the Office of Orientation and Transitions, [email protected] or 334-244-3158.
EVENTS
Students: 2016 Grad Fair today is opportunity to get caps, gowns; order announcements, rings
Graduating students may pick up caps and gowns as well as order announcements and class rings at the AUM Grad Fair today.
Caps and gowns will be available at the Warhawk Shop from March 29 through May 12 during business hours. There is no additional fee and they are pre-stocked.
Announcements and class rings, today only.
Today, March 29 | 11 a.m.–5 p.m. | Warhawk Shop, Taylor Center
AUM Business Breakfast features Patrick Kennedy speaking on importance of mental health
Patrick J. Kennedy will present on "My Journey: Making Mental Health Essential Health" at the AUM Business Breakfast on Wednesday.
Kennedy will discuss why mental health is critical to the overall health and well-being of all Americans; why the healthcare system needs to adapt to better accommodate mental healthcare; why we need to invest in innovation; and the underlying public policy imperatives of parity.
Kennedy also will discuss his own journey toward mental health and recovery and how he sees the world today. Since his earliest days in public service, Kennedy has believed mental health should be a national priority.
For more information and to register for the event, contact Outreach at Auburn University at Montgomery at 334-244-3804 or online at www.Outreach.aum.edu.
Wednesday, March 30 | 7:30 a.m. | RSA Activity Center, 201 Dexter Ave., Montgomery
Faculty: Share research ideas, brainstorm with colleagues at 2016 Research Town Hall Meeting
The Research Town Hall Meeting, hosted by the Office of Research and Sponsored Programs, is an opportunity for faculty members to spend time with the Provost, Research Council members and the IRB to discuss their research agenda and brainstorm with colleagues who have been successful with their sponsored projects.
The Provost will be available to discuss his experience with research and external funding and answer any research-related questions.
Wednesday, March 30 | 11 a.m.–1 p.m. | 10th floor, Library Tower West | Light lunch will be served. | For information, call Fariba Deravi at 244-3249.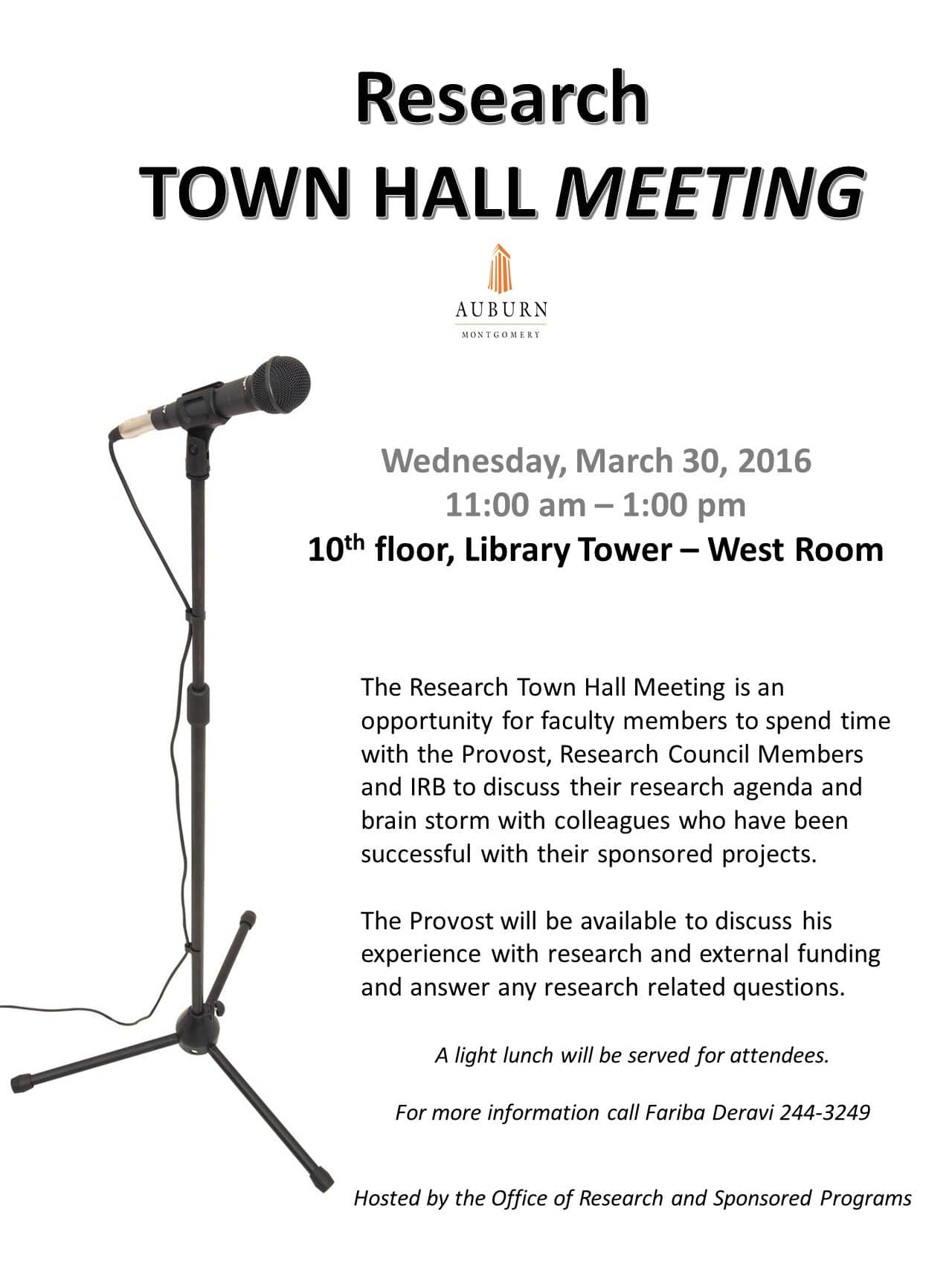 Students: Mingle, enjoy games, learn about CDC at Career Carnival
Students can meet and mingle with Career Development Center staff, learn about CDC services, play carnival games and win prizes at the Career Carnival. Lunch will be provided.
Wednesday, March 30 | 11:30 a.m.–1:30 p.m. | The Quad
Leadership Through a Different Lens: Women in leadership at AUM discuss journeys
Continuing AUM's "A Pledge for Parity" theme and its celebration of the leadership of women around the globe, the Office of Diversity and Multicultural Affairs and the Office of Student Advocacy will showcase some of AUM's highest-ranking women leaders.
Panelists will share individual trajectories that also become a collective narrative that intersects personal, professional and successful spaces. Students and colleagues also will be able to see these executive officers and scholars outside their official roles.
The sponsors especially encourage young professional women and students who are women to attend, ask questions and find a mentor among this panel.
Thursday, March 31 | 12:15 p.m. | Taylor Center 223 | Reception will follow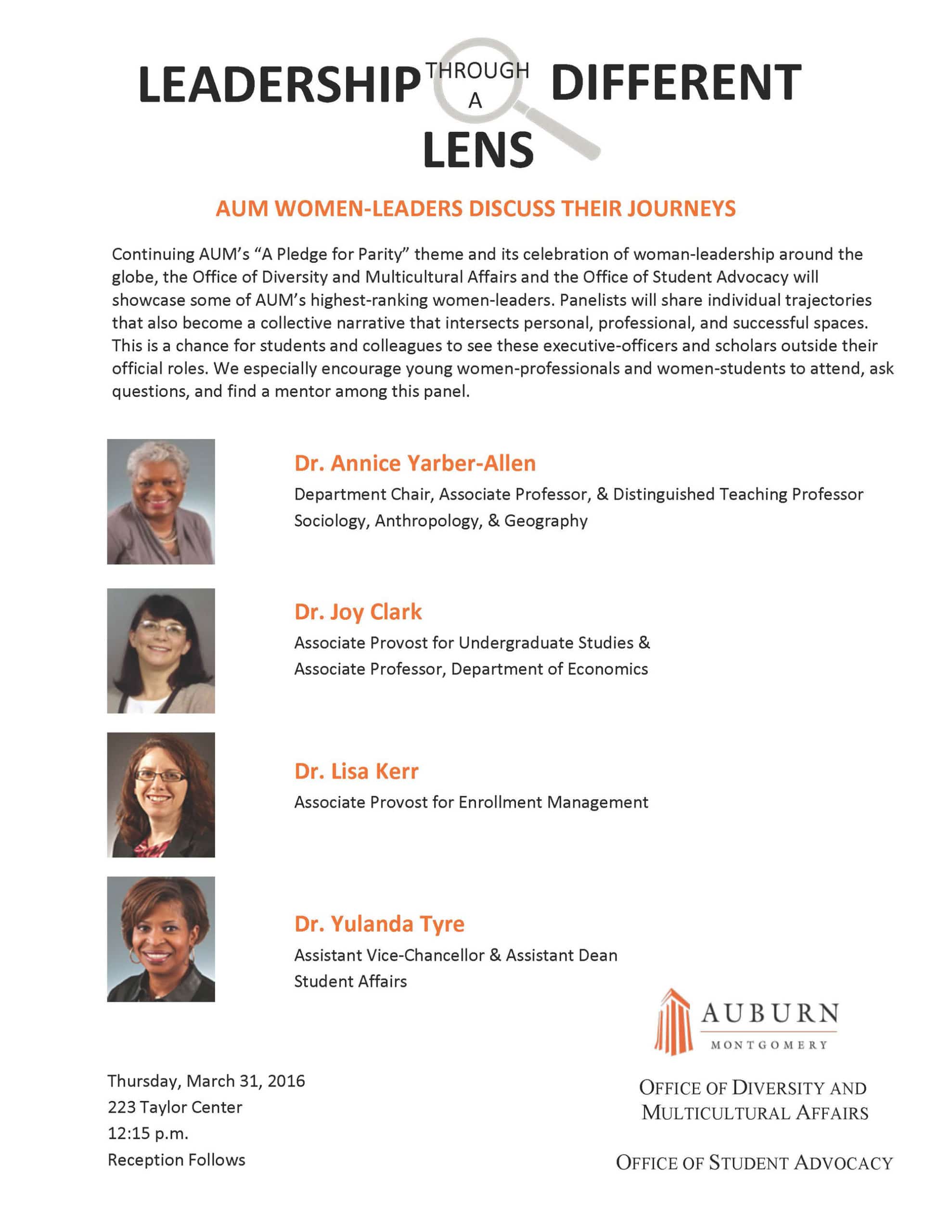 Students: Speak with recruiters, learn about job opportunities at All Majors Career Expo
Students and alumni can network with top recruiters, learn about current job opportunities, explore career options, and potentially meet their next employer at the All Majors Career Expo.
Wednesday, April 6 | 3–6 p.m. | Taylor Center 230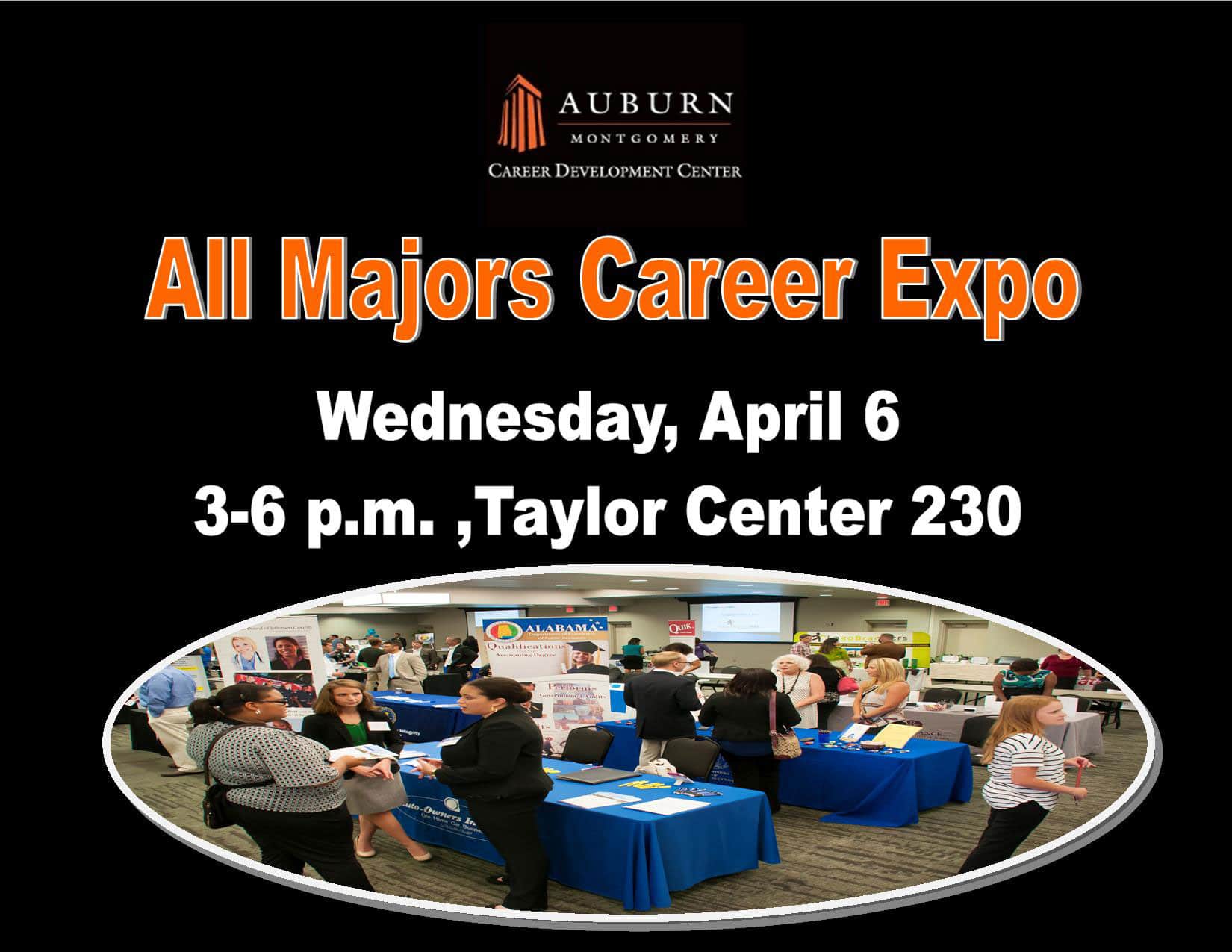 REMINDERS
Faculty, staff discounts on summer youth camps
AUM faculty and staff can receive $20 off all camps for children and grandchildren. Employees who register by April 1 also can take advantage of an Early Bird discount and receive an additional $20 off all camps.
For more information, contact Rebecca Williams at 334-244-3339 or [email protected].
Annual undergraduate research symposium — April 1
The AUM College of Arts & Sciences will host its annual undergraduate research symposium on April 1. All undergraduates currently or previously taking part in research projects at AUM are eligible to present. Visit the Undergraduate Research webpage for more information, including presentation criteria and awards.
Friday, April 1 | 8:30 a.m. | Library Tower, 10th floor | Submit abstract by Feb. 26
Last event for AUM Connected: Film screening of 'Contagion'
AUM Connected will have its last event of the semester, a film screening of the 2011 medical thriller 'Contagion,' which features an all-star cast (Matt Damon, Laurence Fishburne, Jude Law, Kate Winslet and Gwyneth Paltrow).
Friday, April 1 | 1–3 p.m. | Goodwyn Hall 109 | Light snacks provided
Durr Lecture Series features free showing of 'Boycott' on April 1, Clark Johnson lecture on April 2
The Durr Lecture Series in April will feature director and actor Clark Johnson, who will discuss the film 'Boycott' following a free showing of the film April 1 and a lecture from Johnson on April 2.
Film presentation, discussion of 'Boycott' with Clark Johnson
Friday, April 1 | 7 p.m. | Goodwyn Hall 109
Lecture, Clark Johnson
Saturday, April 2 | 6:30 p.m. | Taylor Center 222–223
Alumni Association Board of Directors hosts alumni tailgate
Join the AUM Alumni Association Board of Directors for an alumni tailgate on April 2. Bring your family and enjoy an afternoon of AUM softball and baseball. Admission to the games and lunch are complimentary to AUM alumni and their families.
The tailgate will begin at 12 p.m. under the tent west of the softball field and will include lunch. A softball doubleheader vs. Martin Methodist and a baseball doubleheader vs. Blue Mountain College begin at 1 p.m.
To RSVP and get more information, contact the Alumni Association at 334-244-3369 or [email protected].
Saturday, April 2 | 12 p.m. | Softball fields
Lunch & Learn webinar training session to discuss ADA and Technology Accessibility
This Lunch & Learn webinar training session will focus on ADA and Technology Accessibility. Specifically, the informative session will discuss questions about accessible technology and ensure that our campus complies with ADA. Paul Thompson, Esq., and Nancy Anderson, Esq., will be speakers.
For more information, contact Tamara Massey at 334-244-3755 or [email protected].
Monday, April 4 | 12:30–2 p.m. | Taylor Center 223
Movie Night on the Lawn
Housing's Kill-a-Watt-Challenge is still in full swing, so join us on the lawn near Plum Place for a movie! Turn your lights off, unplug your devices, and head outside into the warm spring weather for snacks, a movie and total relaxation.
Tuesday, April 5 | 7 p.m. | The Lawn near Plum Place
LBW Community College leader to speak to students, faculty and staff on 'diversity for leadership'
In celebration of Diversity Week, Dr. Herbert Riedel, President of LBW Community College, will present the topic "A different perspective on diversity for leadership" to AUM students, faculty and staff.
Riedel will explain how his life experiences in different parts of the world helped shape his view of diversity. He will also share insights on leadership of value to everyone who wishes to succeed in a global and diverse society.
Wednesday, April 6 | 3:30–4:30 p.m. | Library Tower, 10th floor West | Reception to follow presentation
Holocaust Education Program features stories of two survivors along with documentary, Q&A
The AUM Department of Psychology announces the annual Holocaust Education Program. Activities include a film documentary, personal stories from two Holocaust survivors, and a Q&A session. The program is ADA-adapted.
Wednesday, April 6 | 9:30 a.m.–12 p.m. | Athletic Complex | Admission and parking free and open to the public
For information, contact Tonya Sexton at [email protected] or 334-244-3306, or contact Dr. Glen Ray at [email protected] or 334-244-3690.
Resident Appreciation Day
Housing is closing out the Kill-a-Watt Challenge with a bang! Join us at the grilling stations for a hamburger or hot dog, snacks, and activities to celebrate a great Kill-a-Watt Challenge and an AUMazing school year!
Tuesday, April 12 | 4–6 p.m. | Grilling Stations
Planning and budget meeting set for April 13
Financial and Administrative Services will host a planning and budget meeting along with a brown bag lunch at noon April 13. The budget meeting set for April 8 has been cancelled.
Wednesday, April 13 | 12–1 p.m. | Taylor Center 222
Hot Topic Café: Rock the Vote
The election is just around the corner, and its time AUM students had a chance to voice their opinions about it. Let's get together for a safe and honest discussion about the candidates, the issues, and the future of the country. Snacks will be served.
Wednesday, April 20 | 6:30 p.m. | The Landing
Political Film Series features 'Plastic Paradise'
The final Political Film Series screening of the spring on April 21 is dedicated to Earth Day.
Plastic Paradise (2014) will take you on a journey to Midway Atoll, one of the most remote places on Earth, to reveal the mystery of the Great Pacific Garbage Patch. Dr. Karen Stine will introduce the documentary.
This screening is co-sponsored by the College of Public Policy & Justice and the College of Arts & Sciences. The film is free, open to the public, and made possible thanks to a grant from the Ida Belle Young Special Projects Fund.
Thursday, April 21 | 7 p.m. | Library Tower, 10th floor West | More information: Dr. Pia Knigge at [email protected], 334-244-3834
AUM Cheerleading tryouts
AUM Cheerleading is holding tryouts for male and female cheerleaders for the 2016-2017 season. The tryouts are open to all currently enrolled AUM students and all incoming freshmen already accepted into AUM for the fall semester.
For information, contact [email protected]
April 25, 26, and 27 | 6–8:30 p.m. | AUM Athletics Complex
AUM Mini-College connects community with Arts and Sciences faculty, scholars
AUM Mini-College, set for June 14–15, is a chance for local residents to spend two days on campus engaging with professors and scholars.
For more information, contact Dr. Peter Zachar at 334-244-3311 or [email protected].
Tuesday, June 14–Wednesday, June 15 | 11 a.m.–3 p.m. | Career Development Center, Taylor 323 | Registration: $50; Deadline to register, May 1.
Wellness Wednesdays
Does life leave you feeling overwhelmed? Join the staff from the Counseling Center every Wednesday in Warhawk Alley's SGA/CAB office to learn fun and interesting ways to improve and maintain personal well-being.
For more information, contact Audrey Shaw at 334-244-3553 or [email protected].
Wednesdays | 12–1 p.m. | Taylor Center 126
New campus tobacco policy
AUM takes Warhawk wellness seriously. Effective June 1, 2016, AUM will join more than 1,000 other colleges and universities by becoming a smoke-free, tobacco-free campus. AUM is committed to providing a healthier and cleaner campus community for our students, employees and visitors. A smoke-free campus will further promote the health, safety, and well being of the AUM Family by reducing exposure to secondhand smoke on campus and at university-owned and -leased properties. For specifics, read the policy online.
See who you know in Campus Life
AUM's Campus Life page is frequently updated to show photographs of people, events and life around campus. See who you know — or see yourself — in the Campus Life photo album and in this month's photo slideshow.
OTHER EVENTS