AUM Weekly 2-2-16: AUM Core Value Awards; COE grad wins funds for Holtville Elementary
AUM Weekly 2-2-16: AUM Core Value Awards; COE grad wins funds for Holtville Elementary
by Nicolette Parrish | Feb 02, 2016
HEADLINES
Warhawk Spotlight: Faculty, staff, departments recognized for dedication to AUM core values
Auburn University at Montgomery Human Resources recently awarded several AUM departments and employees with awards for exemplifying AUM's Core Values.
Read the full story on the award winners.
College of Education graduate awarded $5,000 grant for Holtville Elementary School
Cheyanne Barrett, a December graduate of the AUM College of Education Childhood Education program and a sixth-grade Math and Social Studies teacher at Holtville Elementary School, recently was awarded a $5,000 grant for her school when her students participated in the Verizon App Challenge. The students also each won a free tablet.
Barrett's students, who are learning to use technology to create applications for use in everyday classrooms, will now compete for the "Best in Nation and App Challenge Fan Favorite" award.
New practicum students teach youths about growth at Early Learning Center
Spring is under way in the Early Learning Center, where the semester's theme is "Come Grow with Me."
Children are learning about their growing bodies while making new friends and getting to know their 12 new practicum teachers.
The practicum students are seniors in the College of Education's Childhood Education program. They plan and implement instruction based on best practices for Early Childhood Education.
The Early Learning Center has 30 children from approximately eight different countries who participate in these specialized daily activities.
Proposed policy on external reviews of faculty accomplishments available for comment through March 1
A proposed policy to obtain external reviews of scholarly/research/creative accomplishments to supplement the dossiers of full-time faculty applying for tenure and/or promotion in rank is available online for comment and review through March 1. After consideration of the comments, the proposed policy will be sent to the chancellor for approval or returned to the appropriate party for further consideration.
EVENTS
Athletics hosts blood drive Thursday, sets 75 unit goal
The Auburn University at Montgomery Department of Athletics will host its second American Red Cross blood drive of the 2015–16 academic year Thursday in Warhawk Alley.
The Department of Athletics has worked with the American Red Cross for a number of years, hosting blood drives during each academic semester.
The drive will be held in conjunction with the Red Cross/NAIA Collegiate Leadership Program, an initiative established to inspire, motivate and create a new and diverse generation of American Red Cross volunteers and leaders through exemplifying the five core values of the NAIA Champions of Character program.
Senior Men's Cross Country student-athlete Zach Sollie is overseeing the blood drive. Sollie was a member of the Collegiate Leadership Program in 2014 and is the current president of the AUM Student-Athlete Advisory Committee.
The goal for the drive is 75 units. According to the American Red Cross, up to three lives can be saved with each unit.
All willing participants are welcome to donate but should bring either a driver's license or an American Red Cross donor card.
Thursday, Feb. 4 | 10 a.m.­–4 p.m. | Warhawk Alley (Taylor Center) | To schedule an appointment, visit www.redcrossblood.org and enter the sponsor code AUM, or donors may just show up.
Guest lecturer to speak on 'Fracking and Water Issues' at AUM Connected event
AUM Connected's next event, "Fracking and Water Issues," will feature guest lecturer Neela Banerjee from Inside Climate News, a Pulitzer Prize winning, non-profit organization dedicated to covering climate change, energy and the environment.
Anyone who attends will be eligible to receive a free copy of The Ghost Map in preparation for the campus wide discussion on March 11, 2016.
Friday, Feb. 5 | 10 a.m. | Goodwyn Hall 208 | Attendees eligible for free copy of The Ghost Map.
Farrow to speak on 'Grand Duke Alexis and the Mythical Origins of Mardi Gras in New Orleans'
The Friends of the AUM Library invite students, faculty and staff to a presentation by Dr. Lee Farrow: "Grand Duke Alexis and the Mythical Origins of Mardi Gras in New Orleans."
Almost all popular histories of Mardi Gras in New Orleans credit the visit of Grand Duke Alexis as the inspiration for the Krewe of Rex and its official song and colors — purple, green, and gold. Unfortunately, most of this story, based on the misinformation and exaggerations of the American press and the rumors of Alexis's infatuation with a burlesque performer, is wrong.
Tuesday, Feb. 9 | 12–1 p.m. | Library Tower, 10th floor West | Sandwiches and king cake will be provided.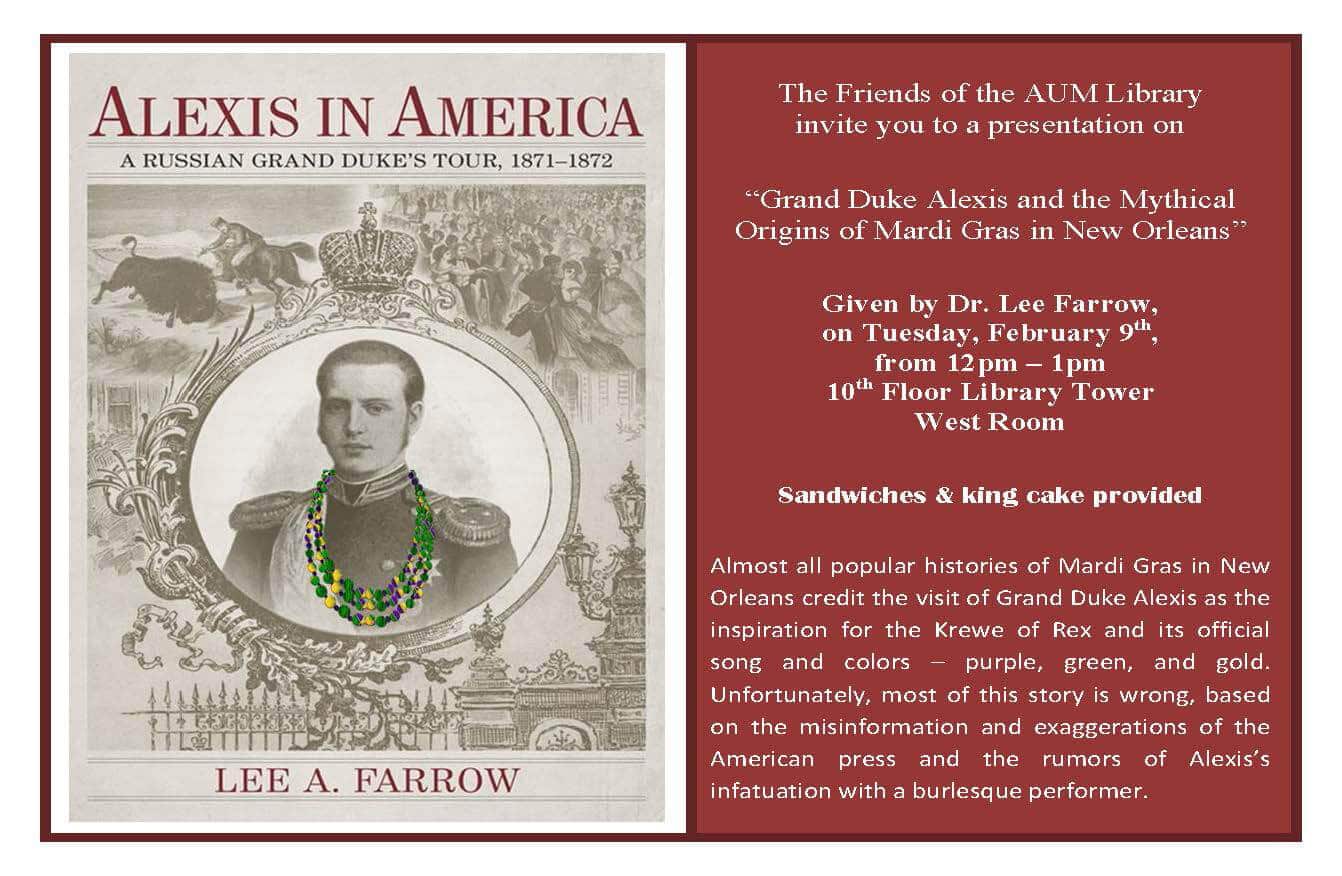 Gandhi's grandson to speak on nonviolence
Feb. 9 at Auburn University
The Auburn University Office of International Programs will host Arun Gandhi, grandson of the legendary Mohandas Gandhi, at 7 p.m. Feb. 9 for a lecture, "Lessons Learned From My Grandfather: Non-Violence in a Violent World." Part of OIP's Year of India, the free event will take place in the Foy Hall Auditorium. The Auburn University Indian Music Ensemble will provide a special performance as well, and a reception will follow in the lobby.
Concerned with terrorism, violence and anger in the world, Arun Gandhi will speak on his grandfather's philosophies as well as on how to quell and mitigate unrest.
"When we invited Dr. Gandhi to speak on campus as part of the Year of India, we knew his topic would resonate with our community," said Andrew Gillespie, assistant provost for international programs. "But as worldwide events unfolded, we realized just how important his message of hope and peace in the face of turmoil and conflict truly is."
For more information about the Year of India and the Office of International Programs, visit www.auburn.edu/international.
Tuesday, Feb. 9 | 7 p.m. | Foy Hall Auditorium, Auburn University | Free and open to the public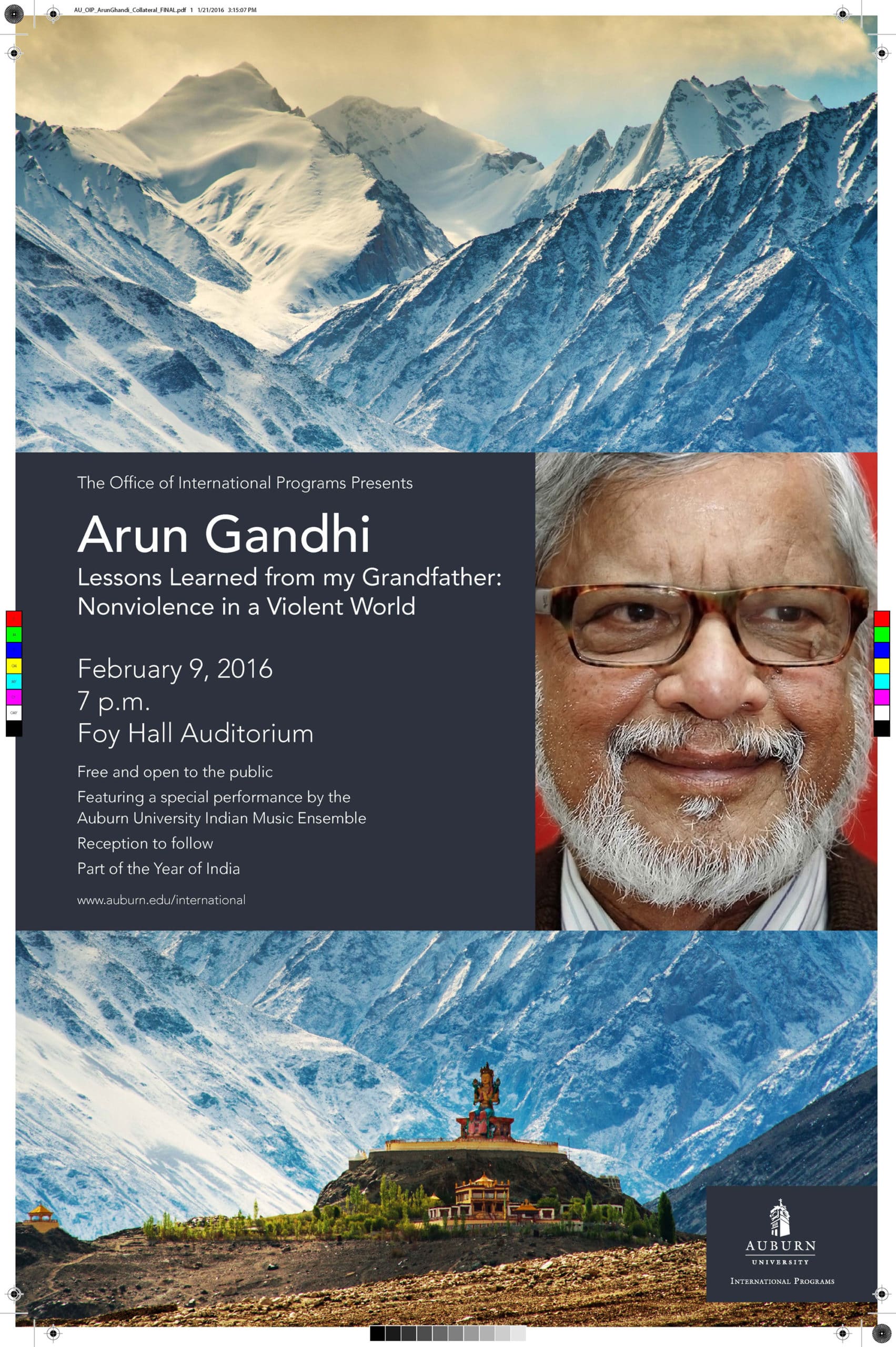 REMINDERS
Continuing Merit, Student Involvement scholarships available to AUM students
Students are encouraged to apply for two AUM scholarships.
The 2016-17 Continuing Merit Scholarship application is now available, and any currently enrolled student who has completed 12 undergraduate or 9 graduate hours may apply. The application will be available on the homepage of MyAUM until March 1.
Also, the 2016-17 Student Involvement Scholarship, sponsored by the AUM Student Government Association, is now available. Any currently enrolled undergraduate student who has completed a minimum of 12 hours may apply. Also, students must have a 2.5 institution GPA and demonstrate involvement and dedication to AUM's campus community. This scholarship totals $500 for the academic year, and paper applications are available in the Scholarships Office (located in the Admissions Office in Taylor Center) or the Student Involvement and Leadership Office (located in Warhawk Alley) until March 1.
Contact Kate Bartlett at 334-244-3615 or [email protected]
Appreciation Night honors military, dependents with free dinner, basketball games
In appreciation of the service of military members, service members are invited to be guests Feb. 4 for dinner and a battle on the basketball court. All activities are free to military personnel and their dependents.
Attendees must pre-register. Military ID is required at check-in.
Thursday, Feb. 4 | Dinner: 5–8 p.m. | Women's game: 5:30 p.m. | Men's game: 7:30 p.m. | RSVP to [email protected] or 334-244-3804
Alumni Homecoming Celebration
Dress casually and enjoy refreshments, heavy hors d'oeuvres and a fireworks display! Admission is free.
To RSVP or for information, contact the Office of Advancement at 334-244-3369 or [email protected].
Friday, Feb. 5 | 6:30 p.m.–9 p.m. | 10th Floor Library Tower | Faculty, staff, and alumni and their guests are welcome.
Weekly LGBTQ support group starts Feb. 11
The Counseling Center is offering a weekly support group, 'Open Room," for students concerning gender identity and sexual orientation.
This group is open to all, however, participants must agree to maintain members confidentiality and attend regularly.
This group will meet from 12–1 p.m. every Thursday from Feb. 11 until April 21 and will meet in Taylor Center, Room 158.
The AUM Counseling Center (AUMCC) is a safe space for anyone who identifies as lesbian, gay, bisexual, transgender, queer, or anyone who is exploring their own sexual orientation or gender identity.
Thursday, 12–1 p.m. | Feb. 11–April 21 | Taylor Center 158
'AUMnibus' seeks submissions for article contest
Do you have an interesting story or important cause to share? Make your voice heard with the AUMnibus, AUM's student newspaper! There are no limits to what subjects we want to see, so send us something attention grabbing.
The winning article will be published on the front page of the March issue.
Deadline: Monday, Feb. 15 | Minimum length: 350 words | Send submissions to [email protected].
Outreach Business Breakfast features Aric Bostick, author of 'FIRED UP! Employees'
Aric Bostick, motivational speaker, success trainer, and author of FIRED UP! Employees, will speak Feb. 16 at AUM Outreach's Business Breakfast.
Tuesday, Feb. 16 | 7:30 a.m. | Marriott Legends at Capitol Hill in Prattville | Tickets (individual or table) or series sponsorship information: 334-244-3804.
Mindfulness group counseling available throughout semester
Join us for an interactive group counseling series through the semester. We will be exploring activities to increase mindfulness, your overall mental health, and reduce stress.
Activities include:
Breathing exercises
Mindful meditation
Mindful eating
Progressive muscle relaxation
Healthy sleeping practices
Relaxation techniques
Cognitive reconstruction
Every Friday beginning Jan. 29 | 1–2:30 p.m. | Taylor Center 158
NAMI on Campus AUM offers support to those with coping with mental illness
NAMI on Campus AUM is a peer-led support group for students living with a mental illness as well as students who live with, care for, or love someone with mental illness. These group sessions will offer students the opportunity to engage with one another through support. This group is open to all students who would like to connect with and support other AUM students experiencing similar struggles.
Fridays through April 29 | 11 a.m.–12 p.m. | Taylor Center 158
AUM launches Student Alumni Association
The AUM Student Alumni Association aims to generate pride and advance the traditions of Auburn University at Montgomery while fostering loyalty, commitment, lifelong relationships, involvement and communication among students and alumni.
Membership is open to all students. For information, contact Valerie Rankin at 334-244-3557 or [email protected].
Students: Travel the world this summer with Study Abroad
Did you know you can study in other countries this summer and earn AUM credits at the same time — with up to $1,500 in scholarship assistance?
Choose a country below and contact Study Abroad at 244-3544 for more information.
Manabi, Ecuador
Mexico City, Mexico
Shiga, Japan
Ulsan, South Korea; Hubei, South Korea
Lincoln, United Kingdom
Kandy, Sri Lanka
Peradeniya, South Africa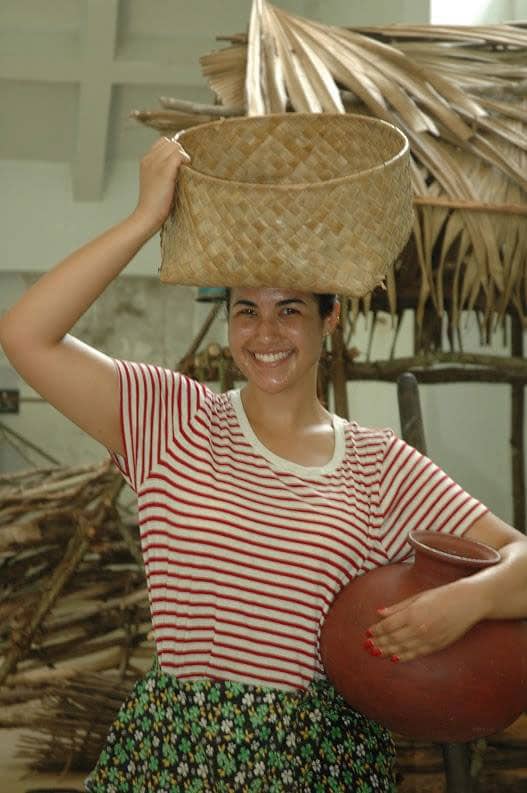 Political Film Series features semester of films
The Political Film Series, sponsored by the College of Public Policy & Justice, is featuring another semester of exciting films.
For Black History Month, Fruitvale Station (2013), a dramatization of Oscar Grant's tragic death by a police officer in the Bay Area, will screen on Feb. 17 (7 p.m., Goodwyn Hall 112) following an introduction by Dr. Annice Yarber-Allen.
The International Women's Day feature on March 8 (7 p.m., Library Tower, 10th floor West), introduced by Dr. Silvia Giagnoni, is Vanishing Borders (2014). The documentary tells the story of four immigrant women living in New York City.
The final film of the spring is dedicated to Earth Day. Plastic Paradise (2014) will take you on a journey to Midway Atoll, one of the most remote places on Earth, to reveal the mystery of the Great Pacific Garbage Patch. Dr. Karen Stine will introduce the documentary, which will be shown on April 21 (7 p.m., Library Tower, 10th floor West).
The January, March and April screenings are co-sponsored by the College of Arts & Sciences. All films are free, open to the public, and made possible thanks to a grant from the Ida Belle Young Special Projects Fund.
For information, contact Dr. Pia Knigge at [email protected] or 334-244-3834.
College of Arts and Sciences Lecture Series
The Department of Biology's Pete Haddix will give a lecture, "Red pigment function in the bacterium Serratia marcescens," on Feb. 11.
Thursday, Feb. 11 | 7:30 p.m. | Library Tower, 10th floor West
Learning Center Tutoring Hours
Learning Center-WASC, 2nd floor Library Tower
Monday–Thursday | 9 a.m.–6 p.m.
Friday | 9 a.m.–12 p.m.
North Commons
Monday | 4–6 p.m.
Wednesday | 4–6 p.m.
ISL, 203 Goodwyn Hall
Monday–Thursday | 9 a.m.–9 p.m.
See who you know in Campus Life
AUM's Campus Life page is frequently updated to show photographs of people, events and life around campus. See who you know — or see yourself — in the Campus Life photo album and in this month's photo slideshow.
OTHER EVENTS