AUM students earn Kennedy Center American College Theatre Festival honors
AUM students earn Kennedy Center American College Theatre Festival honors
FOR IMMEDIATE RELEASE
AUM students earn Kennedy Center American College Theatre Festival honors
Marcus Godbee took an acting class once, but felt pulled toward the director's chair rather than into the glow of the stage lights. Portraying the mannerisms of a character, particularly in front of a large audience, made the Auburn University at Montgomery senior feel "self-conscious," but he quickly found his place orchestrating the moving pieces of a production.
"I'm not going to make it as an actor," joked Godbee, a senior communication major with an emphasis in theatre. "I'm a backstage kind of person."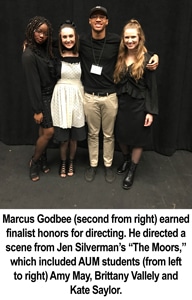 AUM's theatre program recorded a pair of firsts, with Godbee earning finalist honors in the Stage Directors and Choreographers Society's director category, and Kodi Robertson and partner Brittany Vallely earning finalist recognition in the Irene Ryan Acting award category. Godbee directed a scene from Jen Silverman's "The Moors" performed by Vallely and fellow AUM students Amy May and Kate Saylor. Robertson and Vallely performed scenes from Mark Medoff's "Children of a Lessor God" and Noel Coward's "Private Lives." Robertson also performed a monologue from William Shakespeare's "As You Like It."
AUM turned in a strong performance in the Costume Design category as well, with Olivia Tippett earning first place honors in the region, Karen Licari taking second and Saylor receiving national honorable mention recognition. In addition to Robertson and Vallely, the pairings of Olivia Crutchfield and Vallely, and May and Tony George each earned nominations for the Irene Ryan Acting awards. Godbee and Saylor were recognized as Arts Leadership and Diversity candidates, while Licari received a nomination in Dramaturgy.
Design exhibition nominees included Crutchfield, Godbee, Licari, Saylor, Tippett, Vallely and Emily Aveldanez. AUM associate professor Neil David Seibel earned honors for Meritorious Direction of a Play.
It's historic for us," Auburn University at Montgomery theatre professor Val Winkelman said. "It's like we won the lottery. We were very thrilled with how our students did. They are dedicated, and they give up a lot of things to be at rehearsal every night. It takes a lot of time and a lot of talent."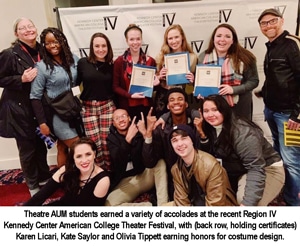 The Kennedy Center American College Theater is a national theater program with a membership of more than 18,000 university students and 600 institutions. The regional event served as a showcase for top talent and provided professional development opportunities for fine arts students from nine Southeastern states, as well as Puerto Rico and the Virgin Islands.
"This is the Oscars for college theatre," said Godbee, a Seattle native who moved to Montgomery as a teenager. "It's kind of surreal."
The award-winners represent some of the nation's best artists. Winkelman said Theatre AUM enters one show per year for consideration in the regional festival. External reviewers visit campus to watch a performance and can each pick select one actor for individual award consideration. When Robertson and Vallely arrived at regionals, there were 180 actors and partners performing in the initial round. By the end, they were judged to be among the 16 best.
In the directing category, Godbee prepared a scene at AUM, rehearsed it and submitted a packet in late-November for initial qualification. He emerged from a crowded field to finish among the top five. More importantly, he absorbed valuable professional feedback and insights from veteran artistic directors, producers and actors over the course of the four-day festival.
"For a college student like me, it was great to be able to work with and talk to professionals," said Godbee, who was recently one of five students from the region invited to participate in the Southeastern Theatre Conference's "Ready to Direct" program. "I feel like everything good that has happened to me in the last year to year and a half has been because of Theatre AUM."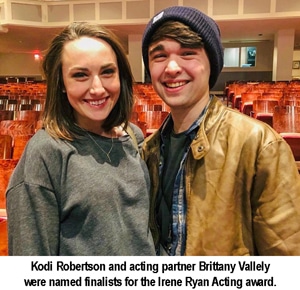 Godbee, who is currently stage managing Theatre AUM's production of "Matt & Ben," said AUM's regional festival performance is the by-product of the students' collective work ethic and sense of community. By his estimation, he devotes 20 to 30 hours per week on top of his coursework and studies to his craft during a production.
"I cannot stress how hard we work," he said. "We lift each other up at Theatre AUM. We all continue to push and motivate each other."