AUM researchers explore benefits of exercise for Alabama preschoolers
AUM researchers explore benefits of exercise for Alabama preschoolers
A team of Auburn University at Montgomery researchers are studying how exercise impacts the physical development, behavior and learning of preschoolers.
The team recently earned an $82,709 Alabama Department of Early Childhood Education grant to support the research project "Brain Pump," a children's exercise program based on research that shows a correlation between exercise and brain development. Brain Pump provides a strong neurological component to promote motor skills, core strengthening, coordination, balance, and proprioception, or body awareness, in children.
The project will focus on determining the physical and cognitive effects of Brain Pump exercises on preschool children, said George Schaefer, professor of kinesiology and principal investigator of the grant.
"Brain Pump was birthed out of a growing concern of the increase in sensory and coordination issues seen in children that we know can negatively affect behavior and learning," Schaefer said. "We hope to find that some early intervention of exercise incorporated into normal school environments — classrooms and physical education classes — might be part of the solution."
The grant provides funding for testing children and conducting an evaluation of the program's results, said Erin Reilly, professor of kinesiology and a co-investigator for the grant. Reilly developed the Brain Pump Program in collaboration with Tiffany Higginbotham, a Montgomery physical therapist. Other co-investigators are Higginbotham, Angela Russell, assistant professor of kinesiology; Hayden Friesen, graduate research assistant; Tami Shelly, professor of curriculum and instruction; and Laura Wildman, director of AUM's Early Learning Center.
Researchers initially conducted a pilot study of the Brain Pump program in collaboration with AUM's Early Learning Center, which continues to use the program. In Fall 2019, the research team trained 10 Alabama preschool teachers to teach Brain Pump in their classrooms. Members made in-person visits to each site on a regular basis to offer support, conduct testing and evaluate the programs, Reilly said.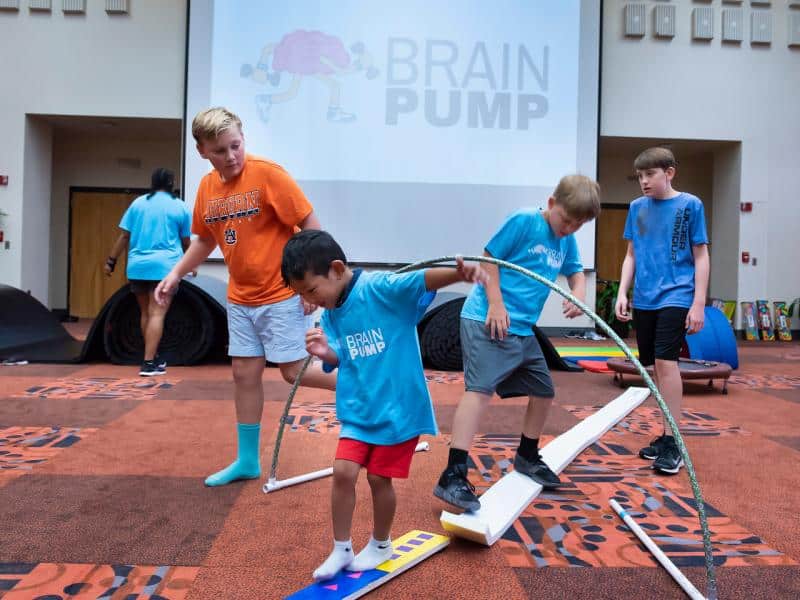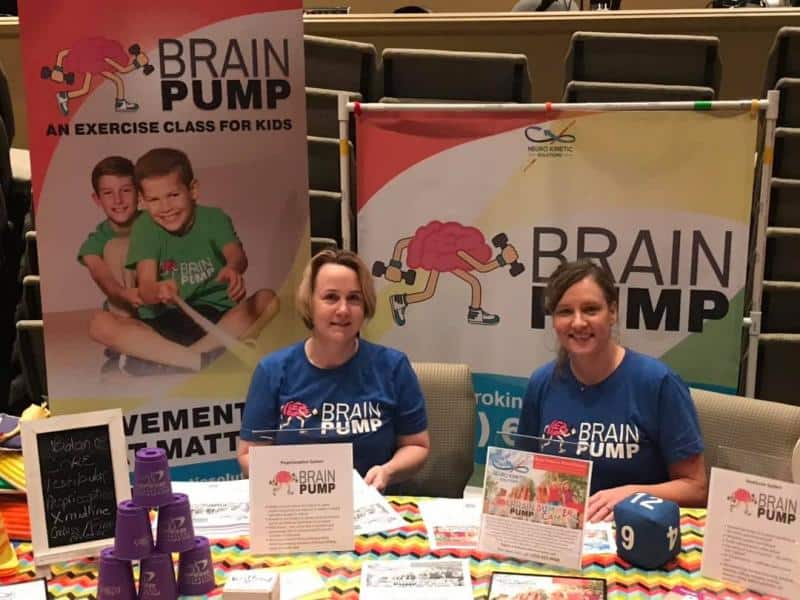 "We have already directly reached 150 children in Alabama preschool programs," she said. "We hope that in the future the 10 teachers will continue to incorporate Brain Pump in their curriculum and inspire other Pre-K teachers in their schools to also adopt the program."
Preliminary results from the fall study indicate that 92.9 percent of children who participated in Brain Pump had some presence of a retained Assymetric Tonic Neck Reflex (ATNR), a baby reflex that should not be present after age 1. Contributing factors for prolonged ATNR include lack of tummy time for babies, lengthy confinement in baby equipment, not crawling long enough or at all, and lack of normal play. Because of these factors, ATNR has been found to correlate with lower scores on socio-emotional development and lower scores on fine motor skills, Reilly said.
"Multiple studies show that the presence of this reflex can interfere with learning and behavior, but also that it may be a developmental delay that can be corrected with exercise," she said. "So every activity done in Brain Pump helps with the organization and maturity of a child's central nervous system, which research shows can improve attention, learning and coordination."
The team is currently partnering with public preschools in Montgomery, Selma, Pintlala, Beauregard, Huntsville, and Priceville, along with the Alabama Department of Early Childhood Education (ADECE), to train teachers, coaches and physical education instructors to incorporate Brain Pump into classroom activities.
By showing the benefit of blending Brain Pump exercise activities into preschool programs, AUM researchers hope to eventually reach thousands of preschoolers across the state. The team expects to release the final findings from the study in May.
"Our research can impact the lives of others through demonstrating the need for early intervention, educating others about the importance of movement in early years, and, depending on the final statistics on the effectiveness of the intervention, we can offer solutions," Reilly said.