AUM honors wounded warriors with Purple Heart parking
AUM honors wounded warriors with Purple Heart parking
FOR IMMEDIATE RELEASE
AUM honors wounded warriors with Purple Heart parking
At first glance, the gold-bordered medal may seem surprisingly unassuming.
When you get closer, you begin to notice the intricacy, the level of detail. You see the profile of George Washington, reflecting tenure as general of the Continental Army, and his coat of arms — a white shield with two red bars and three red stars between sprays of green leaves. On the reverse side is a raised bronze heart with an inscription: FOR MILITARY MERIT.
Even with it being small in size — 1⅜ inches in length and width — the Purple Heart Medal is impossible to miss.
Auburn University at Montgomery Interim Associate Director of ESL Stephen Bray wore a lapel pin version of his Monday morning, right next to a pin reflecting his service with the 2nd Battalion, 1st Marines, 1st Marine Division. He earned his Purple Heart for injuries sustained in Fallujah, Iraq, in 2004.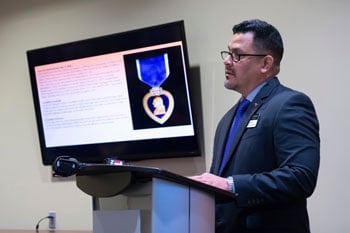 Rudy Tobias speaks at the Purple Heart parking dedication.
Michael Campbell, an AUM physical education major, earned one on September 7, 2010, while serving with the 27th Infantry Regiment "Wolfhounds" from the U.S. Army's 25th Infantry Division. He was among 10 injured that day, spent two years recovering from his injuries and retired as a corporal in 2012.
Both were among the veterans in attendance as Auburn University at Montgomery dedicated three reserved parking spaces to Purple Heart recipients.
The spaces, located near the Taylor Center, Clement Hall and the AUM gymnasium, are outlined by purple paint and marked by signage and were dedicated as part of the university's inaugural Veterans Appreciation Week.
Campbell, the president of AUM's Student Veterans of America chapter, said the gesture speaks volumes about AUM's commitment to serving military veterans.
"The faculty and staff here have been amazing," said Campbell, a Ragland, Ala., native. "It's just humbling to come to a community like one at AUM that honors veterans and remembers them and that the sacrifices that were paid don't go unnoticed. You don't see that everywhere."
The impetus to designate Purple Heart parking spaces began with a former AUM student. Ashley Sexton, a member of the U.S. Air Force reserves, initially inquired about the possibility of creating the special spaces while serving as the Student Veterans of America chapter president. She started the conversation, but was then deployed. AUM Student Success Advisor and Military Liaison Rudy Tobias, a Marine Corps veteran, helped bring it to fruition.
"I'm happy that AUM was willing to listen to student veterans," Sexton said. "They have been nothing but open ears. That has been great to see, especially when a lot of us are going through the transition from the military to civilian life. Some of us are juggling both. It's really nice to feel like a part of the community within a university, that they're there to support you."
"AUM is honored to recognize its military population and families through various initiatives to say thank you for their service," Tobias added. In addition to Military Appreciation Nights hosted at AUM Athletics events, the university also launched its Military & Dependent Scholarship, which caps tuition for Active Duty, Reserve and National Guard military and eligible members of their families, and the new Guard Card, which provides assistance to Alabama National Guard members for tuition, books and meals on campus.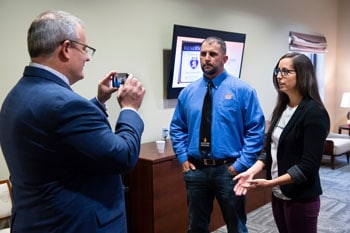 Current AUM student Michael Campbell and AUM alumna Ashley Sexton were among several veterans in attendance.
Auburn University at Montgomery Chancellor Carl A. Stockton said efforts to make Veterans Appreciation Week an annual event are important since the university is closely connected to a military community and counts a number of veterans, reservists and active duty military among its students, faculty, staff and alumni. "Just as they have been on the front lines, assisting our country, we are here to serve them," Stockton said.