AUM faculty help high school students explore health care careers
AUM faculty help high school students explore health care careers
By Simran Kumari
Alabama high school students recently visited Auburn University at Montgomery as part of Discovery MedCamp to dive deep into the profession of nursing and other health sciences.
Twenty-one juniors and seniors from nine counties in Alabama spent a day at AUM's College of Nursing and Health Sciences to gain hands-on experience into the profession of nursing and other related medical fields as part of Discovery MedCamp, a week-long residential camp designed by the Southeast Alabama Area Health Education Center (SEAAHEC).
AUM College of Nursing and Health Sciences Dean Jean Leuner said she was impressed by the curiosity and enthusiasm of the visiting students. "Students often say that this is their favorite day of the camp week," Leuner said. "This year, they were prepared for the day and asked many interesting questions. They also picked up on the instructions very quickly."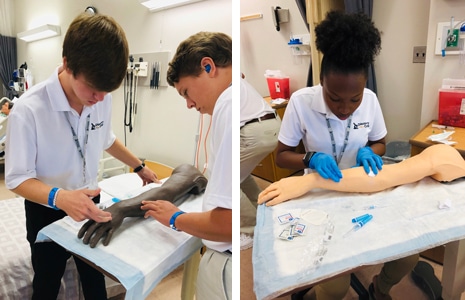 Students learned to perform IVs on high fidelity mannequins.
As part of their one-day trip at AUM, the camp students visited the nursing resource center and worked with AUM nursing faculty in the simulation and skills lab to learn about the importance of sanitation and to apply IVs on high-fidelity mannequins.
Additionally, students worked with the Department of Communication Disorders to learn about different parts of an ear with the help of video-otoscopy — visual inspection of the eardrum —and tympanometry — examination of the condition of eardrum in response to air pressure. They also learned about optoacoustic emissions, a test to check their hearing equity and see if their inner ear (cochlea) is healthy. Students also learned about various aspects of speech language pathology and experienced demonstrations of hearing aids.
In Medical and Clinical Laboratory Sciences labs, students learned about and observed a variety of microorganisms, including various parasites that cause skin and other kinds of infections. They learned to differentiate normal cells from sickle cells and identified both acute and chronic leukemia on slides. Furthermore, students determined the amount of poison in a sample by the process of dilutions and used spectrophotometer, an automated pipet.
Students thoroughly enjoyed their visit to AUM and showed enthusiasm in learning about their interested career path in healthcare. Shamiya Bracy, 16, from Montgomery's Brewbaker Technology Magnet High School said, "It was fun. I was surprised that I could see the ear tubes that I initially got in third grade." Similarly, Jarvis Frazier, a 17-year-old from Pike Road High School, said his favorite part of the visit was working in the clinical sciences lab.
AUM's College of Nursing and Health Sciences has hosted high school students for the educational camp for the last three years and has made programming adjustments to elevate the students' experiences.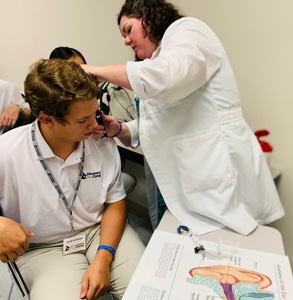 Dr. Godwin performing otoscopy on a student.
"Initially, students only visited AUM for half a day and we had to rush through things," Leuner said. "We moved from a half day to a full day visit over the years to make the best of their experiences."
Simran Kumari is an intern in Auburn University at Montgomery's Office of Communication.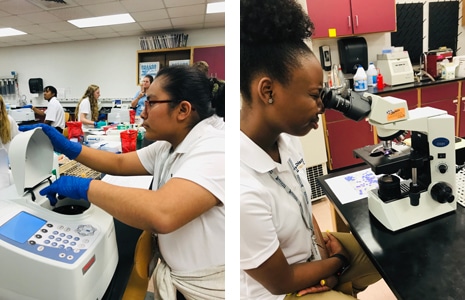 Students visiting AUM Medical and Clinical Laboratory Sciences labs.