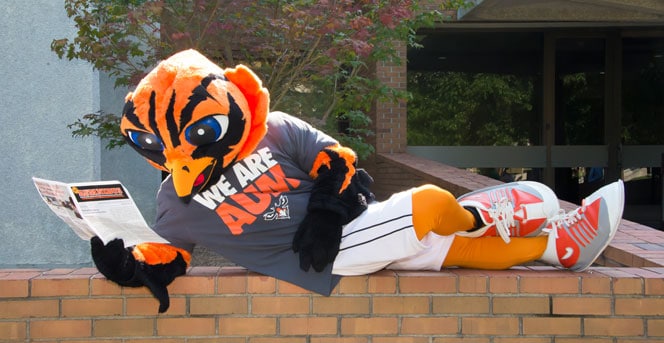 Welcome to Biz Nation!
Save the Date
Aug. 23 – Freshmen Convocation; Gymnasium
Aug. 26 – Professional Networking and Resume Workshop *(Taylor Center, Rm. 223, 6:30 p.m.)
Aug. 29 – Meet the Firms (Career Fair)(Taylor Center, Rm. 222, 12-2 p.m.)(Professional Dress Required)
Sept. 5 –School of Accountancy Networking Event(Taylor Center, Rm 230, 4:30 p.m.)
Sept. 12 – Classmates to Colleagues – Professional Development Seminar (Clement Cove, 12-1 p.m.)
Sept. 18/19 – COB Professional Dress Days (Theme: Interview Attire)
Sept.23 – Jackson Thornton presents "The Art and Science of Valuation and Litigation Consulting" * (Taylor Center, Rm. 223, 6:30 p.m.)
*Accounting Club Activities: Not an accounting major? That's OK! All College of Business students are welcome.
Welcome Dean Dickens!
Auburn University at Montgomery welcomed Ross N. Dickens as its new College of Business dean in July.
Dickensserved as dean and professor of finance at the University of Tennessee at Martin's College of Business and Global Affairs since August 2013.
"Dr. Dickens emerged from a strong group of finalists," Auburn University at Montgomery Provost and Vice Chancellor Mrinal Varma said. "We were particularly impressed by his accomplishments as a scholar and a leader. Given his strong background in the area of experiential learning, Dr. Dickens will be able to create new opportunities for students and will guide the College of Business to new heights of academic excellence."
Dickens succeeds Rhea Ingram, who returned to a faculty role after serving as dean since August 2011. Auburn University at Montgomery earned placement on the Princeton Review's list of the "Best Business Schools of 2019, as well as recognition fromU.S. News & World Reportfor the quality of its programs. AUM is among the top one percent of business schools internationally by virtue of its accreditation by the Association to Advance Collegiate Schools of Business.
Dickens previously held faculty positions at the University of South Alabama, where he served as chair of the Department of Economics & Finance, and Louisiana Tech University. He earned a bachelor's degree from Presbyterian College, an MBA from the University of North Carolina and his doctorate in finance from the University of Tennessee. Before attending graduate school, Dickens worked in the banking industry, beginning with First National Bank of South Carolina and then moving to South Carolina National Bank after its purchase of FNBSC.
Dickens said he sees tremendous upside in AUM's College of Business given its location in a state capital and its proximity to an assortment of industries and governmental entities.
"The thing that really impressed me is the size of the school and the potential given its location in a larger city market," he said. "With Montgomery being such a vibrant area, especially with Hyundai coming in and also being so close to the Air Force base, you really have an opportunity to make yourself known and to see some of that growth come back to your college," he said. "There's definitely a chance to move the needle."
A native of Atlanta who grew up in Birmingham, Dickens has published more than 30 articles in peer-reviewed journals, as well as "Contestable Markets Theory, Competition, and the United States Banking Industry." He has served on several editorial review boards for academic journals and recently completed a term of service on the Financial Management Association's Board of Directors.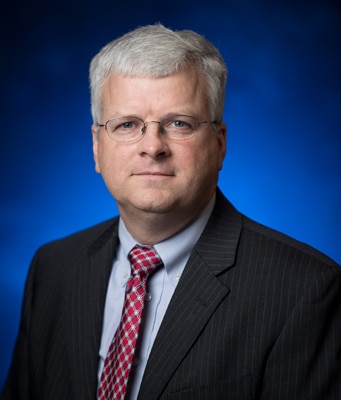 Welcome Our New Faculty!
Department of Business Administration
Dr. Foster Roberts joins us this fall as Associate Professor of Management. Foster graduated from AUM's COB in 2009 with his MBA, and his Ph.D. in Business Administration from University of Mississippi in 2014. He has served on the Management faculty for 5 years at Southeast Missouri State University. Please welcome Dr. Roberts as he and his family return to the river region.
Dr. George Naddra joins us as a Visiting Instructor of Management after several years of service as an adjunct faculty member. George retired from careers as an active-duty Air Force officer and later as a General Dynamics executive. Whether or not you already have the pleasure of knowing George, please welcome him in his new, full-time role.
School of Accountancy
The School of Accountancy welcomes new faculty member Dr. Bruce Wampler this month! Dr. Wampler is a CPA and a CGMA (Chartered Global Management Accountant).He has extensive teaching experience and is the winner of multiple teaching awards.
Student Highlights
Teva Stinson won a $10,000 PCAOB scholarship –
http://www.aum.edu/warhawk-spotlight-stinson-earns-10000-scholarship
Club Highlights
Tax Preparation
Impact America partnered withAUM to establish and manage free tax sites, utilizing trained college students to provide free tax preparation for low-income and working families through the SaveFirst initiative. Professor Rhonda Seay offered the SaveFirst service-learning course for Accounting students. Her partnership was invaluable to the success of SaveFirst in Montgomery this year. This tax season, 24 AUM students served at free tax preparation sites to help prepare 1,557 tax returns for Montgomery families – securing them over $3.1 million in tax refunds and saving them over $620,000 in commercial tax preparation fees.
Professional & Business Casual Clothing Drive
Beta Alpha Psiis holding a Professional & Business Casual Clothing Drive injunction with the A&A conference. Donations will be used to benefit the College of Business Clothing Closet. Way to go Beta Alpha Psi!
Meet the Firms is for Freshmen and Sophomores too!
Myth #1: "Career Fairs are just for seniors."
The Real Truth: There are employers with internship as well as full- and part-time opportunities looking specifically for Auburn University at Montgomery students. Freshmen, sophomores and juniors can benefit from attending since there are internship opportunities available. We know that internships open doors for careers down the road. Plus, it is always good to attend prior to needing a position because it allows you to experience a networking event and gives you an opportunity to start building connections with employers. Employers want the opportunity to speak with all types of students.
Myth #2: "I'm too young to be at a Career Fair, I don't even know what I would say to an employer!"
The Real Truth: During coursework on campus, especially in the first two years, it can be difficult to see how what you are learning is going to apply in the "real world" (Chemistry, Calculus, and Writing, oh my!). When you interact with employers in this setting, you may start to develop a more accurate and interesting picture of how your education now will be applicable in the future. Participating in a Career Fair as a first or second year student is a great way to learn about companies you may want to work for in the near future. Also, learning how to speak professionally with employers is a valuable, life-long skill. If you research companies in advance, you can prepare what you'll say.
Myth #3: "Networking is not important. Employers will never remember me!"
The Real Truth: It is important to Network! Network! Network! Network! Network! Networking is beneficial to your career and future opportunities. Yet for some reason, we only think of its benefits when we are job hunting, but connecting with other professionals can help with every aspect of life including mentorship, career development, entrepreneurship opportunities and friendships. One of the advantages of networking is that it helps you become more visible because you become that one person that knows everyone and can be asked to make introductions or provide insight on clients, associates etc. It's important to understand that opportunities not only present themselves in the form of new jobs, but they can also mean meeting an important person in the industry that can change the course of your career.
Clothing Closet
Do you have a big interview coming up and nothing to wear? Are you attending the Career Fair and need a tie or professional pair of pants? Contact the Office of Student Engagement and Success to browse the Clothing Closet! Just send an email to [email protected].
https://www.aum.edu/collegeofbusiness/student-resources/career-resources/clothing-closet/
College Comment Box
Check out the College of Business Comment Box at the entrance to Clement Cove. Fill out a form in person and leave it in the box. We thank you for your feedback!