Auburn University at Montgomery Student Health Services launches telehealth portal to serve campus community
Auburn University at Montgomery (AUM) Student Health Services is adapting to today's ever-changing society due to the novel coronavirus (COVID-19) by offering a telehealth platform to meet the medical needs of students, faculty and staff.
Telehealth — delivering health care through use of a laptop, smartphone, tablet or computer with video capability — is quickly becoming the new norm for universities, and in the private health sector, to reach patients in the wake of the COVID-19 pandemic, said Dr. Melodye M. Harvey, AUM Student Health Services family nurse practitioner.
"It is vitally important to offer telehealth to our patients for continuity and management of care," Dr. Harvey said. "Although we are experiencing uncertain circumstances, health and well-being are our priority. We are committed to continue to provide health care services to ensure that our AUM family's needs are met."
To use the new telehealth portal, students, faculty and staff can contact Student Health Services to request a virtual appointment with Dr. Harvey. At the designated appointment time, patients will receive a text message inviting them to an Updox telehealth video chat room. Patients will have 10 minutes to enter the room before the link expires.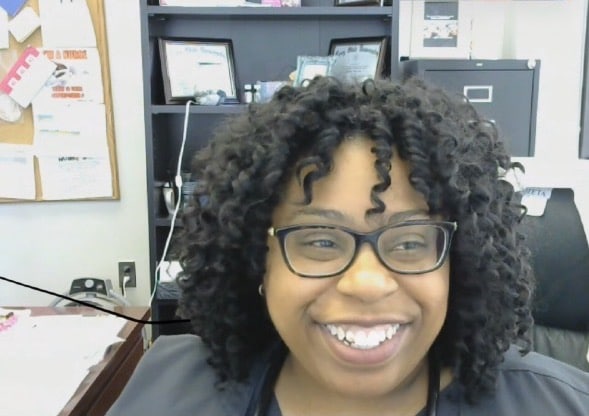 Nurse Practitioner Dr. Melodye M. Harvey on a telehealth call
"I will be able to see the patient and vice versa," Dr. Harvey said. "We will determine if the patient will need to come in for a face-to-face visit or if their health needs can be managed via telehealth."
Students, faculty and staff should feel comfortable with using the new telehealth portal, Dr. Harvey said.
"Although this is a virtual visit with me to discuss patients' health care needs, the video chat is HIPAA compliant and I've added an extra layer of privacy by closing my office door during the chat," she said. "This is similar to FaceTime, Duo, Zoom, or other video call platforms, which the university community should be familiar with in today's age of technology. The difference is the telehealth visit is private between the patient and the provider."
With the exception of counseling services, Student Health Services can provide patients with health screening, prescription refills, referrals, medical advising, and refills for established mental health medications. Students, faculty and staff can also use the telehealth service if they are experiencing COVID-19 symptoms, Dr. Harvey said.
"Student Health does not have the ability to test for COVID-19, however, we have community resource information that we will provide to patients if we feel that testing is necessary," she said. "We will assess them and determine the best course of action."
About AUM's Telehealth Portal
The AUM Student Health Services Telehealth Portal is staffed by one family nurse practitioner and one registered nurse. For telehealth visits, AUM students pay a $5 student copay and faculty and staff copays are $15. Student Health Services can only accept credit or debit cards for payment. Payments will be processed over the phone by Student Health Services the day of the telehealth visit or the day before the visit. Health insurance is required for patient referrals to a specialist. The telehealth clinic's operating hours are Monday through Friday from 9 a.m. to 5 p.m. The clinic is closed daily from 12 p.m. to 1 p.m. for lunch. For questions, please contact Student Health Services at 334-244-3281.