Auburn University at Montgomery releases Back to Campus plan for Fall 2020
Auburn University at Montgomery will require students and employees to wear face coverings and observe social distancing in classrooms and other public areas on campus as part of its efforts to resume face-to-face instruction for the Fall 2020 semester.
AUM plans to resume in-person classes on Monday, August 17. Other adjustments made in response to the COVID-19 pandemic include a modified academic calendar that ends face-to-face instruction on November 20 and allows students to complete coursework and final exams remotely after Thanksgiving break.
The full "Re-Opening AUM" guidelines can be viewed online.
"We are excited to welcome students back to campus for a new academic year," AUM Chancellor Carl A. Stockton said. "Our 'Re-Opening AUM' guidelines represent a flexible management plan that will allow us to make adjustments regardless of what course the COVID-19 pandemic may take. While we believe face-to-face instruction best aligns with our mission as a university, we will be prepared to make necessary changes should the need arise."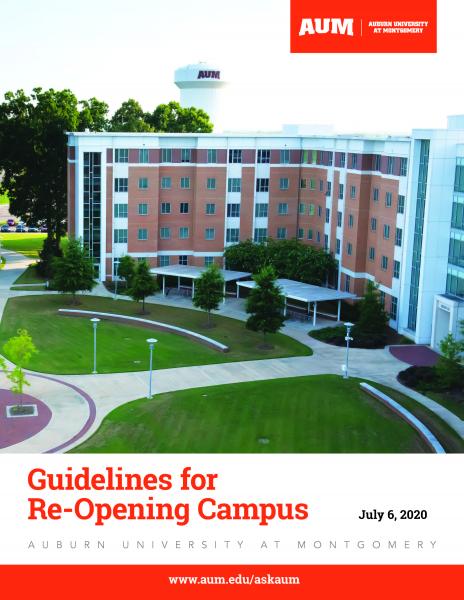 Stockton formed an 18-member "Re-Opening AUM" Task Force in April. The primary task force and several subcommittees composed of faculty, staff and students crafted policies and guidelines addressing Health and Safety, Facilities, Academics, Campus Services and Student Affairs. The back-to-campus plan was informed by public health experts and incorporates Centers for Disease Control and Prevention guidelines and best practices.
Stockton said the guidelines will be treated as a "living document" and may be subject to change before or during the Fall 2020 semester. The university is currently reviewing options for COVID-19 testing of students before their return to campus and is also exploring the potential use of the "Stay Safe" mobile app as a resource for students and employees to monitor personal health on a daily basis. Alabama Gov. Kay Ivey recently announced that a portion of the state's federal CARES Act relief would be used to fund COVID-19 testing for students at public colleges and universities.
Other key components of the Fall 2020 semester plan include:
Guidelines for students and employees who exhibit COVID-19 symptoms or test positive for the virus
Modifications to indoor spaces, including additional hand sanitizer stations, new directional signage and reduced seating capacity to promote hygiene and social distancing
An emphasis on virtual events for student organizations
Pre-order and delivery options for campus dining
"Our plan outlines a variety of health and safety measures for students and employees, including reconfiguration of indoor spaces to promote social distancing and enhanced cleaning of high-contact surfaces," Stockton said. "It is also important for our campus community to understand that each of us plays a role in our efforts to re-open and remain open. Self-screening, personal hygiene, use of face coverings and social distancing represent just a few of the ways that we can demonstrate care for one another."