Auburn University at Montgomery honors Warhawk Spirit Award winners
Auburn University at Montgomery honors Warhawk Spirit Award winners
FOR IMMEDIATE RELEASE
Auburn University at Montgomery honors Warhawk Spirit Award winners
Auburn University at Montgomery | Montgomery, Ala. (Oct.22, 2018) — Four Auburn University at Montgomery employees earned Warhawk Spirit Awards as exemplars of the university's core values.
Associate Provost for Enrollment Management Sameer Pande, Institutional Research Officer Jessica Carroll, Senior Financial Associate Ashley Brewer and Department of Psychology Administrative Associate Tonya Sexton were honored by AUM Chancellor Carl A. Stockton during the university's fall convocation on October 19.
"These individuals represent the best that the Auburn University at Montgomery has to offer when it comes to serving students and converting the university's mission into action," Stockton said. "They serve as examples of what it means to live our core values of promoting a student-centered experience, citizenship and community engagement, lifelong learning, collaboration, diversity and inclusiveness, excellence and constant improvement. Perhaps the most gratifying aspect of my role as chancellor is being able to recognize outstanding faculty and staff contributors through the Warhawk Spirit Awards."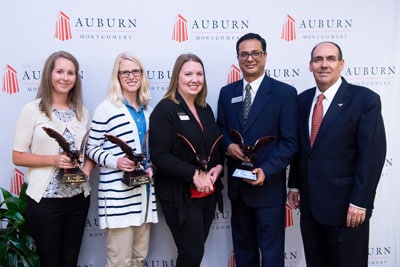 The Warhawk Spirit Award winners with Chancellor Stockton
(from left to right) are Ashley Brewer, Tonya Sexton, Jessica Carroll,
and Sameer Pande.
Pande, who came to AUM in 2017, was described by his nominator as someone who recognizes students as the lifeblood of the university and who seeks to create a vibrant campus experience for them. "His analytical abilities allow AUM to focus its efforts in areas that support students and improve processes," according to his nominator. "His focus is selling the AUM brand as well as the recruitment and retention of qualified students to our campus. He is the ultimate recruiter and supporter of the student."
Carroll was described as the consummate team member who "works tirelessly behind the scenes to assist the university." In her role with AUM's Office of Institutional Effectiveness, Carroll focuses on the collection, analysis and reporting of university-wide data. Stockton said her work "ensures we make data-driven decisions that benefit our AUM students."
Brewer earned a Warhawk Spirit Award through her ability to "provide excellent customer service" and a demonstrated desire "to help campus constituents achieve desired outcomes." Stockton noted that Brewer frequently volunteers to assist at orientation and numerous other campus events.
Sexton was described by one of her nominators as "a great ray of sunshine for our campus" and by another as "an amazing asset to our department, our college and the university."
"She goes out of her way to do everything she can do to take good care of our students, faculty and staff," the nominator wrote.