Auburn University at Montgomery College of Education earns stellar grades on Educator Preparation Report Card
Auburn University at Montgomery College of Education earns stellar grades on Educator Preparation Report Card
FOR IMMEDIATE RELEASE
Auburn University at Montgomery College of Education earns stellar grades on Educator Preparation Report Card
Auburn University at Montgomery | Montgomery, Ala., Sep. 14, 2018 – Graduates of Auburn University at Montgomery's College of Education earned high marks on the Alabama State Department of Education Educator Preparation Report Card released Thursday.
AUM students performed well above the state average on two components of the Alabama Educator Certification Assessment Program, with 100 percent passing the Principles of Learning and Teaching test component on the first try and 89 percent passing the Multiple Subjects portion on the first try. The state first-time average pass rate for both sections is 94 percent and 82 percent, respectively. Eighty-four percent of AUM students passed the Subject Assessments, or content knowledge, portion of the assessment program on the first try. In all, 100 percent of AUM test-takers passed the content knowledge and multiple subjects sections by the end of their third attempt.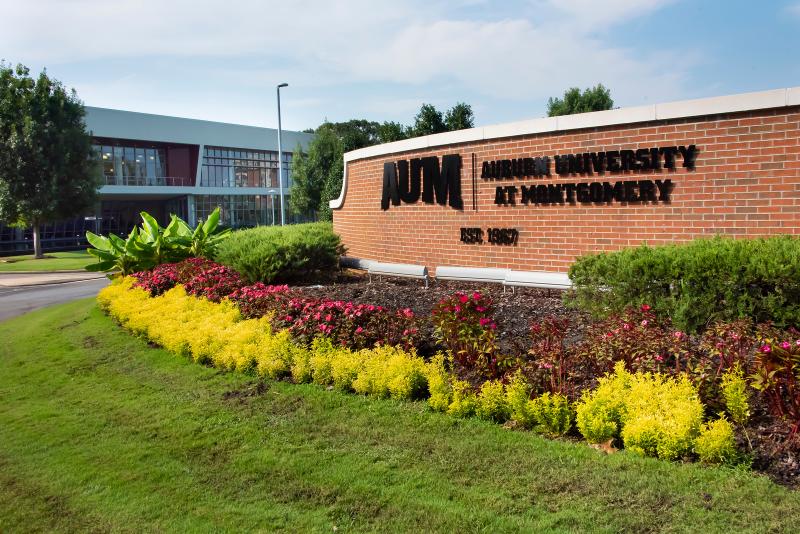 Employers offered highly favorable ratings of the strength and effectiveness of AUM graduates in a multitude of areas, including their ability to "engage learners in critical thinking, creativity, collaboration and communication to address authentic local and global issues" and "manage the learning environment to engage learners actively." New classroom teachers from AUM scored 15 percentage points above the state average in both categories and 14 points above the state average in communicating with "students, parents, and the public school about Alabama's assessment system and Alabama educational improvement initiatives.
"The responses from employers are particularly important to us," said AUM College of Education Dean Sheila Austin. "Principals perceive AUM graduates as being competent, committed and reflective professional educators who are prepared to meet the needs of students at all levels. We promote the caring and nurturing side of education."
The ALSDE's Educator Preparation Report Card grades each of the state's 26 colleges and universities on the basis of 2017-2018 data, including students' electronic test scores, employer survey responses, accreditation information, nationally recognized programs and the number of Educator Certification Assessment Program completers recommended for certification by the state.
The state report card also included self-appraisal survey results from new teachers. The data from the latter confirmed what Austin already suspected. "Our students are very humble," she said. "Employers rated them much higher than they rated themselves. That sends the message that our graduates, in addition to not being boastful, are committed to continuous improvement and professional development."
AUM's College of Education offers undergraduate programs in special education, childhood education, secondary education and kinesiology. Graduates gain hands-on experience through internships, practicums and 10-day residencies.
Established in 1967, Auburn University at Montgomery is a four-year regional institution accredited by the Commission on Colleges of the Southern Association of Colleges and Schools. Offering more than 90 undergraduate and graduate degree programs and certifications, AUM is ranked among the South's top universities by U.S. News and World Report and was named one of the best colleges in the Southeast by The Princeton Review. Consistently chosen as the best university in the area, Auburn University at Montgomery provides students with detailed knowledge and hands-on, practical experience, often from professionals in the field. Classes are offered in person on our verdant campus in Alabama's vibrant state capital or online.
Learn more at aum.edu.
Troy Johnson
Director, Office of Communications
Auburn University at Montgomery
334.244.3110 – Office
[email protected]