Auburn University at Montgomery chancellor earns Great American Hero Award
Auburn University at Montgomery chancellor earns Great American Hero Award
Auburn University at Montgomery Chancellor Dr. Carl A. Stockton earned the highest honor presented by the Greater Alabama Council of the Boy Scouts of America's Youth Leadership Development Program (YLDP).
The Youth Leadership Development Program presented Stockton with its "Great American Hero" Award Monday, Sept. 16, at its opening ceremony for the 2019-2020 YLDP class at Thompson High School near Birmingham. Stockton has been active as a board member for the YLDP, which offers a nine-month leadership development program for high school juniors and seniors from 20 counties in North and Central Alabama.
Attorney and Auburn University Trustee Liz Huntley presented Stockton with the award. Auburn University Director of Athletics Allen Greene served as the keynote speaker for the event. The YLDP is founded on three fundamental pillars of leadership – character, faith and patriotism. Past recipients of the award include Congressional Medal of Honor winners Bennie Adkins, Melvin Morris and Leo Thorsness, NASA astronaut and former International Space Station Science Director Larry DeLucas, famed orthopedic surgeon James Andrews and NFL Hall of Fame quarterback Bart Starr.
"I am honored and humbled to receive this award," said Stockton, who is in his second year of service as a YLDP board member. "Serving as a board member for the Youth Leadership Development Program has been an incredibly rewarding experience given the role the organization plays in identifying young people of good character and helping them unlock their potential as leaders. The young men and women who participate in this program represent the future of our state and nation."
Since becoming Auburn University at Montgomery's sixth chancellor in July 2016, Stockton has led the university to sustained enrollment growth and improvement in national and regional rankings. AUM posted its highest fall enrollment total in six years in the fall of 2018 and recently improved to 33rd among regional public universities in U.S. News & World Report's "Best Colleges" list for 2020. The university also earned placement on Princeton Review's 2020 "Best in the Southeast" list and won the Montgomery Advertiser's "Best of the Best" voting for top university in Alabama's River Region for the second consecutive year.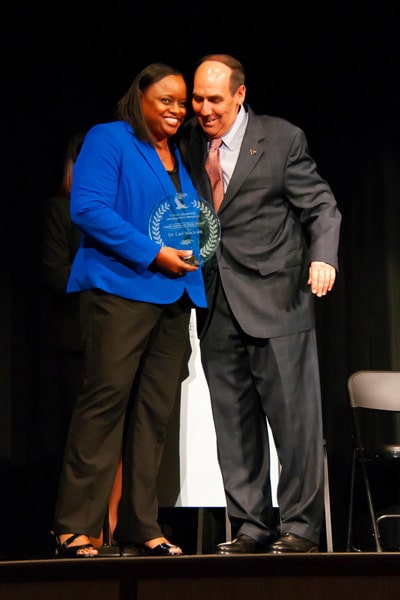 In his 35 years in higher education, Stockton has raised more than $100 million in grants and capital support for the universities and programs he has served. He holds bachelor's and master's degrees from the University of Florida and earned his doctorate at the University of Tennessee. He also has served as a board member for a variety of River Region and state non-profits, including Child Protect, the Children's Advocacy Center, the Alabama Shakespeare Festival and YMCA Metro. He has also served as a member of the Montgomery Area Chamber of Commerce Committee of 100 and as a member of the Envision 2040 Strategic Planning Committee for the City of Montgomery.
AUM is among the more than 20 college and universities partners that collectively commit more than $2 million in scholarships to YLDP students each year. The students are selected for YLDP on the basis of character and behavior by their teachers, counselors and principals at 95 partner high schools. Over the course of the nine-month program, the students meet monthly and receive lessons in various leadership traits from college and university faculty, participate in leadership roles and activities and complete community service activities.