Auburn University at Montgomery Athletics receives donation
Auburn University at Montgomery Athletics receives donation
FOR IMMEDIATE RELEASE
Auburn University at Montgomery Athletics receives donation
AUBURN MONTGOMERY/MONTGOMERY, AL — July 11, 2018 — Lt. Col. and Mrs. Clarence Jack Doane have generously given $25,000 to the Auburn University of Montgomery Athletics Baseball Complex
"This is something I've been thinking about for a long time. My affiliation with AUM Athletics has allowed me to stay young and help out players in need. With AUM's move to Division II, it is important that our Athletic facilities are enhanced and I am excited to play a role in making that happen. I look forward to others joining me in this important effort," said Jack Doane.
As part of the Athletics Department complex enhancement project, the Doanes' gift will go toward providing much needed improvements to the baseball field dugouts.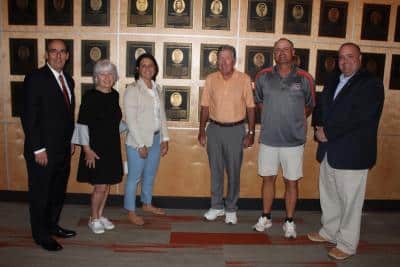 Photo (left to right): AUM Chancellor Carl A. Stockton, Barbara Doane, Jessie Rosa, Jack Doane, Marty Lovrich, Tim Lutz
"Auburn University at Montgomery is grateful for Jack and Barbara's years of friendship, especially Jack's involvement with and support of AUM Athletics," said AUM Chancellor Carl A. Stockton. "Their generous gift is a great start to our new capital campaign for much needed improvements to our athletics facilities for Warhawk players and fans."
"Our student-athletes are incredibly grateful for this support," said AUM Director of Athletics Jessie Rosa. "It improves their sporting experience and that of the growing number of spectators we see accompanying our NCAA DII play."
The gift from the Doanes for the AUM Baseball Complex is part of the university's campaign to renovate and enhance its current facilities and provide new facilities for its 11 varsity men's and women's sports, supporting the university's aim of becoming the premier NCAA Division II institution. For information about the AUM Athletics Facility Enhancement Campaign, contact Jessie Rosa at [email protected] or 334-244-3712) or Tim Lutz at [email protected] or 334-244-3832.
Auburn University at Montgomery is ranked among the South's top universities by U.S. News and World Report and was named one of the best colleges in the Southeast by The Princeton Review. Consistently chosen as the best university in the area, Auburn University at Montgomery provides students with detailed knowledge and hands-on, practical experience, often from professionals in the field.