Auburn University at Montgomery Professor Ben Okeke named Fulbright Scholar
Auburn University at Montgomery Professor Ben Okeke named Fulbright Scholar
Auburn University at Montgomery (AUM) Distinguished Research Professor of Industrial and Environmental Microbiology Ben Okeke has earned a Fulbright U.S. Scholar grant to study sustainable strategies for the production of renewable biodiesel fuels. His research study offers benefits for biofuel, agricultural and other industries.
The Fulbright grant provides support for Okeke to conduct his research at the Federal University of Rio Grande do Sul in Porto Alegre, Brazil. He and a team of Brazilian researchers will study new sustainable and cost-effective ways to produce biodiesel fuel using oil from waste materials.
"This is my first Fulbright award and first sabbatical as an AUM faculty member," Okeke said. "I am happy that I won the Fulbright award in my first application because this research will benefit society as a whole, support student researchers, as well as impact the biofuel industry, agriculture and environment."
Diminishing fossil oil reserves and the increasing cost of fossil oil products have rekindled worldwide efforts to identify and increase renewable fuel sources. Okeke's research study will focus on developing biofuels derived from biomass waste — plant and animal products. Currently biofuel developed from corn, sugar cane and edible plant oil drives up the price of food and feed in the farming industry. His study also will look at the use of yeast lipids for biodiesel production to expand biodiesel feedstock availability.
Dr. Ben Okeke is a Fulbright award winner.
"This study will have socio-economic impact by adding value to agricultural wastes from farming," said Okeke, who also serves as director of the Bioprocessing and Biofuel Research Lab in the Department of Biology and Environmental Science in AUM's College of Sciences. "Substitution of oil from oil crops with oil produced from wastes and replacing methanol with plant-based ethanol from agricultural wastes will be an efficient and transformative process for sustainable biodiesel production."
As part of his Fulbright award, Okeke also will serve as a visiting professor at The Federal University of Pelotas in Pelotas, Brazil, where he will collaborate with researchers and graduate and undergraduate students on his Fulbright research project.
"Results generated from this study will be used to enrich the content of undergraduate and graduate courses taught by faculty researchers at the collaborating institutions in Brazil," Okeke said. "Our research activities also will complement and broaden the scope of current research being conducted in laboratories at these Brazil universities."
Okeke said his Fulbright research project is a new direction for his research in biofuels.
"The results of this research will benefit the international scientific community and provide a strong foundation for future collaborations between the collaborating institutions, including visiting research students and scholars," he said.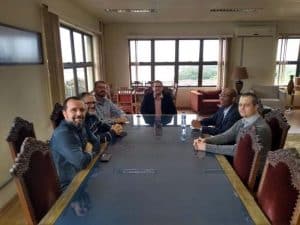 The Federal University of Pelotas welcomes Dr. Ben Okeke.